So your child is almost ready to stay home alone for a short time without a parent or babysitter. Or at least they say they are. They probably roll their eyes at the mere mention of a babysitter. But how do you know whether they are ready to be home alone and if you are ready to leave them? Do they have the skills to face potentially scary situations that might arise if they are alone or with a sibling?
We talked to Jessica from On the Go First Aid to find out what kids should know before they stay home alone.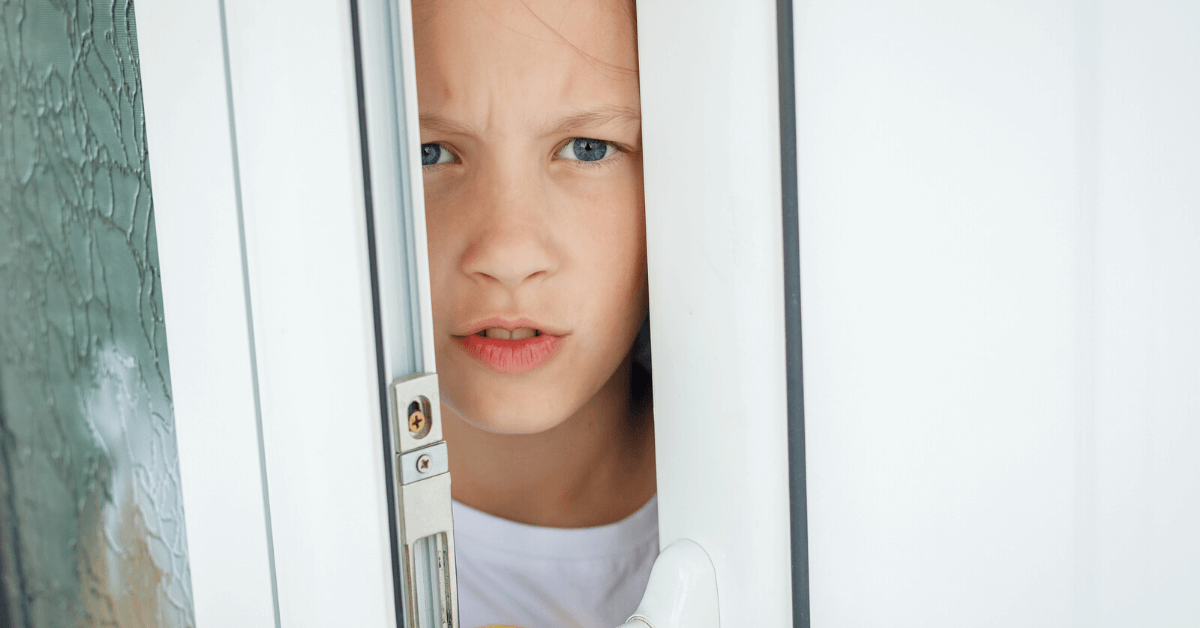 5 things kids need to know
before they can stay home alone
---
Before staying home alone (or with a friend or sibling) a child should know basic age-appropriate first aid. They should be clear with how and when to call 911 or poison control. They should also understand when a situation is not an emergency and they don't need 911. The best way to have your child learn these valuable lessons is from a certified first aid trainer.
2.

what to do if there's someone at the door
A child at home should have a solid set of instructions and a practised plan of what to do if the doorbell rings or there is a knock at the door. The child should be very comfortable with exactly what you expect and know to NEVER OPEN THE DOOR. Just because there is a knock does not mean they have to answer. It might help to have a short list of people that are okay to open the door for (eg. grandparents and close 2-3 safe adults) but if they are not on the list, the door stays closed. Even if they recognize the person by looking through a window, they should not open the door or talk to the person unless that person is on the list. 

3.

what is the Family Fire Safety Plan
Create a clear plan that you have  agreed on as a family, map it out on paper and practice it. Have the kids practice with and without parents. Where should they go? How should they leave the house (with a back-up in case that exit is not safe)? What should they do once they are out of the house? Who should they call and how should they call them? Who are their safe neighbours?
4.

how to shut off the utilities
This may not seem like a skill that should make it into the top 5 stay at home skills, but it could be very important if there is a blocked toilet or a flooded sink. Showing kids where the shut off valves are for the sinks and toilets will give them confidence that they can handle problems on their own or with you on the phone. Children should also have a plan for a power failure (both during the day and in the evening) and know how to operate the house alarm system.
5.

what are the

house rules
The house rules for staying home alone should be specific. Are friends allowed over? Which friends are allowed and how many? What are the technology rules? Are television, Netflix or YouTube allowed? Can they go outside? Can they leave the property? Are they allowed to cook? Which snacks are okay? It's better to be clear from the start instead of having the child guess at how to interpret what is allowed. 
where to take a home alone course
---
On the Go First Aid Training
offers a Red Cross
Stay Safe!
course for kids 9-13 in-person in Cloverdale or online via Zoom.
The 
Stay Safe!
program teaches applicable & age-appropriate skills, while increasing and reinforcing a youth's capacity to improve his or her own safety.
Whether in their community or on their own, they will be given better tools to Stay Safe!
 in a variety of different situations. All kids registered for this program receive a manual, mini first aid kit, and certification, plus 5-6 hours of in-person training or online training via Zoom!
---
And for kids aged 11-15 who are ready to start babysitting, you'll want to check out
On the Go First Aid Training
's Red Cross
Babysitting course
! This 7-8 hour course is offered in-person in Cloverdate or online via Zoom. Students will learn how to care for younger children and how to make good decisions and manage difficult behaviour. They will learn how to recognize and prevent unsafe situations, make safe choices, promote safe behaviours, and learn basic first aid skills.
---
Jessica from
On the Go First Aid
is a licensed paramedic in Surrey, BC with 3 boys of her own, and has been teaching infant, child and adult first aid and CPR courses since 2004. She helps parents and youth learn the essential skills they need to care for themselves and their families in an emergency situation in a positive and supportive learning environment. In addition to her Stay Safe! and Babysitting courses, Jessica offers a variety of first aid courses for adults, including her popular new
Prepared Parent
course that's available online!
Use code healthyfamily when you register online to save 10% off any course!
---
BOOK YOUR STAY SAFE OR BABYSITTING COURSE NOW
---
Born & raised in Vancouver, and co-founder of Healthy Family Media and the Healthy Family Expo, Angela is a reformed divorce lawyer turned healthy family champion! By day, she thrives on connecting conscious brands with busy Vancouver families. By night, you'll find her wrangling two feisty daughters, choosing between instant pot or healthy freezer meals for dinner, and singing with MomChoir. She especially loves sharing her favourite family-friendly finds with other Lower Mainland parents!