Think leftover boiled potatoes are boring? Think again! Turn them into a crispy smashed potato and then top them with Mother Raw Caesar Dressing, vegan parmesan and finely chopped green onions. The key to getting these extra crispy is smashing them thinly.
JUMP TO RECIPE
---
---
There's no such thing as an unhealthy love for plants.
The Healthy Family Living team is on a mission to boost the number of veggies we eat, but sometimes the kids are can be a bit reluctant. A great plant-based dip or dressing has really been a game-changer for us. After-school snacks, movie nights, and pre-dinner appies have all become an opportunity to boost our plant intake. Our kids are crazy for anything with caesar dressing so using the goodness of Mother Raw Caesar as a dip is a real win!
JUMP TO RECIPE
---
SMASHED CAESAR POTATOES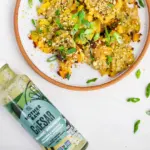 Think leftover boiled potatoes are boring? Think again!
Ingredients:
1 lb boiled potatoes
2-3 tbsp extra virgin olive oil
Salt and pepper, to taste
2 stalks green onion, sliced thin on the bias for garnish
For the vegan parmesan:
2 tbsp hemp seeds
¼ cup cashews
1 tbsp nutritional yeast
1 tsp extra virgin olive oil
Pinch kosher salt
instructions:
Preheat the oven to 425ºF and line a baking sheet with parchment paper. Add the potatoes to the lined pan and smash with a fork into a thin pancake like shape.

Drizzle with the extra virgin olive oil and season with salt and pepper. Place in the oven to bake for 20 minutes, until crispy around the edges and browned.

Meanwhile, add the vegan parmesan ingredients into a food processor or blender, and pulse until the mix comes together, and still a little chunky.

Divide the smashed potatoes onto plates, top with Mother Raw Caesar Dressing, vegan parmesan and green onion and enjoy! These re-purposed, crispy delights are sure to impress!
Founded by Michelle Kopman, on a mission to make plant-based foods accessible, delicious & enjoyable for all. Her simple idea planted the seed that became Mother Raw. She knew plants could add goodness to any meal without the need to tamper with nature's bounty. Mother Raw organic, plant-based products aren't just inspired by nature; they're made by nature. They simply take the best of what Mother Earth has to offer and make products that are amazingly delicious & versatile. You'll never find anything artificial here - that's a promise. Your veggies will thank you!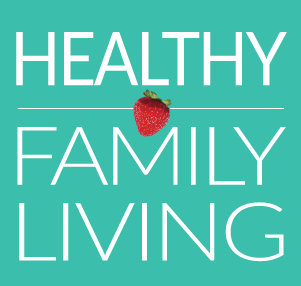 Wondering what to do with the kids in Metro Vancouver this weekend, or what to make for dinner? You can find it at HealthyFamilyLiving.com! From the Sunshine Coast to the Fraser Valley, we're the best online resource for busy parents looking for practical tips for healthy, active, sustainable living. For the latest on family events, outdoor adventures, birthday parties, camps & classes and kid-approved recipes, follow us on Facebook and sign-up for our parent-approved e-newsletter!