Looking for some relief when it comes to healthy mid-week meals? This easy to pull together weeknight meal is simple to tailor to your family's tastes. Nothing says comfort food like a baked potato stuffed with rich chili! Baked potatoes loaded with plant-based chili, slices of avocado, green onions, cilantro, vegan cheese, and dollops of vegan sour cream are perfectly delicious and satisfying meals for busy families.
JUMP TO RECIPE
---
Comfort food you can feel good about!
It's not always easy embracing a new plant-based lifestyle change. Many of us grew up eating primarily a meat-based diet, however, that barrier has been reduced based on the growing research on the health benefits and accessibility to healthy alternative meals. These types of meals help individuals live a compassionate, ethical, and environmentally sustainable lifestyle. Now with Boosh meals, there is a way to comfortably have a fun and conscious lifestyle without having to inspect every meal for gluten, animal-products, or GMO-based ingredients.
---
JUMP TO RECIPE
---
Chili Stuffed Baked Potato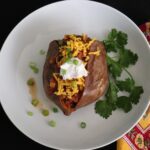 Nothing says comfort food like a baked potato stuffed with chili!
Ingredients:
Russet or sweet potatoes, skin on and washed
Olive oil
Salt
Vegan cheese of choice, grated or crumbled
Vegan sour cream
Avocado, peeled and thinly sliced
Green onions, thinly sliced
instructions:
Pre-heat oven to 425°F. Line a baking sheet with parchment paper.

Place potatoes on prepared baking sheet, rub generously with olive oil and sprinkle potatoes with salt. Transfer to the middle rack in pre-heated oven. Bake for about 60 minutes, until the skin is crispy and you can easily poke each potato with a fork. Remove from oven and set aside.

While the potatoes are baking, pour chili into a small pot and cook over medium heat until it starts to boil, remove from heat.

Place baked potatoes in individual serving bowls. With a knife, gently cut a shallow opening into each potato lengthwise. Pour chili into each opening and top with cheese and a dollop of sour cream. Finish with avocado slices, green onions and cilantro (if using). Serve immediately.
Plant-based diets are better for the planet, but finding fast and convenient plant-based meals was challenging until now. Boosh has developed six 100% plant-based, heat-and-serve bowls for one and entrees for two. Boosh was created for one simple reason - founder Connie Marples wanted to help health-conscious consumers meet their goals by providing convenient plant-based meals for people who found it challenging to prepare them from scratch. What started as making dishes for friends in a tiny kitchen in Vancouver has grown to Boosh bowls and entress being in freezer aisles at grocers all over Canada!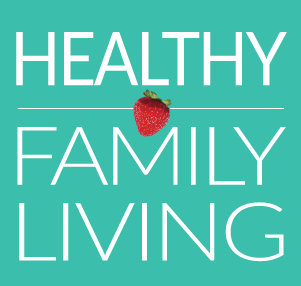 Wondering what to do with the kids in Metro Vancouver this weekend, or what to make for dinner? You can find it at HealthyFamilyLiving.com! From the Sunshine Coast to the Fraser Valley, we're the best online resource for busy parents looking for practical tips for healthy, active, sustainable living. For the latest on family events, outdoor adventures, birthday parties, camps & classes and kid-approved recipes, follow us on Facebook and sign-up for our parent-approved e-newsletter!