Ever have those nights where you are torn between wanting something fresh but also full of flavour? You want a salad, but really don't feel like lettuce. Well, we do.  On days like these, we count on this easy 5 minute Greek salad to tick all the boxes.
✔ Ready in under 15 minutes
✔ Easy vegan options
✔ No-Cooking
✔ Great as a side dish or as a meal on its own
✔ No-Cooking
✔ Easily adapted to family's tastes
The recipe below is amazing but does not need to be followed exactly. If you really don't like something… leave it out or substitute with something else!
EASY GREEK SALAD (VEGAN OPTIONS)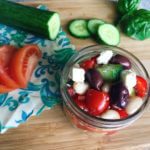 1 1/2 cup cherry tomatoes (halved)
1 1/2 cup cucumber (chopped)
1/2 sweet onion (chopped)
1 sweet red pepper (diced)
1/2 cup feta (diced (omit for vegan or substitute firm tofu))
1 cup canned chick peas or cannelli beans (drained & rinced)
1/3 cup olives (optional)
dressing
1/4 cup olive oil
1/3 cup either red wine vinegar or apple cider vinegar
2 tsp dried oregano
1 tsp dried basil
1 tbsp dried dill
1 tsp fresh mint (optional)
1/2 tsp salt
1/2 tsp pepper
Combine all dressing ingredients in a mason jar, seal with lid & shake vigorously. ( You can also combine in a medium-sized bowl and whisk well to combine fully.)

Add all salad ingredients to a large bowl.

Pour the well-shaken dressing over the salad & toss to combine.

Let sit in the fridge for 15 minutes before serving.
Born & raised in Vancouver, and co-founder of Healthy Family Media and the Healthy Family Expo, Angela is a reformed divorce lawyer turned healthy family champion! By day, she thrives on connecting conscious brands with busy Vancouver families. By night, you'll find her wrangling two feisty daughters, choosing between instant pot or healthy freezer meals for dinner, and singing with MomChoir. She especially loves sharing her favourite family-friendly finds with other Lower Mainland parents!