? Seize the strawberry salsa! ?
Here in BC, we are so lucky to have such amazing berries to enjoy in early summer. Whether you get them from your local farmers' market of you go and pick your own, a juicy fresh strawberry in the perfect summer treat. We love to whip up this easy strawberry salsa as a great treat to share with family & friends over a summer afternoon, or as the perfect end to a great barbeque.
Kids love to help with this one and as long as you supervise their knife skills, this is a delightfully simple recipe that they can take ownership of.
We use flour tortillas for this naturally vegan and dairy-free recipe, but it could just as easily be made with rice or any other gluten-free tortilla. We have brought this to many a pot-luck dinner and it is very welcome as a light dessert option.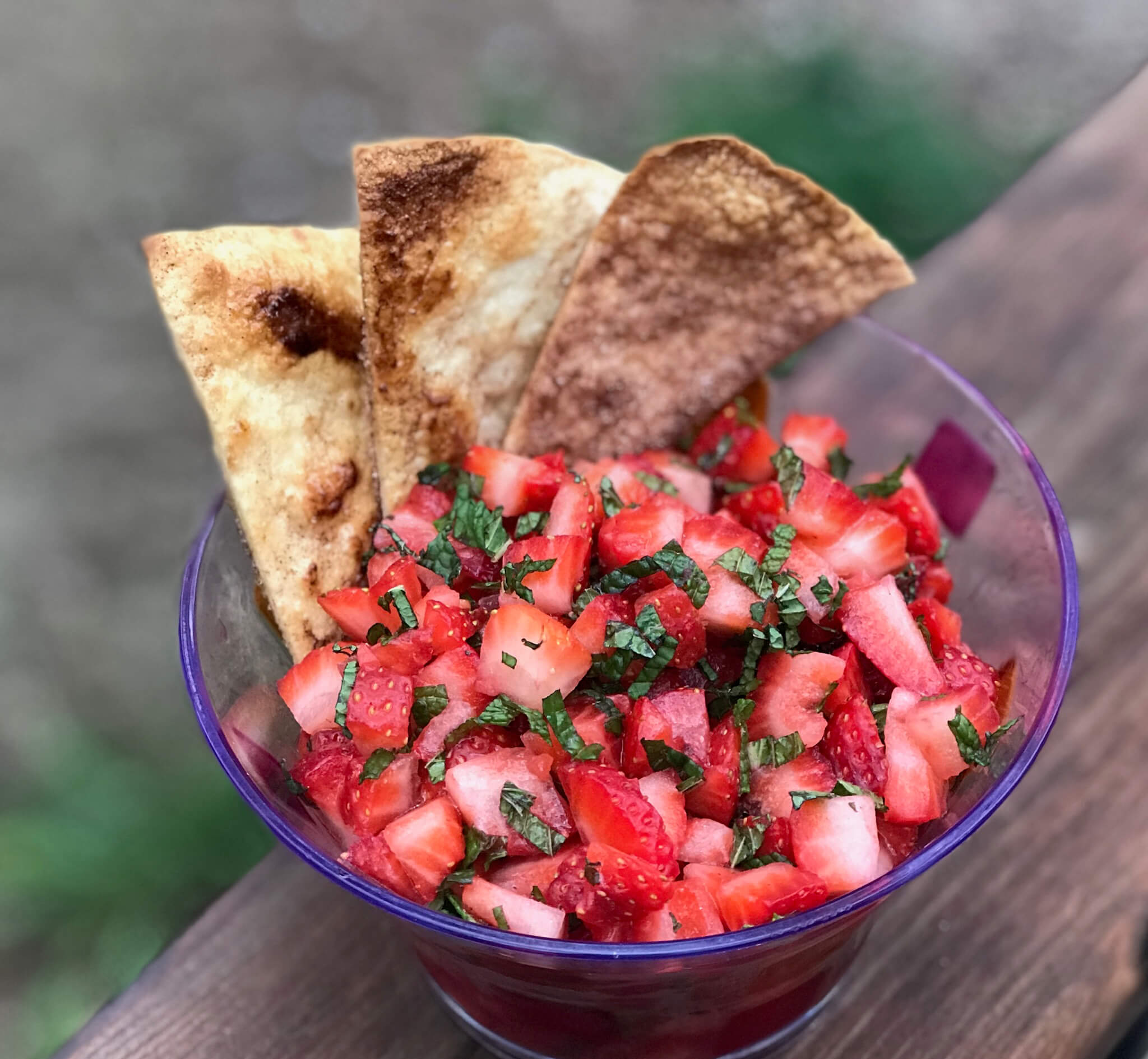 Sweet Strawberry Salsa with Cinnamon Chips
Salsa
1 lb BC strawberries (diced)
1 tbsp lime juice
1 handful fresh Mint (chopped)
Chips
1 tbsp Cinnamon (ground)
1 cup Sugar
Cooking spray (we like avocado or coconut)
5 large tortillas
Preheat oven to 350°F
Line 2 large baking trays with parchment paper and set aside.
Combine the cinnamon and sugar in a small bowl.
Wash the strawberries. Slice off the leaves and then dice the fruit. Place the fruit in a large bowl.

Wash and chop the mint leaves and add to the strawberry bowl with the lime juice. Add a pinch of sugar and a pinch of salt.

Let sit for 15 minutes while you prepare the chips.
Spray each tortilla with a light coating of oil then sprinkle with cinnamon sugar. Turn them over, and repeat on the other side.
Using a pizza cutter (or sharp knife) cut the tortillas into quarters, then cut each quarter into smaller (more manageable) chip-sized wedges.
Spread the chips in a single layer on the baking sheet. Bake for 10 minutes until lightly golden (watch carefully so they do not burn).
Remove the chips from the oven and leave to cool completely. (Don't worry if they don't seem crispy, they will crisp as they cool)

Serve in a small bowl with the cinnamon chips beside. Best served on the day it was made.
Co-founder of Healthy Family Media and the Healthy Family Expo, Kay is an adventurer & Ironman triathlete, as well as mum to an active 11-year-old. Originally from Montreal, she has been proud to call British Columbia home for over 15 years. Whether running, hiking & biking in the mountains or creating healthy meals in the kitchen, Kay is always up for something new.  Her contagious enthusiasm & zest for life mean we're never quite sure what she'll be up to next, but we're sure that it will be an amazing adventure!