Kids love Halloween!  Food allergies shouldn't get in the way of any child enjoying the excitement of trick or treating with family & friends. We are big supporters of the Teal Pumpkin Project and we have rounded up our favourite ideas for non-food, allergen-free food, and healthier treat ideas to make halloween special for all kids.
Show you have allergen-free Halloween treats by displaying a teal pumpkin!
If you don't have an actual teal pumpkin to display on your doorstep, download and print our teal pumpkin poster and put it on your door or in your window. You can also share it on social media to let your friends know!
The Teal Pumpkin Project started in 2012 when  Becky Basalone, the director of a local food allergy support group in Tennessee, decided that in order to help food allergy families during Halloween, she'd put out a teal pumpkin to signify that she had treats available that were safe food for kids with food allergies. Now you can find info on the #tealpumpkinproject across the US, Canada, and the UK.
Unless you have been living under a rock, you have probably heard that food-allergies are on the rise and are affecting more and more families. Food allergies currently impact 1 in 13 kids and send someone to the emergency room once every three minutes.
Health Canada lists the following as "priority food allergens" also known as the" BIG 8", which are the foods associated with 90% of allergic reactions in Canada, and has established specific labelling requirements for them.  When we sugest allergen-free treats, we mean free from these 8 priority allergens. 
Non-Food Trick-or-Treat Ideas:
---
Stickers

Glow sticks                        

Temporary tattoos             

Halloween themed pencils

Bat / Spider rings

Halloween themed erasers

Bubbles

Hotwheels or Small toy car

Yo-yos

Mini slinkies

Mini frisbees

Bookmarks

Mini lights

Finger puppet

Whistle

Chalk

Light up ball

Deck of cards

Paddle balls

Smelly markers

Hand Stamps

Glow in the dark stars or stickers

Bouncy balls

Slime party favors

Flashing LED rings

Balloons

Small toys

Rubber ducks

Slap bracelets
Allergen-Free Trick or Treat Ideas: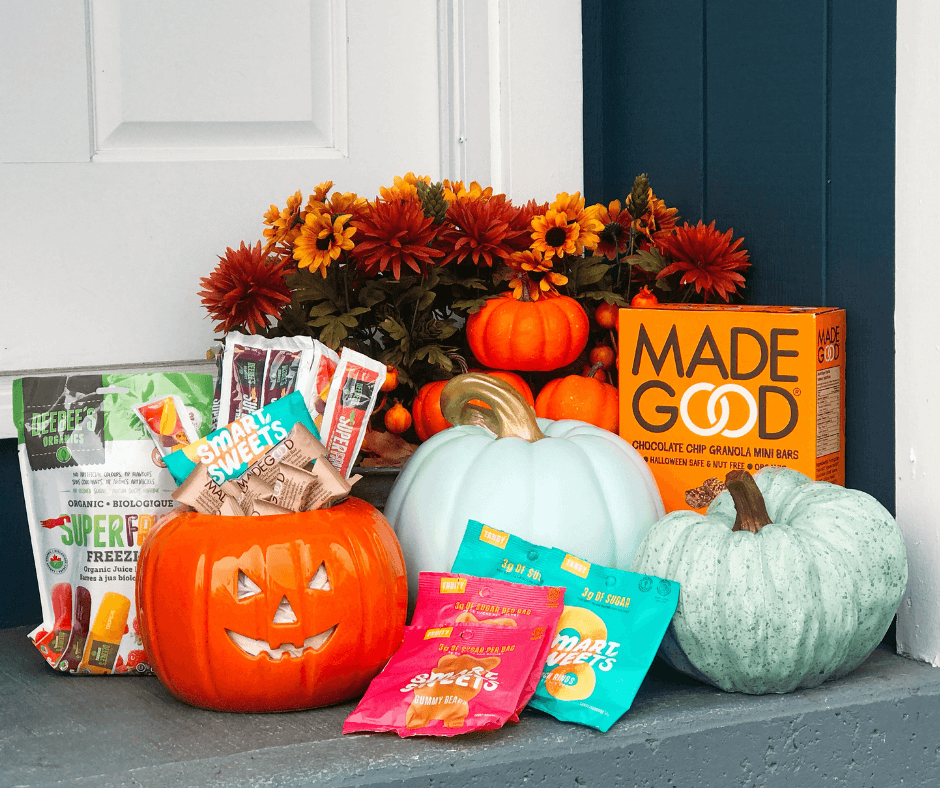 We think that all MadeGood granola minis, granola bars and crispy squares are perfect for allergen-free trick-or-treating fun this Halloween season! But we're especially excited that MadeGood and Children's Miracle Network have teamed up for a Halloween Campaign featuring new limited edition Chocolate Chip Granola Mini Bars - with every sale, 2% of the proceeds will go directly to Children's Miracle Network Hospitals. These limited edition minis are made in a facility free from the 8 common allergens: peanuts, tree nuts, wheat, dairy, egg, soy, sesame, fish and shellfish. MadeGood snacks are organic, gluten-free and non-GMO project verified, providing kids with a wholesome tasty treat! The new limited edition MadeGood Chocolate Chip Granola Mini Bars in the distinctive orange box are available in stores now and online until Halloween.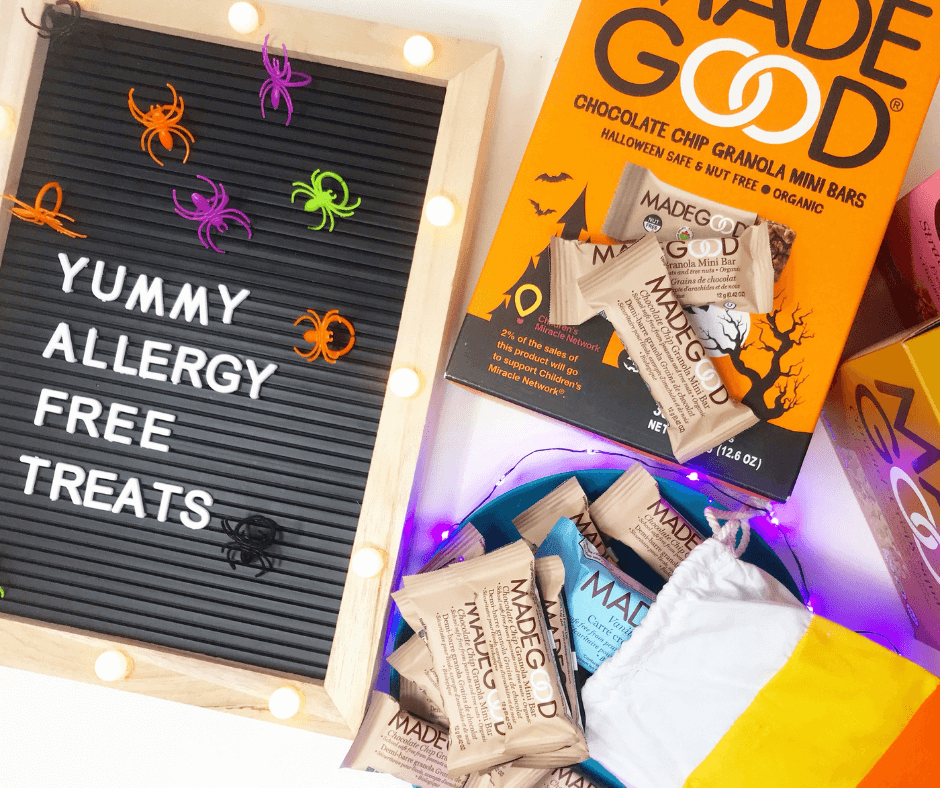 Kick the sugar, keep the candy! SmartSweet gummies are free from sugar alcohols, artificial sweeteners and added sugars, non-GMO, gluten-free, always real and never artificial. And we love that their Sweet Fish, Sour Blast Buddies and Peach Rings are all plant-based! Our kids are on team #FruityGummyBear, while we're partial to the nostalgic Peach Rings that take us back to our childhood, minus the crazy amounts of sugar. It's really quite astounding that other leading brands of peach rings contain 38g of sugar per 50g serving, compared to only 3g of sugar in each bag of SmartSweets Peach Rings. This makes them the perfect healthier trick-or-treat option and school-safe classroom Halloween party treat! They're widely available at retailers across Canada, and online at SmartSweets.ca.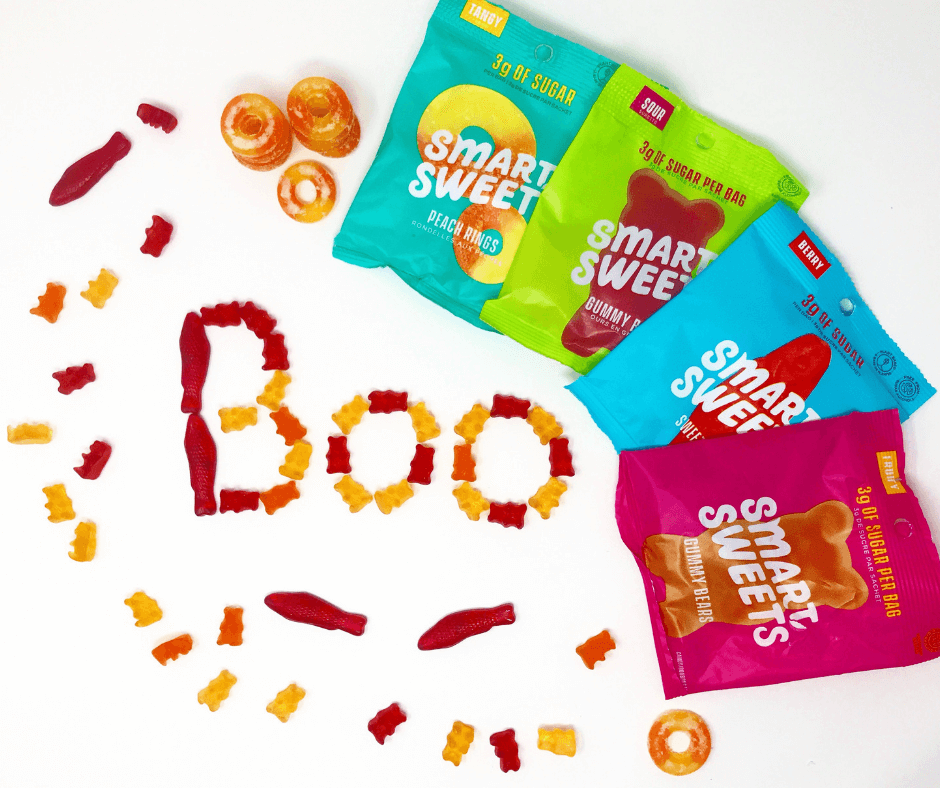 Kids will get a kick out of this unique & creative idea of trick-or-treating for unfrozen freezies instead of candy! These freeze-at-home 100% organic fruit juice freezer pops have no added sugars, artificial flavours, colours or preservatives. DeeBee's Organics' SuperFruit Freezies are also free from the top 8 allergens – milk, eggs, peanuts, wheat, soy, tree nuts, fish, and shellfish. We're equally fans of the tropical, grape and strawberry flavours - just depends on our mood! They're perfect for families wanting to offer fun, healthy treats for kids who are out looking for #TealPumpkinProject homes while trick-or-treating this Halloween!
Other allergen-friendly food ideas for trick-or-treating this Halloween:
Annie's Organic fruit snacks
EnjoyLife bars & chocolate
Wisebites cookies
Plentils chips
Popchips
Veggie Straws
Baby Mum Mum crackers
Organic un-sweetened apple sauce
Organic juice boxes
Allergy-Friendly Halloween Candy:
---
For those of you who want to stick with the tradional candy route this Halloween, we have suggestions for you too! If you are not keen on having separate bowls for candy and non-food options, consider choosing a trick or treat candy that is allergen-free. Here are some of our favourites:
Dum Dum Lollipops

Rockets candy

Skittles




Mike and Ikes




Starbursts




Life Saver Gummies




Dots




Enjoy Life Chocolate




Swedish Fish




Ring Pops




Starbursts




Pixie Sticks
If you're looking for more healthy ideas for school halloween parties, check out these ideas! We're always looking for fun ideas for Halloween & trick or treating. Tell us about any healthy or allergen-free options you've found!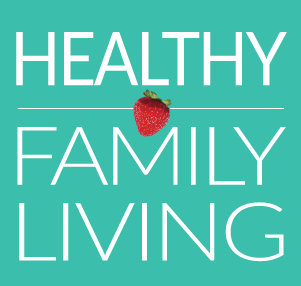 Wondering what to do with the kids in Metro Vancouver this weekend, or what to make for dinner? You can find it at HealthyFamilyLiving.com! From the Sunshine Coast to the Fraser Valley, we're the best online resource for busy parents looking for practical tips for healthy, active, sustainable living. For the latest on family events, outdoor adventures, birthday parties, camps & classes and kid-approved recipes, follow us on Facebook and sign-up for our parent-approved e-newsletter!