Looking for great stocking stuffer ideas to put a smile on everyone's face Christmas morning? We have pulled together a list of our favourite stocking stuffer ideas by age from amazing Canadian-based businesses like Maplelea Girls, basd body care, ZAPPED Outfitters, Theobroma Chocolat, BC Playthings, Tender Leaf Toys, Warm Buddy and so many more:
Toddler & Preschool (ages 2-4)
Early Elementary (ages 5-7)
Older Kids & Tweens (ages 8-12)
Teens & Adults (ages 13+)
We're sure you'll find some inspiration in our list, and we've included links so you know where to buy them!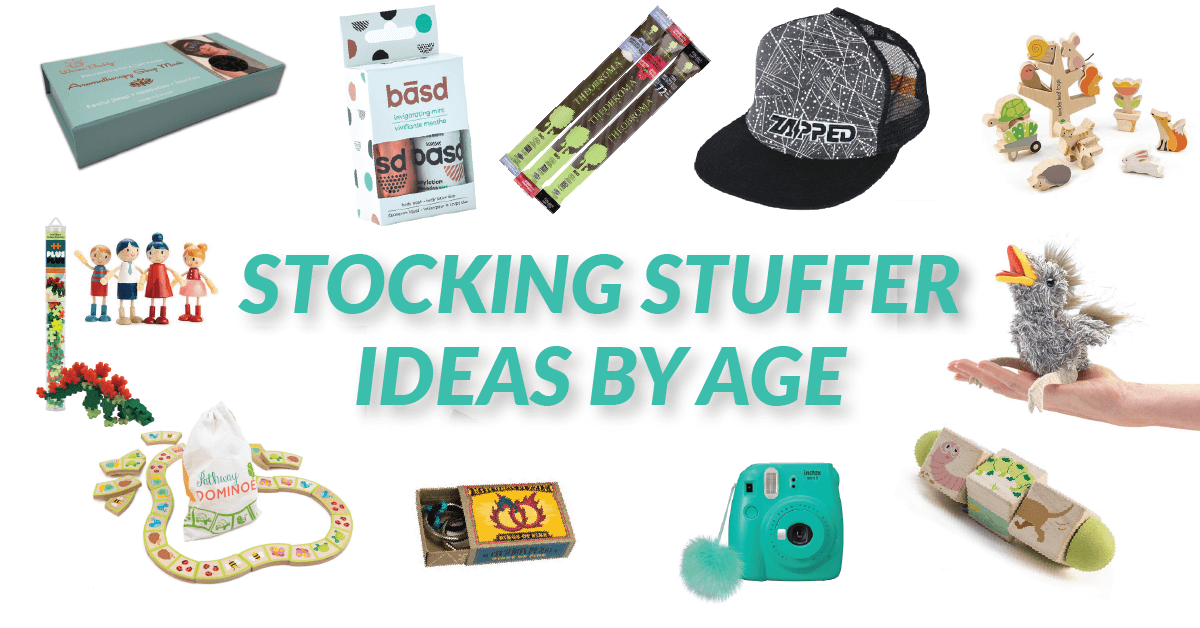 Toddler & Preschool (ages 2 - 4)
---
---
The toddler & preschool years are magical over the holidays. At this age, they're amazed by everything and are just starting to understand holiday traditions. We like simple wooden & pretend-play toys to expand their imaginations.
Match up the animal bodies with Twisting Cubes from Tender Leaf Toys, a simple toy that develops manual dexterity and keeps toddlers entertained while they learn about four different animals. Perfect stocking stuffer for little ones!
Imagine the adventures that you can have with these Folkmanis Finger Puppets from BC Playthings. They come in all sorts of sweet woodland and sea animals as well as farm creatures. You never know where a story can take you!
And the Wooden Doll Family from Tender Leaf Toys also makes a great stocking stuffer for this age range - they're made of solid wood with flexible arms and legs to make any poses kids want! They can be played with on their own or as a perfect companion to their incredible line of high-quality doll houses.
---
These PlanMini sets from BC Playthings are wonderfully portable. They make a great alternative to iPads or colouring at a restaurant. Great for little hands that are ready to work on developing more delicate fine motor skills!
---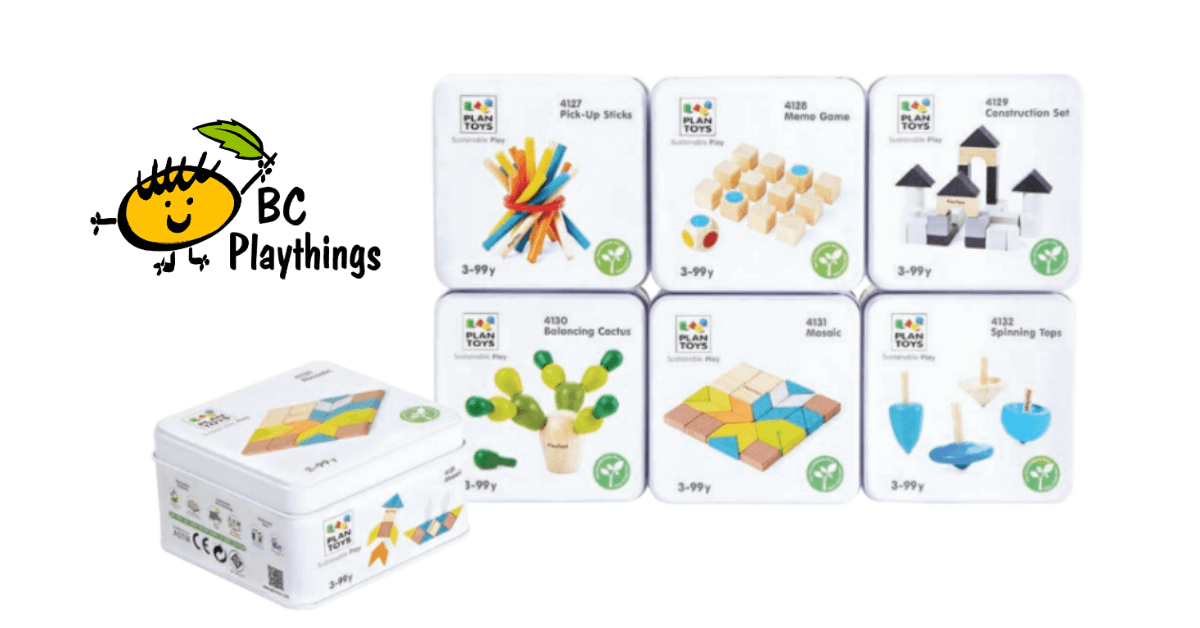 ---
Garden Path Dominoes from Tenderleaf Toys are a delightfully simple introduction to games, turn taking and matching. The natural materials and adorable painted pictures are so sweet. And we love that everything goes back in the cotton bag when you're done playing!
---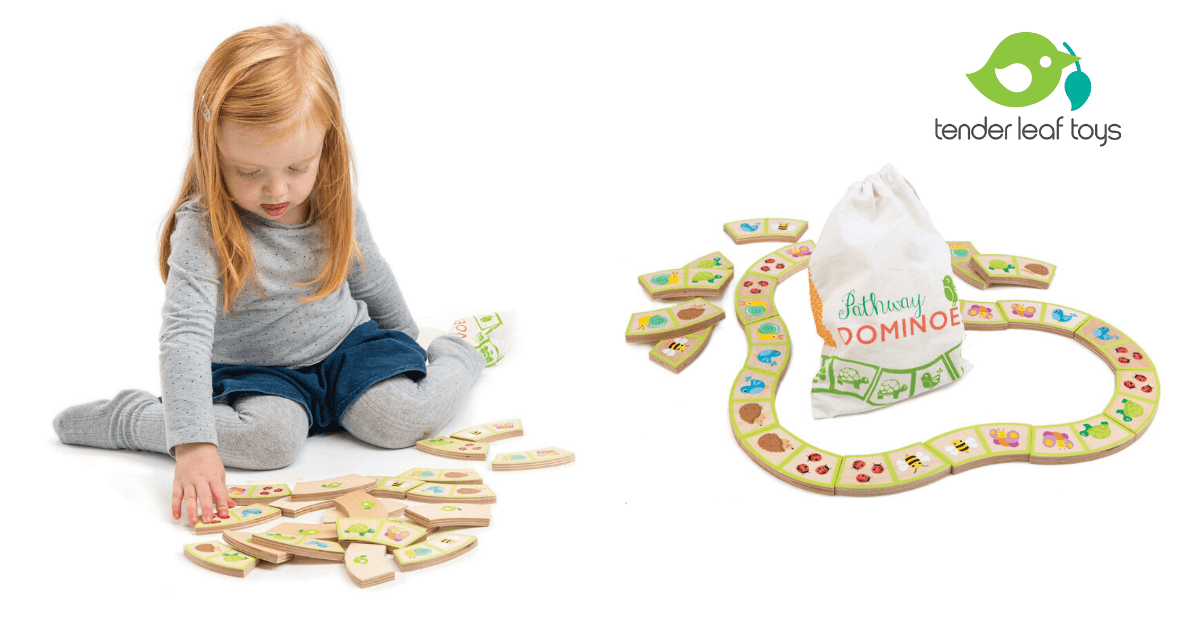 ---
Other stocking stuffer ideas for Toddlers / Preschoolers:
Early Elementary (ages 5 - 7)
---
---
The Christmas spirit is strong at this age! We think that 5 to 7 years old is one of the best age ranges for holiday cheer. Their sense of wonder & excitement is peaked and there are so many fun & creative toys for them to enjoy!
---
Plus Plus Connecter Tube Kits from BC Playthings slide perfectly into a stocking and will bring hours of creative fun. This Danish company creates building bricks that bring 3D adventures to life. Each tube will create the project shown and many more, and they're perfect portable entertainment for kids at restaurants!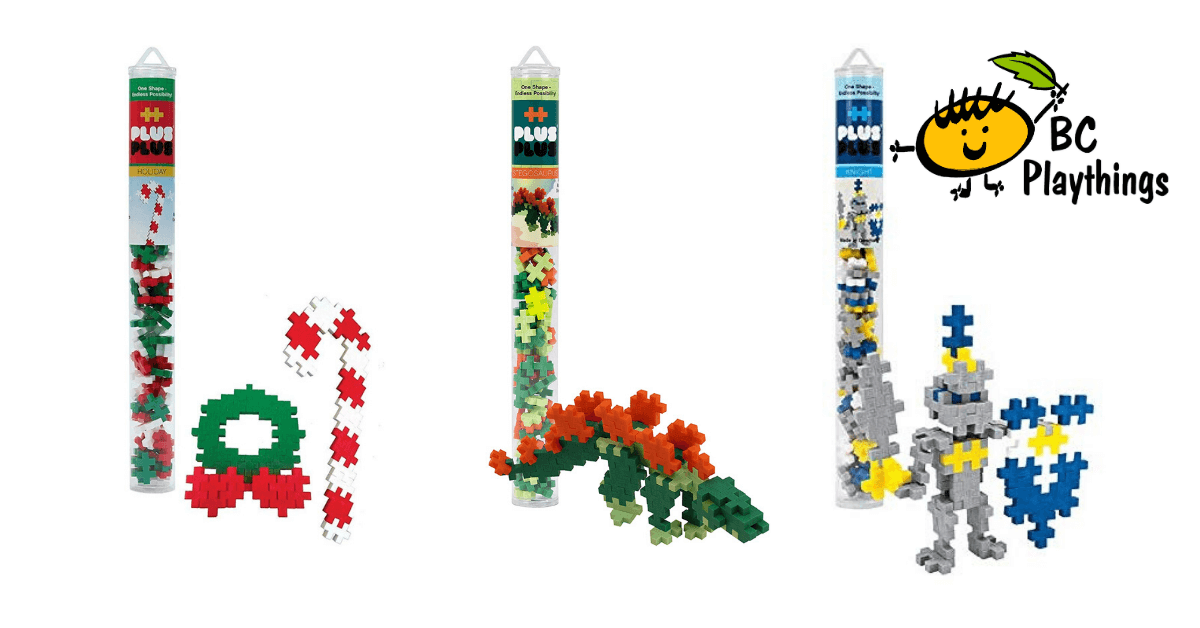 Maplelea Dolls accessories & outfits are perfect for pretend play at this age, and just the right size for stocking stuffers. Their wide range of options includes everything from ice skates and snow boots, to classroom accessories and animal friends, with something special that will appeal to every child. Our own kids love to match their dolls to their own sports, interests, and outfits. They can even have matching pajamas!
Our elementary school kids LOVE these Wild Republic Hugger wrist bands from BC Playthings. These cute plush toys and versatile slap bracelets can be worn wrapped around a child's wrist or other objects such as backpacks, bikes and strollers. Spread the arms wide open, give the belly a squeeze, then SNAP…the arms instantly wrap around and give you a hug. And since they hug onto anything, they are also easy to keep track of!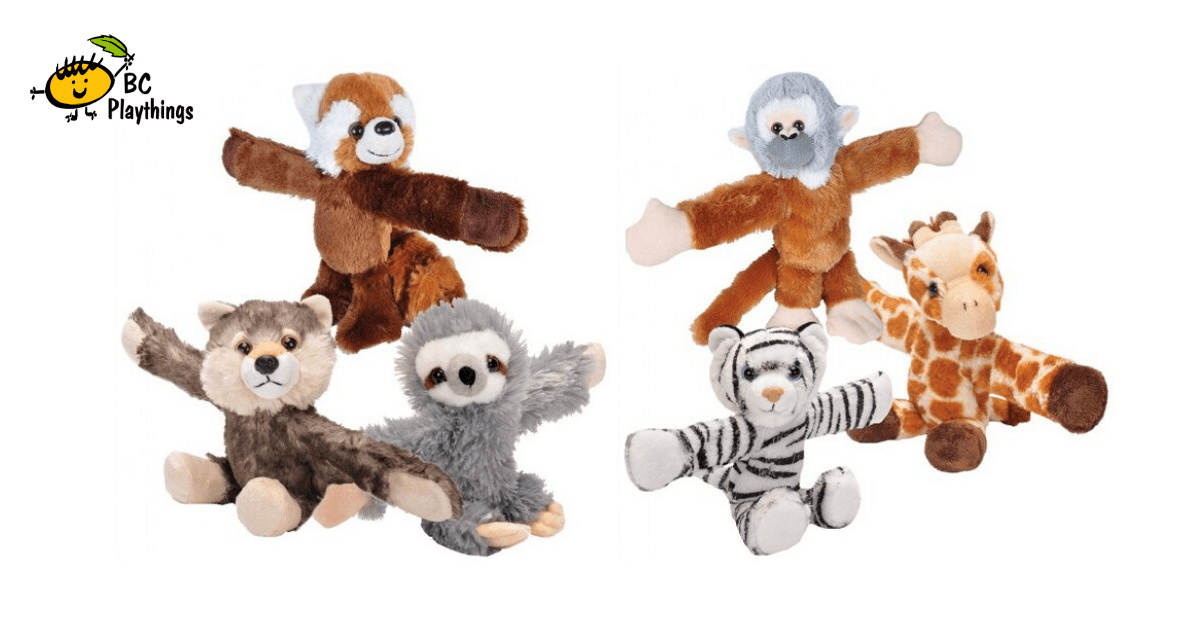 Theobroma All Natural Chocolate Sticks are the perfect little something sweet that always hits the spot during the holidays. Theobroma Chocolate sticks are the very best choice to tuck into a stocking. Little ones will love the shape and delicious flavours, and you'll be happy knowing that this treat is Non-GMO, Organic & Fair Trade!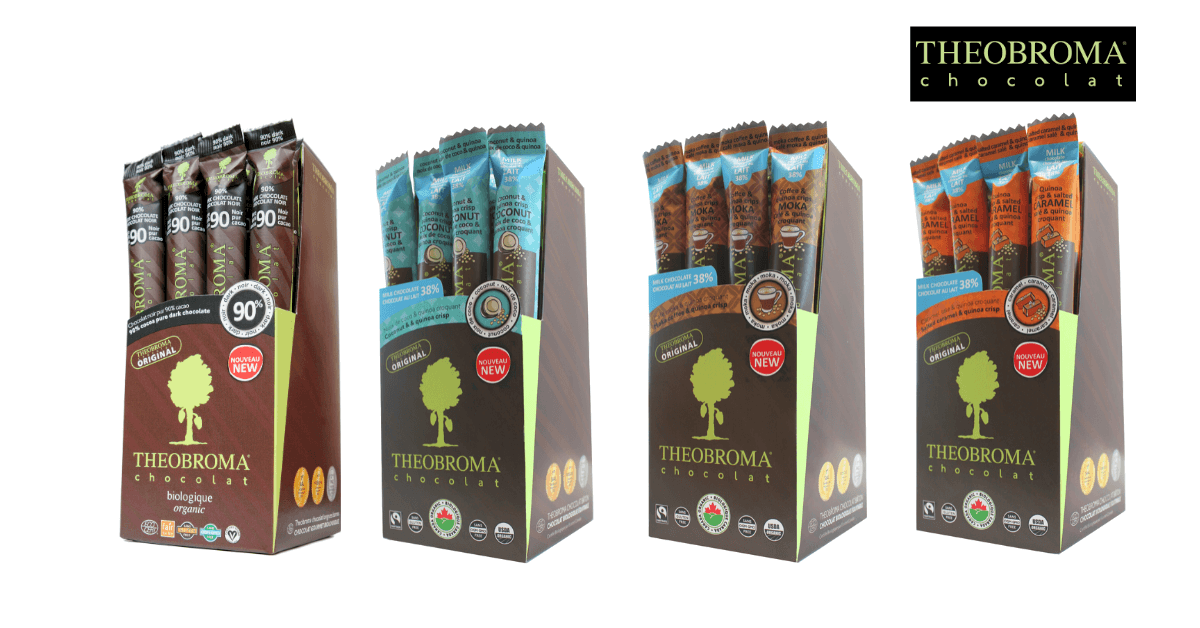 Other stocking stuffer ideas for 5-7 year olds:
Older Kids & Tweens ( age 8-12 )
---
---
There are so many fun items to put in a stocking for 8-12 year-olds! Brain teasers, cool clothing & gear, mini cameras, card games & more. They're old enough to handle more complex gifts but haven't lost their fun side either!
The Reflective ball cap or beanie from ZAPPED Outfitters gets our vote for most innovative stocking stuffer this year! Light up your noggin with the rad reflective front panel on this classic ball cap. Fits any size of rad stylish kid/teen with flat bill and mesh-backed snap adjustment. Play hard, be seen! This type of reflective gear is ideal for urban centers where kids are exposed to high volumes of road traffic, and for remote communities where street lights are few and far between. ZAPPED Outfitters has visibility covered along with resilient protection from our harsh Canadian elements, including reflective backpacks, jackets, and slip on & high top sneakers. 
---
Match Box Puzzles from BC Playthings  are mini puzzles in ultra cute mini matchboxes. Every puzzle has been carefully selected and designed to ensure that these are not your average mini brainteasers. They are top notch and fun (without being too challenging) and make great little gifts. Each box has a further nine matchbox challenges written onto the sides of the matchbox, providing hours of extra fun. Match wits and see just how clever and determined your tween has become!
---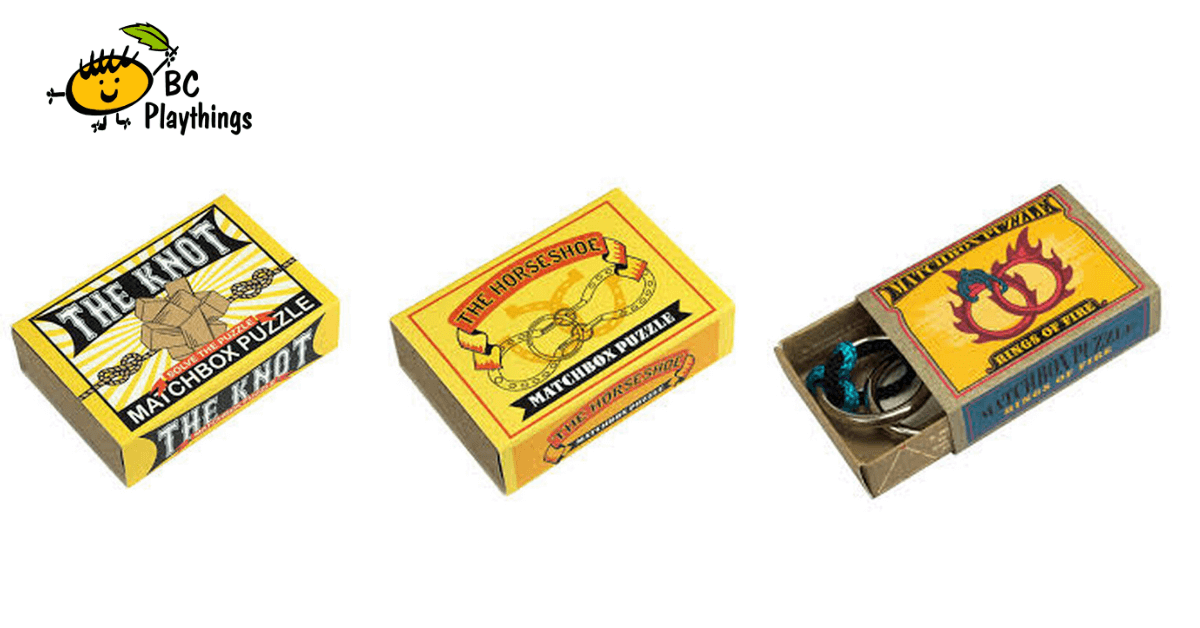 ---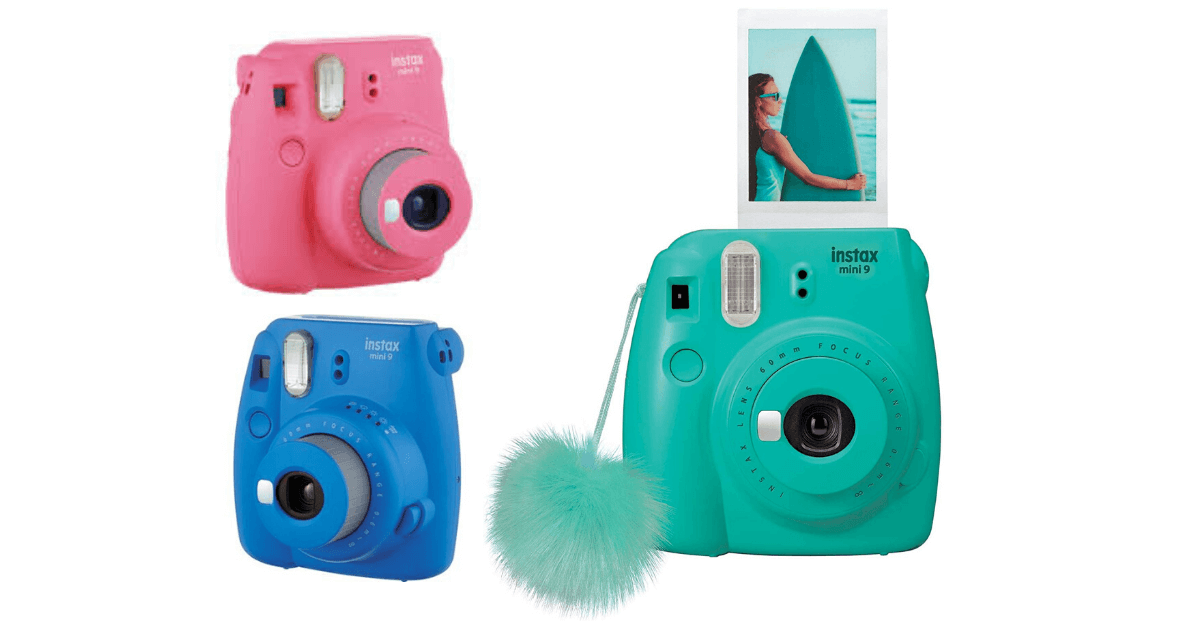 ---
Other stocking suffer ideas for 8- 12 year olds:
Teens & Adults ( age 13+ )
---
---
Let's not forget the older crowd for stocking stuffers! Teens & adults often get body care items or edible treats in their stockings. And we think this is a great opportunity to choose the very best, natural products, with a twist of fun!
---
Head into the new year feeling invigorated with the Mini body wash + body lotion invigorating mint stocking stuffer from basd body care. Perfectly placed in anything hung by the chimney with care, and ideal for everyone, especially travellers, athletes and fitness lovers. Cooling mint leaves your skin feeling so good, you'll want to get dirty again! You'll love the natural ingredients in their body wash like organic aloe and organic green tea that will leave you feeling soft, smooth, firm & hydrated. And their body lotion formulated with organic virgin coconut oil and organic shea butter leave your skin feeling nourished from head to toe. The basd body care invigorating mint stocking stuffer and their larger signature holiday bundles (think body wash, lotion and coffee scrub in mint or creme brûlée!) can be found online at basdbodycare.ca, Whole Foods Market, Choices, Nature's Fare and select local health food retailers.
Theobroma All-Natural Chocolate Sticks are a must-have stocking stuffer for chocolate lovers on your list! Theobroma Chocolat is a family-owned company based in Quebec City that manufactures organic and fair-trade high-end quality chocolate right here in Canada. Their 31g milk chocolate sticks with a unique quinoa crisp are a favourite in our home! 
Not only do we love that this amazing chocolate is Organic, Fair-trade certified, GMO-Free, and Gluten-Free, but their delicious flavours being available as milk chocolate or vegan-friendly dark chocolate ensures there is something everyone will love. For a smaller treat, grab one of their grab and go format chocolate sticks, but the true chocolate lovers on your list will love the larger 80g bars. They even come in award-winning resealable packaging…but we have never needed it! Can't wait for their new 95% Dark Chocolate 80g bars to hit stores in January 2020!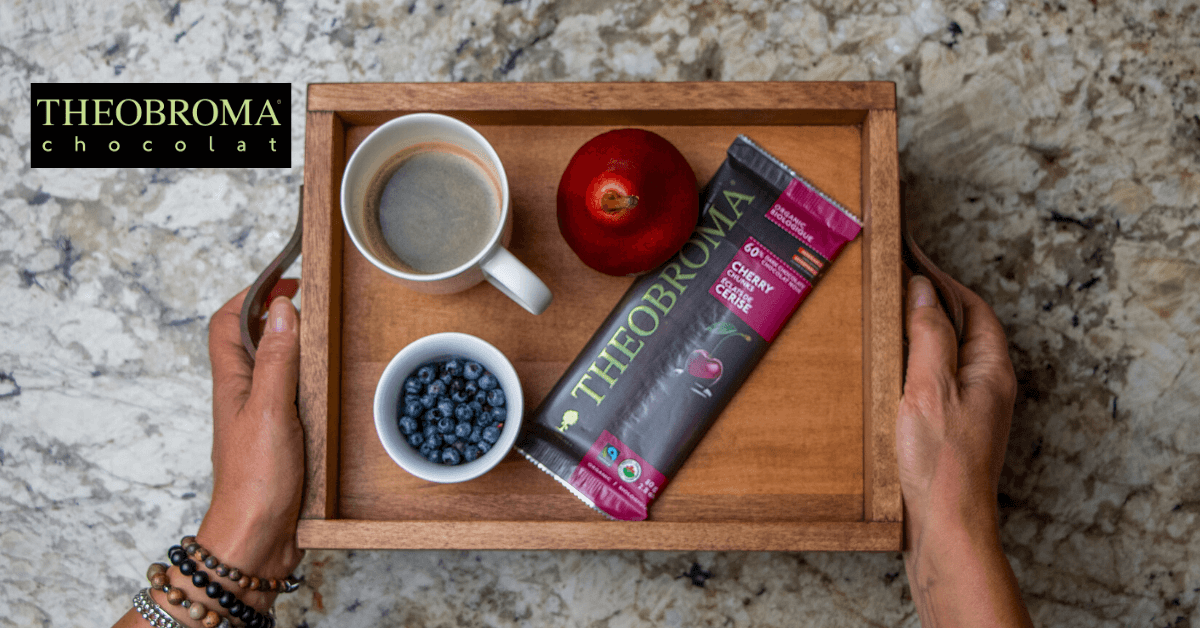 ---
Restless teens & exhausted parents can both benefit from some quality downtime. Relax & rejuvenate with the warmth and comfort of this Aromatherapy Sleep Mask from Warm Buddy. They're designed for a perfect fit across the eyes that provides mild acupressure - perfect stocking stuffer this holiday season! The combo of acupressure and aromatherapy (lavender, peppermint, chamomile, rose geranium) will relax tired eyes and busy minds while promoting restful deep sleep. Great for travel, and perfect for pairing with Warm Buddy's Aromatherapy Sleep Mist.
---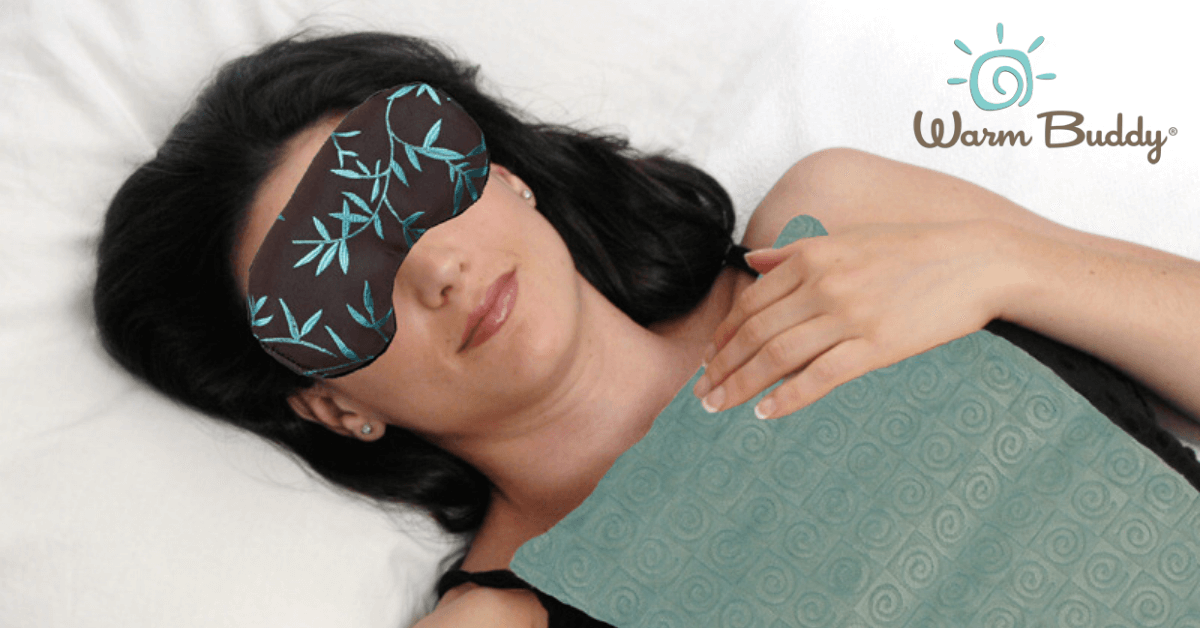 ---
Other stocking stuffer ideas for teens & adults:
Natural deodorant
Phone Case
Goofy Socks
Travel Mug

Natural lip balm

Beef jerky, pretzels & other snacks
---
Note: Some of the links in this post are sponsored or affiliate links where we receive a small commision or fee, but our team has only included items that we would buy for ourselves.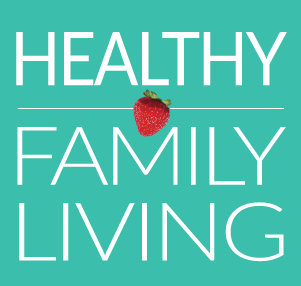 Wondering what to do with the kids in Metro Vancouver this weekend, or what to make for dinner? You can find it at HealthyFamilyLiving.com! From the Sunshine Coast to the Fraser Valley, we're the best online resource for busy parents looking for practical tips for healthy, active, sustainable living. For the latest on family events, outdoor adventures, birthday parties, camps & classes and kid-approved recipes, follow us on Facebook and sign-up for our parent-approved e-newsletter!