Leftover turkey is perfect for this super easy & healthy slow cooker white chili!
This recipe is so easy it's often our kid's job to make it, especially if we are using up leftover turkey. It takes less than ten minutes to prep and then simmers while you do other things. It makes a great meal to come home to after a day of outdoor activity such as hiking or skiing.
Don't worry about spice, this chili is flavourful but allows you to add heat in your toppings. Great for everyone! It works just as well with chicken breasts (see note in recipe) or a rotisserie chicken. To make it vegan, simply skip the meat and add another can of white beans or diced extra firm tofu.
Easy, tasty & healthy! WIN WIN WIN!
White Turkey Chili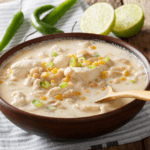 1 lb leftover turkey meat (or meat from a rotisserie chicken or 3 raw chicken breasts)
Vegan sub 1 extra can of beans or 1 pack of extra firm tofu diced
2 15 oz cans of white beans (we used white kidney beans but Northern or cannellini are great)
3-4 cloves of garlic chopped
1 small onion finely diced
4 cups of vegetable stock (or chicken)
1-2 4.5 ounce cans of diced green chiles (not jalapenos)
2 tsp ground cumin
1 1/2 tsp dried oregano
1/2 tsp salt
1/4- 1/2 tsp of cayenne (1/4 was good for the kids)
Juice of 1/2 fresh lime (plus wedges for serving)
1/4 cup chopped cilantro (plus more for serving)
Chopped avocado (lime, plain yogurt & grated cheese for serving. Kick it up with hot sauce or diced jalapenos if you like)
If using raw chicken meat place in the bottom of a large slow cooker (if using leftover turkey, cooked chicken or tofu you will add them later)
Add the next 10 ingredients to the slow cooker (the order doesn't really matter just don't add cooked meat yet!)
Cover & cook on low for 5 hours or high for 2 1/2 hours (check the meat for doneness)
Remove the cooked chicken and pull apart into pieces that you can manage with a spoon
Using a hand blender, blend a few pulses until some of the beans are pureed into the broth. Leave about half the beans whole.
Return the cooked meat to the slow cooker (if using leftovers or tofu this is where you add them!!)
Add the cilantro & lime juice
Cover and cook for another 15 min on high
Serve in bowls topped with your favourite garnishes with bread to mop up the juice. You're not going to want to waste a drop!
Slow Cooker Cook time: 2 1/4- 3 hours on high, 4-6 on low
Co-founder of Healthy Family Media and the Healthy Family Expo, Kay is an adventurer & Ironman triathlete, as well as mum to an active 11-year-old. Originally from Montreal, she has been proud to call British Columbia home for over 15 years. Whether running, hiking & biking in the mountains or creating healthy meals in the kitchen, Kay is always up for something new.  Her contagious enthusiasm & zest for life mean we're never quite sure what she'll be up to next, but we're sure that it will be an amazing adventure!