We all want to be out enjoying the warm sunny days all summer long but it's important to follow some key tips when it comes to sun safety. More than the "slip , slap , slop" advice of the 1980's these tips include how to choose natural sunscreens for your family.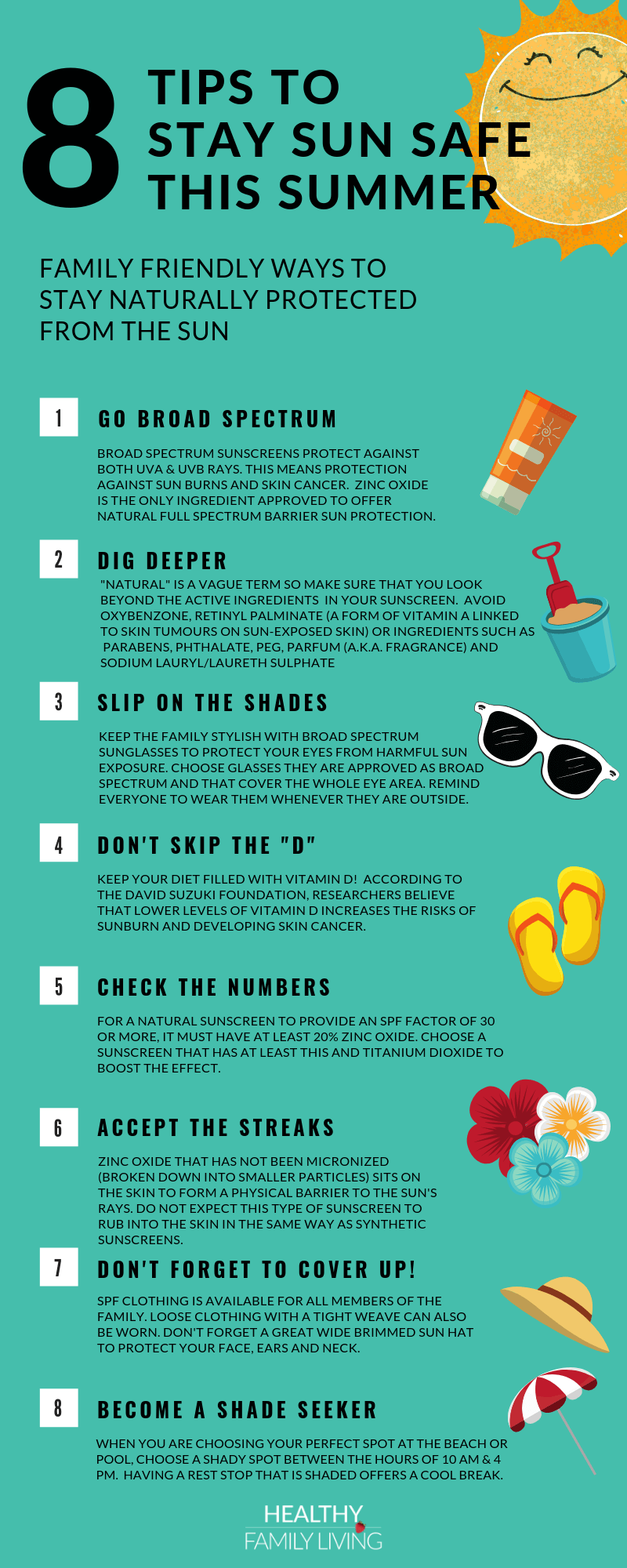 SUN SAFETY TIPS
GO BROAD SPECTRUM
Broad spectrum sunscreens protect against both uva & uvb rays. this means protection against sun burns and skin cancer. Zinc oxide is the only ingredient approved to offer natural full spectrum barrier sun protection.
DIG DEEPER
"Natural" is a vague term so make sure that you look beyond the active ingredients  in your sunscreen. Avoid oxybenzone, retinyl palminate (a form of vitamin a linked to skin tumours on sun-exposed skin) or ingredients such as  parabens, phthalate, peg, parfum (a.k.a. fragrance) and sodium lauryl/laureth sulphate.
SLIP ON THE SHADES
Keep the family stylish with broad spectrum sunglasses to protect your eyes from harmful sun exposure. choose glasses they are approved as broad spectrum and that cover the whole eye area. Remind everyone to wear them whenever they are outside. 
DON'T SKIP THE "D"
Keep your diet filled with vitamin D!  According to the david suzuki foundation, researchers believe that lower levels of vitamin D increases the risks of sunburn and developing skin cancer.
CHECK THE NUMBERS
For a natural sunscreen to provide an spf factor of 30 or more, it must have at least 20% zinc oxide. Choose a sunscreen that has at least this and titanium dioxide to boost the effect.
ACCEPT THE STREAKS
Zinc oxide that has not been micronized (broken down into smaller particles) sits on the skin to form a physical barrier to the sun's rays. Do not expect this type of sunscreen to rub into the skin in the same way as synthetic sunscreens.  
DON'T FORGET TO COVER UP!
SPF clothing is available for all members of the family. loose clothing with a tight weave can also be worn. Don't forget a great wide brimmed sun hat to protect your face, ears and neck. 
BECOME A SHADE SEEKER
When you are choosing your perfect spot at the beach or pool, choose a shady spot between the hours of 10 am & 4 pm.  Having a rest stop that is shaded offers a cool break.
We found the best source of all the latest info and suggestions on choosing the right natural sunscreen can be found on this natural sunscreen list. Here is a quick overview comparison between natural and synthetic sunscreens and how they work: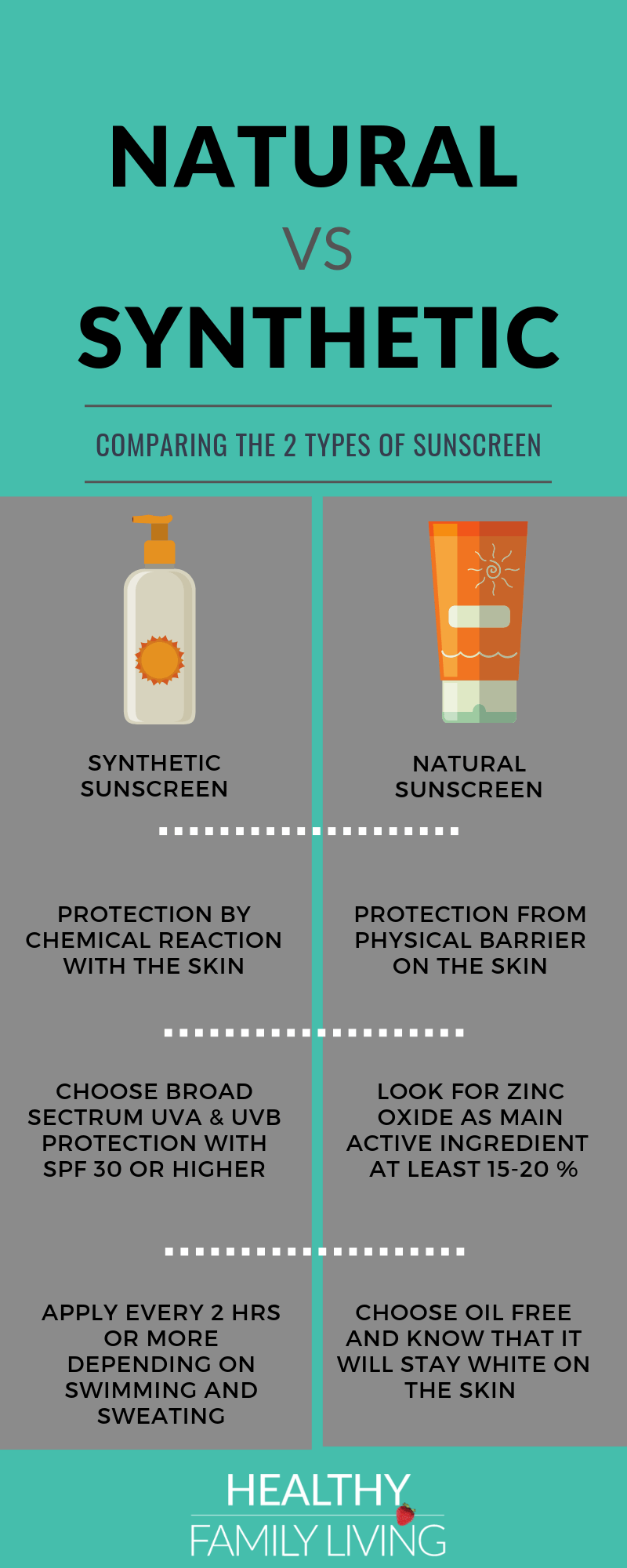 Co-founder of Healthy Family Media and the Healthy Family Expo, Kay is an adventurer & Ironman triathlete, as well as mum to an active 11-year-old. Originally from Montreal, she has been proud to call British Columbia home for over 15 years. Whether running, hiking & biking in the mountains or creating healthy meals in the kitchen, Kay is always up for something new.  Her contagious enthusiasm & zest for life mean we're never quite sure what she'll be up to next, but we're sure that it will be an amazing adventure!