When back to school is in full swing in households across Canada,  we love this fall recipe that's easy & fun for the whole family. Perfect for nights when you're trying to get to dance, hockey, or even doggie obedience class!
JUMP TO RECIPE
---
---
When a meal ticks all the boxes, you know it is going to become a family go-to. This cozy & delicious pasta is ready in about 20 minutes, uses only 8 ingredients, and is so easy that even our older kids can take charge of dinner. 
We love that Grimm's Fine Foods guarantees that their products contain absolutely no fillers or bi-products and that they try to make their products as low in salt and fat as possible. With so many options that are gluten, lactose, and soy-free with no MSG added we know that we can find great ingredients for all our recipes.
JUMP TO RECIPE
---
CHORIZO SAUSAGE PASTA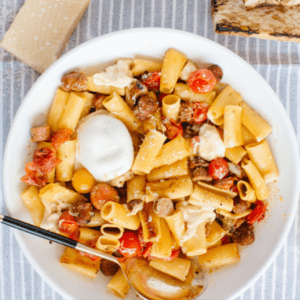 In a rush? This delicious pasta is so quick & satisfying!

Ingredients:
1 pack

Grimm's Chorizo Sausage

1 pint baby tomatoes

1 ball burrata cheese

Fresh herbs of choice (parsley or thyme works well)

500 grams of your fave pasta

Olive oil

Parmesan cheese to taste

Salt to taste
instructions:
Bring water to a boil in a medium-sized pot. Once boiling, add a Tbsp of kosher salt and a glug of olive oil. Drop the pasta in and cook as directed to al dente.

While pasta is cooking, add 2 Tbsp of olive oil to a pan on medium-high heat. Add sausages and tomatoes into the pan. Cook for about 3 minutes on one side, flip chorizo and cook for 3 minutes more. Reduce heat and cover. Cook covered for another 7-8 minutes until sausage is fully cooked and tomatoes are soft but still intact.

Take sausages out and slice to your desired size. Mash half the tomatoes in the pan,  and leave the other half of the tomatoes whole.

Add Chorizo back into the pan. Mix in the cooked pasta. Then nestle in the burrata 

cheese making a layer on top. 

Using your oven-proof pan, bake in a preheated oven at 425 degrees until cheese is melted. Approximately 4-5 minutes.

Garnish with fresh herbs, grated Parmesan, and some nice salt!
Original recipe and photos from @VargaCooks
---
Grimm's Fine Foods is proudly celebrating its 70 Year Anniversary. Started in 1951 when two brothers, Henry & Jacob Grimm, opened a small butcher shop on East Georgia Street in East Vancouver. They shared a handful of recipes and a vision to make the best products possible for their community. Over the years, their integrity & commitment to quality never wavered. Premium ingredients and a desire to meet the ever-changing needs & tastes of families guided the company's continuous growth. Today Grimm's Fine Foods offers an expansive variety of high-quality meat products, fine cheeses, tortillas, wraps & snacks!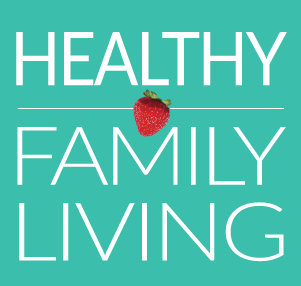 Wondering what to do with the kids in Metro Vancouver this weekend, or what to make for dinner? You can find it at HealthyFamilyLiving.com! From the Sunshine Coast to the Fraser Valley, we're the best online resource for busy parents looking for practical tips for healthy, active, sustainable living. For the latest on family events, outdoor adventures, birthday parties, camps & classes and kid-approved recipes, follow us on Facebook and sign-up for our parent-approved e-newsletter!