Halloween is a fun & spooky time of year, but it doesn't have to be too scary for younger kids. There are lots of choices of gentle Halloween activities that won't give your kids nightmares.  All events are covid-friendly, but we always recommend calling ahead as local regulations and restrictions can change.
We have ideas to explore online and in Burnaby, Britannia Beach, Maple Ridge, Richmond, Squamish, Surrey,  Vancouver, & West Vancouver.
One of our family favourites is HowlOver Canada in downtown Vancouver! Year after year, our kiddos love joining Biker Mama the Witch on this unforgettable Halloween flight ride for all ages. You get to soar through the skies with a band of spooky sidekicks on your way to a music festival that's out of this world! The complete Halloween experience includes a HowlOver Canada-themed Pre-Show, a breathtaking 8-minute flight ride experience, Halloween theming & spine-tingling decorations, and costumes are welcome and encouraged for all!
And if you are looking for the perfect pumpkin, we have you covered there too with our Complete Guide to Pumpkin Patches across Metro Vancouver.
ONLINE EVENTS
Boo-rnaby Trick or Treat Halloween Contest
Solve riddles and upload pictures of as many Burnaby clue locations as you can. Dress up the family and start solving clues for this online Halloween Scavenger Hunt. Daily challenges written in rhyme, complete if you dare and post it online! Contest opens October 13th.
BRITANNIA BEACH /SQUAMISH
A Bad to the Bone Halloween Event at Britannia Mine – from 10 am to 3:15 pm October 24th & 25th, October 30th/31st
A journal was recently discovered from a long lost pirate searching for treasure in Britannia some hundred years ago! Join an underground adventure of riddles and clues to find out why they never found the treasure and what happened to the pirate and crew! As you continue your exploration around the site, check out the Witches' Lair and Wall of Wonders in the Bone Yard with skeletons of creatures both real and mythical! Make sure you don't miss the Spooky Skeleton Science Show or photo booth! As to the Terra Lab, it's now the Terror Lab – enter at your own risk and try your hand at assembling a real Orca skeleton! Pre-Booking highly recommended as this event sells out. Admission is $20 for adults & youth, while kids 2-12 are $15. Under 2, and members are free!
Halloween Trick or Treat at Sea to Sky Gondola – October 24th from 12:00 to 3:00 pm
Sea to Sky Gondola will be welcoming costume-clad-trick-or-treaters of all ages for seasonal surprises along the Alpine Alley Trail at the summit of the Sea to Sky Gondola. Dress the part and give them your best Halloween scare!
BURNABY
Eerie Illusions at Burnaby Village Museum   – Friday, October 22nd to Sunday, October 31st | from Oct 24 – 28, 5:00 – 11:00 pm all other days.
Burnaby Village Museum is transformed into a magical world bathed in breathtaking colour, with talking crows, invisible bands and photo-bombing ghouls as part of Eerie Illusions, a Halloween event unlike anything else in Metro Vancouver. This self-guided family friendly Halloween experience is suitable for all ages. Purchase your tickets in advance. Event runs rain or shine, please dress for the weather as this is an outdoor event.
MAPLE RIDGE
Celebrate the Night at Memorial Peace Park   – Friday, October 22nd 6:00 – 8:30 pm
The City of Maple Ridge is proud to present Celebrate the Night 2021. This year's celebration includes light displays, live theatre, roving performers, a photo booth and costume contest, and fireworks!
RICHMOND
The Haunted Sea at Gulf of Georgia Cannery National Historic Site – October 2nd to 31st, 2021 from 10:00 am – 5:00 pm
Encounter spooky sea creatures and twisted tentacles floating alongside historic legends and sea lore. Entertain your imagination with games, crafts, activities and a journey into the deep to learn about the true terror of the seas! Drop-in any time to explore at your leisure. Suitable for kids of all ages – costumes are encouraged on Halloween weekend.
Scarecrow Crawl & Trick-or-Treating in Steveston Village – October 1st to Oct 31, 2021
Steveston businesses will put out their unique themed scarecrows for visitors to come and take photos of during the month of October. On Halloween afternoon bring the little ones to Steveston Village from 3:00 to 5:00 pm in their costumes and get treats from participating merchants!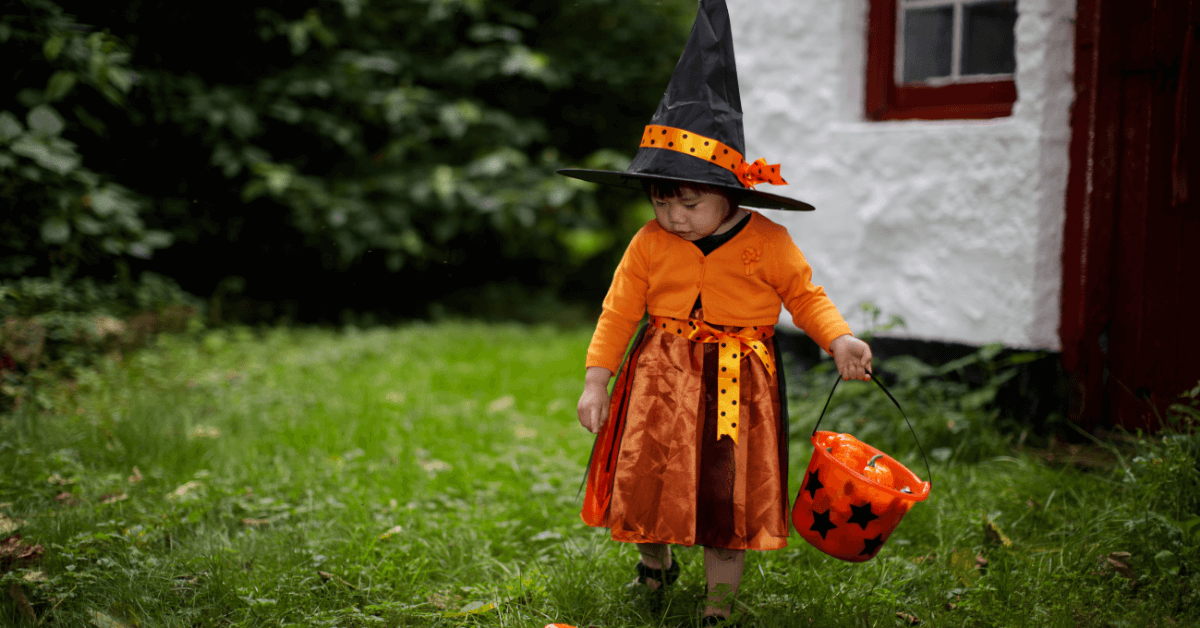 SURREY
Bear Creek Park Train – October 9 to 31 from 10 am until 4:30 pm.
The Pumpkin Express is spooky fun day for younger kids! This event includes a train ride through the decorated forest, a treat and a pumpkin! This event is first come first serve (no online tickets) Admission is $11.50/person under the age of 2 are free.
The Halloween Scream train runs Oct 16th-31st from 6:30pm-10pm for the braver (older) groups. Purchase tickets online at www.bctrains.com.
Halloween Storytime & Nature Walk At Redwood Park – October 30 from 9:30 am to 12:45 pm
Enjoy a spooky story under the treehouse and take a nature walk in beautiful Redwood Park. The event is free, but pre-registration is required.
Outdoor Scarecrow Stroll at Art's Nursery Garden & Home – September 25 to October 31 from to 6Enjoy over 60 unique Scarecrows, a pop-up pumpkin patch, and scavenger hunt, plus live music and food trucks on Weekends! Buy a Take-Home Scarecrow Kit from $14.98, with proceeds going to charity.
VANCOUVER
HowlOver Canada – September 27 to October 31 from 10:00 am to 9:00 pm
Join Biker Mama the Witch on an unforgettable Halloween flight ride for all ages. HowlOver Canada lets you soar through the skies with a band of spooky sidekicks on your way to a music festival that's out of this world. There's still broom – but get your tickets today! Guests save when booking in advance online. Children must be 40″ tall.
Halloween Mystery Night for Families – October 1 to 31 from 10:00 am – 7:00 pm
Three games to choose from: an outdoor murder mystery for Halloween, a superhero adventure game or a play a spy-themed outdoor escape the room style game in Vancouver this Halloween. Sign up in teams of 2-6 players and compete for the top score in these fun group activities in Vancouver for Halloween. Costumes encouraged! $35 per player + GST.
Halloween Carnival & Ghostly Graveyard – October 30 from 10:00 am to 12:00 pm
Join the Coal Harbour Community Centre for a fun, hair-raising event and get into the spooky spirit! Enjoy creepy crafts, terrifying treats, eerie entertainment and much more! Don't forget to wear your costume & visit the ghostly graveyard. Parent participation is required. Pre-registration is recommended. ($5/child, $7/child on the day-of event).
Parade of Little Souls – October 30 at 7:00 pm
Happy Halloween! Parade of Little Souls is for the children who want to join in on the colourful and dazzling festivities! Join the family-friendly procession that meets at the Britannia Library. Procession starts at 7pm.
Fin-tastic Fall Days at the Vancouver Aquarium – October 1 to 31 from 10:00 am to 5:00 pm
This October, treat your family to the first-ever Fin-tastic Fall Days at the Vancouver Aquarium where you can explore the Trick-or-Trout maze, immerse yourself in the brand-new SCOOB! 4D Experience® movie, and try tasty seasonal treats! Get into the spirit of the season with Dress-Up Days and trick-or-treat giveaways over Halloween weekend.
Halloween Party at Gymboree Play & Music – Oct 30 from 3:00 – 4:00 pm & Oct 31 from 2:45 pm – 3:45 pm
Halloween fun for the littlest of trick-or-treaters, this party is designed for munchkins from birth – 5 years old! There will be goodie bags, a costume contest, games, prizes, and more!
WEST VANCOUVER
Pancakes & Pumpkin Patch – October 17 from 9:00 am – 1:00 pm
Enhance West Van proudly presents Pancakes and Pumpkin Patch, a fall-themed fundraising event including a pumpkin patch, pancake breakfast sale, and live entertainment at the West Vancouver Community Centre. Pre-sale tickets can be purchased at a discounted price until October 16th at the Community Centre front desk or online. Tickets can be used at the event for the pumpkin patch, pancake breakfast and buying a hot coffee. Event day tickets can be purchased at the ticket tent. All ticket purchases are non-refundable.
Heather is a Toronto born mama of two whose parenting journey has taken her family coast to coast across Canada. When she's not whipping up recipes for the Healthy Family Living website or sharing the latest fun Vancouver events on HFL's Facebook page,  she's a freelance writer that has recently been published in an anthology entitled BIG, as well as in the Huffington Post, as she and her hubby of 13 years attempt to keep up with their two spirited girls and 3 fur babies!