Halloween is a fun & spooky time of year, but it doesn't have to be too scary for younger kids. There are lots of choices of gentle Halloween activities that won't give your kids nightmares.  There are many events canceled in 2020 but these listed here have made covid-friendly adjustments to their events to keep everyone safe. Masks are mandatory at most of these events and spaces are limited.
ONLINE EVENTS
Treat to be Tricked Magic Show
Join 6 amazing magic competitors as they perform to win your vote for the 2020 title of Children's Magician of the Year! For the first time ever the show will be presented virtually so the magic will happen right in your own home! 
Boo-rnaby Trick or Treat Halloween Contest
Solve riddles and upload pictures of as many Burnaby clue locations as you can. Dress up the family and start solving clues for this online Halloween Scavenger Hunt. Daily challenges written in rhyme,
Complete if you dare and post it online!
BRITANNIA BEACH
/
SQUAMISH
Spooktacular Halloween Event at Britannia Mine – from 10 am to 3:15 pm October 24th & 25th, October 31st
Wear a costume, have a family photo taken and take in family-friendly frights that focus on science. Bats, ghost stories and all things spooky will guarantee a 'Spoo-ook-tacular' time for those visitors who dare to join! Festivities will run over three days, with a range of spooky activities to thrill adults and kids alike. The Museum has worked hard to create an event that takes into account COVID safety procedures but leaves plenty of room for fun. Admission includes a viewing of BOOM! and a spooky story after the show in Mill No. 3.  The Underground train will not be a part of Halloween celebrations this year but is possible with the purchase of a regular admission ticket.  Admission is $20 for adults  & youth with kids 2-12 $15.
BURNABY
Movie Theatre Halloween Celebration – Saturday, October 31st, from 10:00 am to 12:00 noon
Tinypreneurs has partnered with Cineplex Cinemas Metropolis to help families celebrate safely! Two entire movie theatres at Cineplex Cinemas Metropolis are reserved for a special Tinypreneurs Halloween celebration for a maximum of 25 people. In addition to strict sanitization measures in place at Cineplex theatres, we keep the numbers well below the 50 people maximum to maximize safety for families. Wear your costumes, enjoy pre-packaged Halloween treat bags, and watch Hotel Transylvania in a big theatre in a physically-distant responsible way! Admission is $5 per child $9 per adult, and booking must be made in advance (max. 25 attendees).
RICHMOND
Once Upon a Haunted Sea at Gulf of Georgia Cannery National Historic Site – October 9 to November 8
A fairy-tale reboot of their annual Halloween event, extended to a month-long installation for visitors of all ages to explore with safe distancing measures in place. Follow the path into the darkest depths of the sea and come out a hero with new knowledge and tools to help save the ocean from death by plastic monsters.
Trick-or-Treating in Steveston Village – Saturday, Oct 31, 2020   3-5 pm
Trick or treaters take to the streets of Steveston in the daylight and visit over 40 participating businesses offering treats. The cute factor is high as anything from a walking gumball machine to Little Bo Peep may cross your path! Neighbourhood kids are invited to bring their treat bag and have some non-scary fun. This event takes place rain or shine!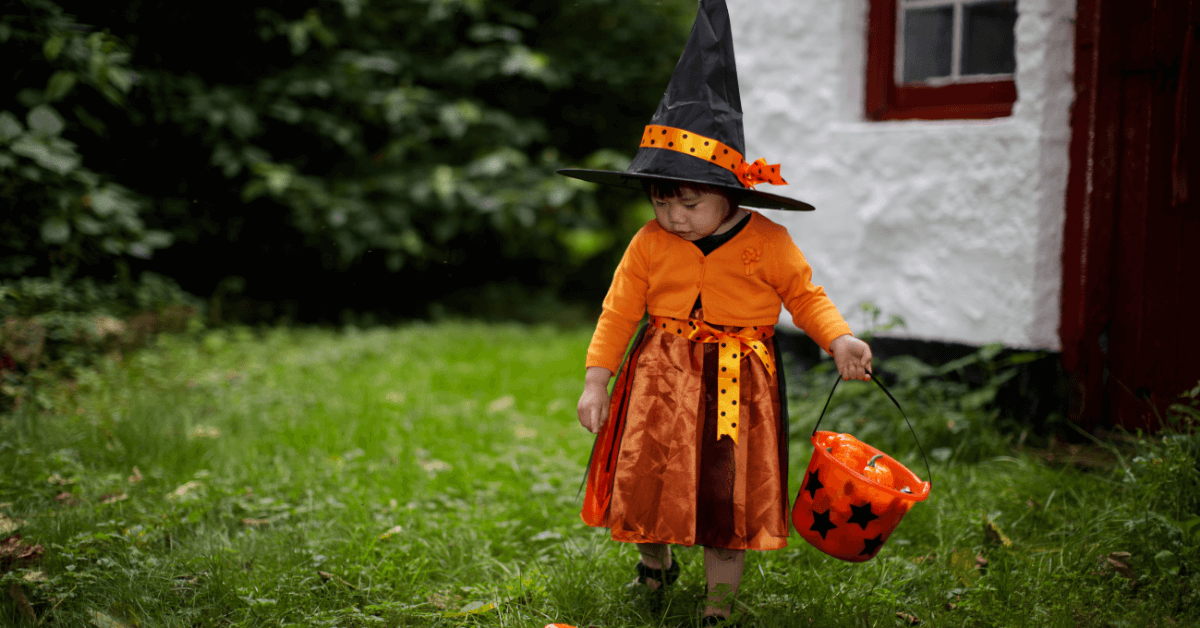 SURREY
Bear Creek Park Train – October 10 to 31 from 10 am until 4:30 pm, rain or shine. Enjoy a spooky fun day! This event includes a train ride through the decorated forest, a treat and a pumpkin! This event is first come first serve (no online tickets) and masks and physical distancing are mandatory. Admission is $10/person under the age of 2 are free.
Preschool Halloween Outdoor Treasure Hunt – At Hawthorne Park 
October 24 from noon to 11-2:30 pm
Follow the clues that you find using GPS coordinates, and solve the Halloween riddle. Each family will receive a GPS device as well as instructions on how to participate. Pre-registration is required, spots are limited! Parent participation is required, families are welcome.
Spooktacular at Heritage Park – – 
Drop off the kids to spend their Pro-D day with other young witches and wizards as they make scary decorations, get their fortunes told, and create a witch's brew.  This Pro-D day camp has been modified based on BC Health and Safety Recommendations. Pre-registration is required. Costumes optional.
Outdoor Scarecrow Stroll at Art's Nursery Garden & Home – – This annual fall scarecrow event has transformed into a "Scarecrow Stroll" for 2020. Visit the expansive 10+ acre nursery anytime between Sept 19 and Halloween to enjoy a casual, socially distant, outdoor stroll amongst 50+ scarecrows and fall photo opportunities. Enjoy the beauty of nature, the creativity of our scarecrow building team. "Scarecrow Building Kits" available for purchase. Buy a kit and build your scarecrow at home!
VANCOUVER
Halloween Mystery night for Families – every weekend in October
Become a superhero and stop the Muck Monster this Halloween! Supervillain Muck Monster has plans to take over planet earth. You have two hours to stop her and save the planet. Sign up with your team(s) of superheroes (one bubble per team please!). Then, watch for further instructions. You will be met by Agent X, who will give you everything you need to save planet earth, including a map and a superpower for each player.
Costumes encouraged! $35 per player + GST.
HowlOver Canada – daily in October 11 am – 7pm
Join Biker Mama the Witch on an unforgettable Halloween flight ride for all ages. HowlOver Canada lets you soar through the skies with a band of spooky sidekicks on your way to a music festival that's out of this world. There's still broom—but get your tickets today.  Masks are mandatory. Guests save at least 10% when booking online the same day. Children must be 40″ tall.
A Taste Of The PNE – Trick or Treat – October 29, 30 & 31 times vary by day
This family-oriented experience will include live spooky characters, Halloween décor, and safe trick-or-treating for the little princesses and goblins! Admission includes the drive-thru experience as well as a trick-or-treat bag with a selection of mini PNE goodies that includes a Halloween-themed candy apple, treat sized popcorn, mini cotton candy, mini donuts and packaged candy.  $25 per carload, including 1 treat-filled bag; additional treat-filled bags can be purchased for $15 each
Born & raised in Vancouver, and co-founder of Healthy Family Media and the Healthy Family Expo, Angela is a reformed divorce lawyer turned healthy family champion! By day, she thrives on connecting conscious brands with busy Vancouver families. By night, you'll find her wrangling two feisty daughters, choosing between instant pot or healthy freezer meals for dinner, and singing with MomChoir. She especially loves sharing her favourite family-friendly finds with other Lower Mainland parents!