Need fun foodie stocking stuffer ideas for everyone on your list? We've rounded up our favourite treats that are perfect for your family's Christmas stockings!
Getting something yummy in your stocking that fits into your healthy lifestyle can be quite the treat! So these delicious & thoughtful stocking stuffer ideas will bring a smile to your loved ones' faces. Kids, tweens, parents, grandparents – we have foodie stocking stuffer suggestions for everyone on your list. And they're all available at local retailers in BC or online!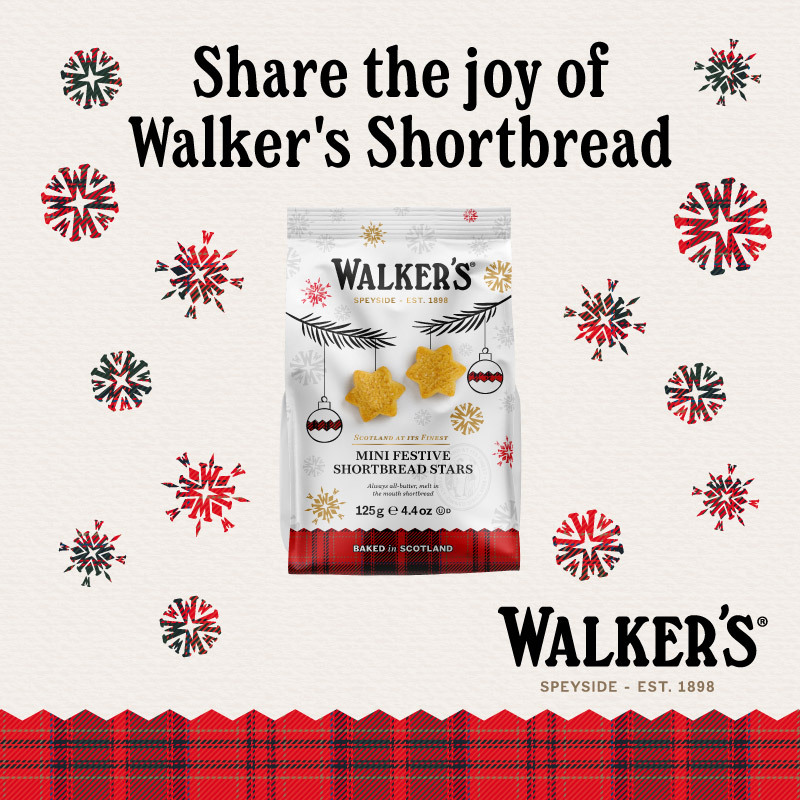 ---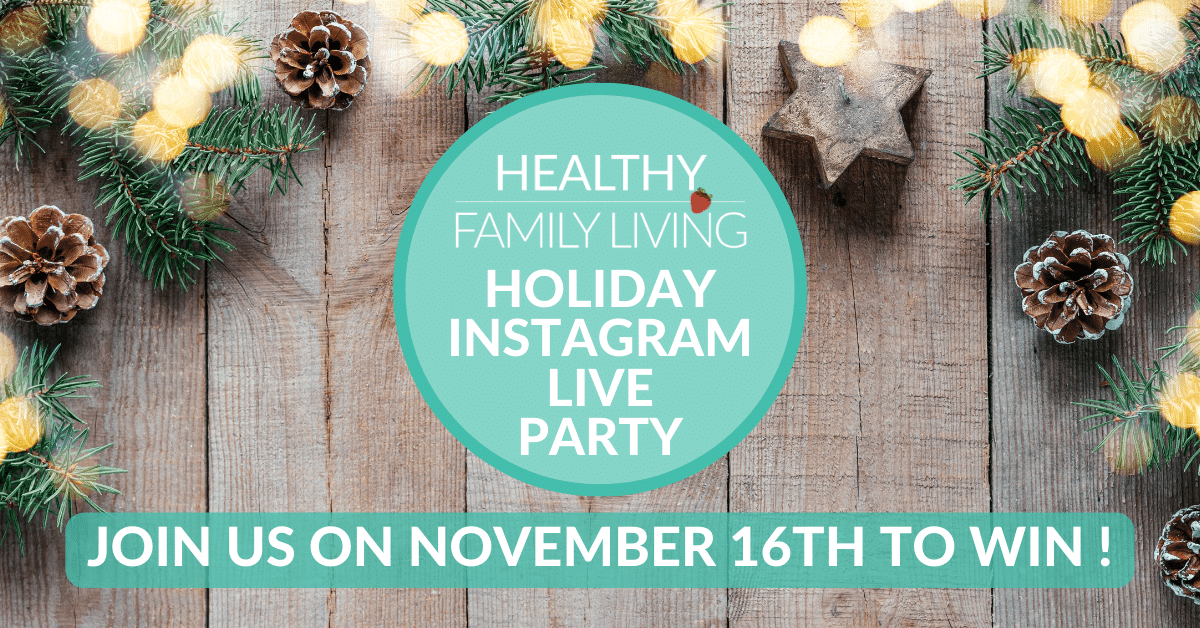 ---
---
STOCKING STUFFER IDEAS

FOR FOODIES OF ALL AGES
---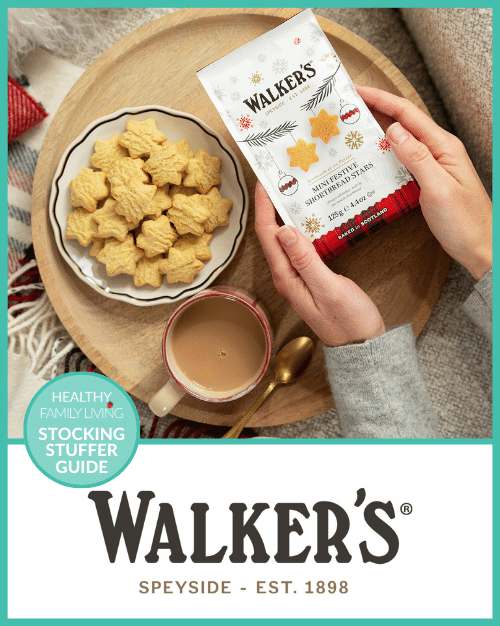 ---
walker's
shortbread
This holiday season, indulge in the heavenly taste of Walker's Shortbread. With each bite, you'll experience the rich flavors and artisanal craftsmanship that have been perfected over generations. Walker's all-butter Mini Festive Shortbread Trees and Stars are bite-size treats that are the epitome of holiday joy that's sure to bring smiles to everyone's faces. The Mini Shortbread Trees are perfect for stocking stuffers, to add to gifts, or just as a Christmas treat. And the Mini Shortbread Stars come in a convenient 'grab and go' bag packed with 27 mini stars that make them perfect for sharing, snacking, and stocking stuffing! And did you know they also have a gluten-free cookie line?
---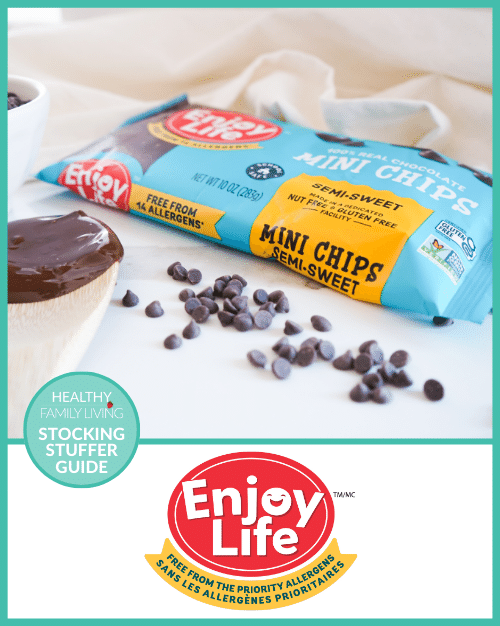 ---
Have a baker on your holiday shopping list? Enjoy Life mini chips are delicious baked into cookies or snacked on straight from the bag. Eat freely knowing this smooth, semi-sweet chocolate is free of 14 common allergens, Certified Gluten-Free, and Vegan. We love that Enjoy Life is so committed to making great-tasting foods that all of their products are allergy-friendly and healthier for everyone!  We will be popping these mini chips in stockings this Christmas and enjoying quality baking time as a family after the holiday rush. Check out these recipe ideas for inspiration: Gluten Free Gingerbread Whoopie Pies, Hot Cocoa Dippers, and Peppermint Cookie Bark!
---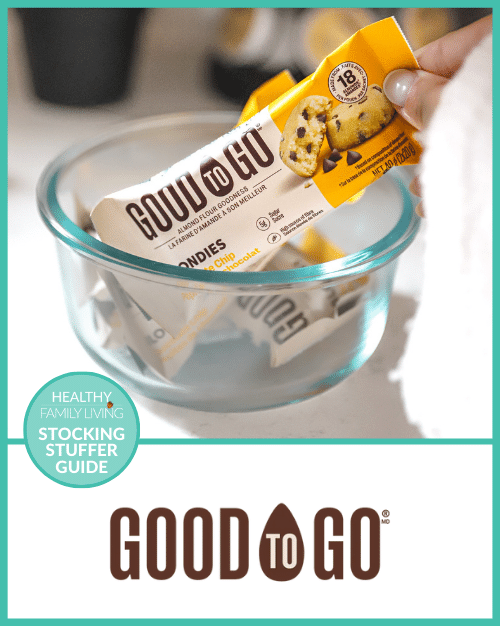 ---
Have an adventure lover on your list? GOOD TO GO Blondies & Brownies will fuel their day with almond flour goodness! Made from at least 16 finely ground almonds per pouch, these Blondies & Brownies are the perfect on-the-go treats to enjoy as healthy flour alternatives. It's a win-win because these Blondies & Brownies are a high source of fibre in an unbelievably delicious way! Plus with only 5g of sugar per pouch, each craveable piece has only 2.5 grams of sugar, making them a perfect way to indulge in something sweet without derailing your healthy eating habits!
---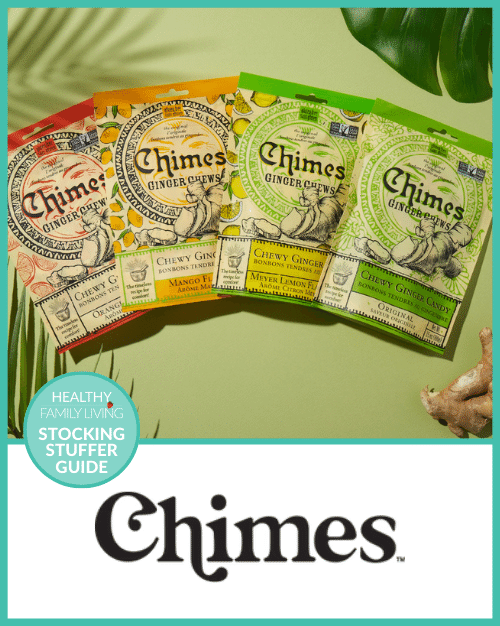 ---
Chimes Gourmet's good-for-you candies make every moment more rewarding! Crafted with real, functional ingredients, these naturally delicious candies provide wholesome relief and rewards that can be tasted and felt. Their ginger chews are available in 7 different flavours, plus 2 delicious toffees and NEW adaptogenic chews! Their original ginger chews are perfect for traveling, stashing in your desk at the office, or stuffing into your family's stockings to show them a little extra care this holiday season. We love that they're made with real ginger and only 3 g of sugar per piece!
---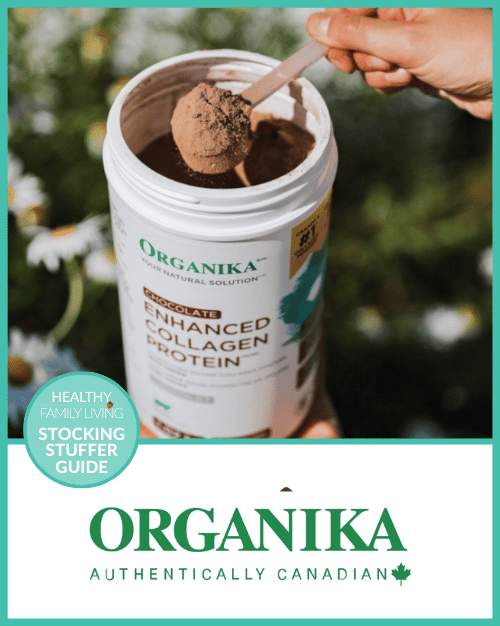 ---
Indulge & satisfy your chocolate cravings with a better-for-you treat that goes the extra mile, providing the benefits of collagen and wellness from within. Make health a part of your gifting this holiday season, with the benefits of collagen in festive flavours. Enjoy Organika's award-winning Enhanced Collagen™ Powder with their Dark Chocolate Chip Mint, Dark Chocolate Strawberry, Dark Chocolate Caramel Macchiato, or Classic Chocolate. Transform your family's health and dessert cravings by putting these decadent, smooth, chocolatey treats with 0g sugar in their stockings this Christmas. We love to enjoy them hot or cold, on their own, or in recipes!
---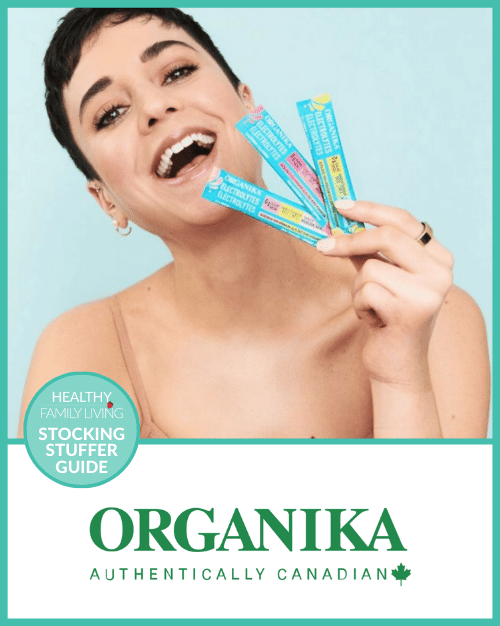 ---
Tuck Organika's delicious Pineapple Passion electrolyte sachets into everyone's stockings this Christmas! They provide on-the-go essential nutrients to maximize daily hydration. Organika Health Electrolyte powder is your go-to blend for an instant dose of thirst-quenching nutrients, known to hydrate faster than drinking water alone. Simply add this gluten-free, vegan, caffeine-free powder to water for a light-tasting electrolyte-replenishing drink. These single-serve sachets also come in a variety of other flavours, like Pink Lemonade, Wild Raspberry, and Cucumber Pear, and they are your source of magnesium, potassium, and sodium...with 0 g of sugar!
---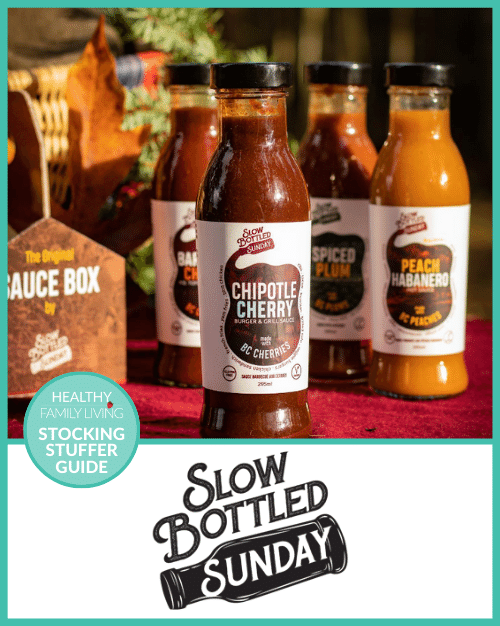 ---
Slow Bottled Sunday sauces and condiments are loaded with fresh, delicious yet unwanted fruit, the "ugly" stuff, saved in collaboration with BC farmers. The result is naturally rich and surprisingly versatile flavours like Holiday Plum Ketchup, Peach Habanero Hot Sauce, Smoky Cherry Chipotle Burger & BBQ and Cherry Barbecue Sauce. When their kitchen is full of with local ingredients and their pot is warm, Slow Bottled Sunday likes to imagine that they're cooking for neighbours, near and far, on a slow Sunday afternoon.  Together with BC farmers and families they've saved 65,000 pounds of fresh food from going to waste since 2021. Gift these delicious farm-to-bottle sauces and join BC's tastiest rescue mission.
---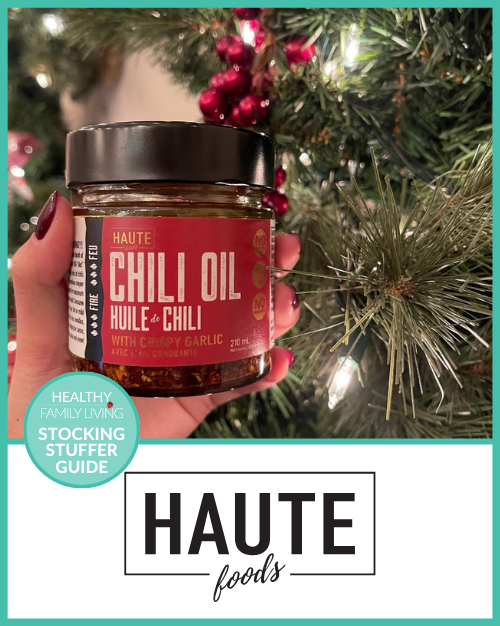 ---
Spoil your loved ones this holiday season with Haute Foods Crispy Garlic Chili Oil in their stockings. Indulge their taste buds with the garlic, mild, and hot oil varieties, or surprise them with a fiery selection! With minimal ingredients & maximum flavour, Haute Chili Oils complement & elevate any type of cuisine without changing your food taste. Their high-quality, versatile chili oil is spicy & packed with crispy garlic flakes to give your meals the heat & texture you never knew they were missing. Cook with it, use it as a topping, put it in a marinade, or just eat it with a spoon! We love that Haute Chili Oils are made locally in Richmond, BC, and are vegan-friendly so that everyone can enjoy them. Use code HFL15 to save 15% off your order!
---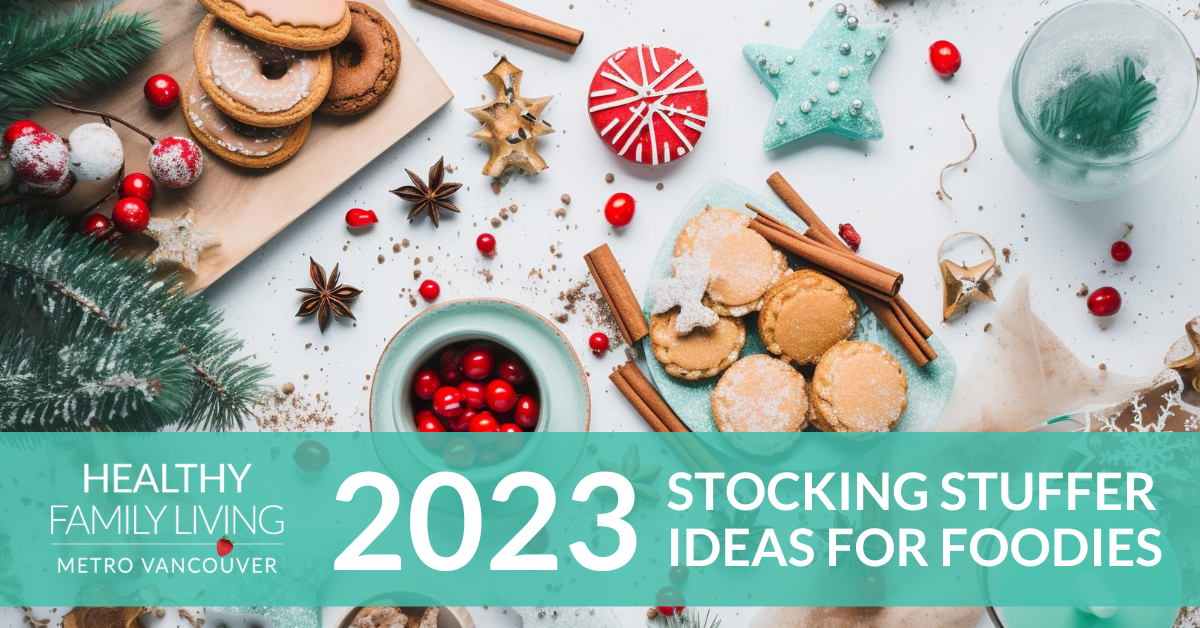 ---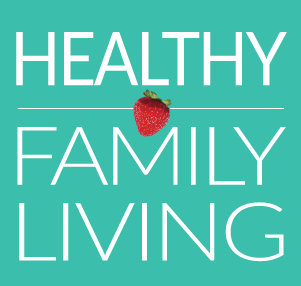 Wondering what to do with the kids in Metro Vancouver this weekend, or what to make for dinner? You can find it at HealthyFamilyLiving.com! From the Sunshine Coast to the Fraser Valley, we're the best online resource for busy parents looking for practical tips for healthy, active, sustainable living. For the latest on family events, outdoor adventures, birthday parties, camps & classes and kid-approved recipes, follow us on Facebook and sign-up for our parent-approved e-newsletter!