I remember being terrified as I tried to plan for camping with babies & toddlers in tow! My husband is a pretty relaxed guy, but I often lay awake at night imagining what could go wrong. With strategic packing and an open mind about the adventure ahead of you, I assure you that the whole experience can be even more fun than before you had kids. They have an amazing way of making the simplest things (like leaves, dirt and roasted marshmallows) seem like the most incredible things on earth.
Based on dozens of trips camping with babies & toddlers over the past few years, here are our top 23 tips for sleeping, eating & playing!
1.     PRACTICE SLEEPING IN A TENT AT HOME
If you're worried about how well your kids will sleep in a tent (some little ones have no trouble, others are creatures of habit and will find it difficult to transition), practice having the kids sleep in the tent in your living room or back yard before your camping trip.
2.     PACK N PLAY IS AN ABSOLUTE MUST FOR MOBILE BABIES
A pack n play is an absolute must for mobile babies who won't keep still in an open tent – we learnt that the hard way with our first baby who spent hours crawling around the tent instead of falling sleep for nap time & bed time – she was used to sleeping in a crib in a dark room at home, so trying to get her to nap in the wide open space of a tent in broad daylight was a nightmare. Playpen saved us for sleep time, and it also does double duty by the campfire during the day as a safe place to keep your little one while you cook, set up camp, or just relax. You can also use an extra crib sheet as a mosquito net or light blocker on top of the playpen while camping.
3.     KEEP AN OPEN MIND ABOUT SLEEPING LOCATIONS
Pack n plays are great, but also be flexible on nap locations while camping so that you can have adventures throughout the day – bring a baby carrier for little ones to pass out in on hikes, and consider driving around for a few carseat naps during the day or at bedtime. Transferring a child from a carseat to a tent is often much easier than trying to get them to fall asleep in the tent in the first place.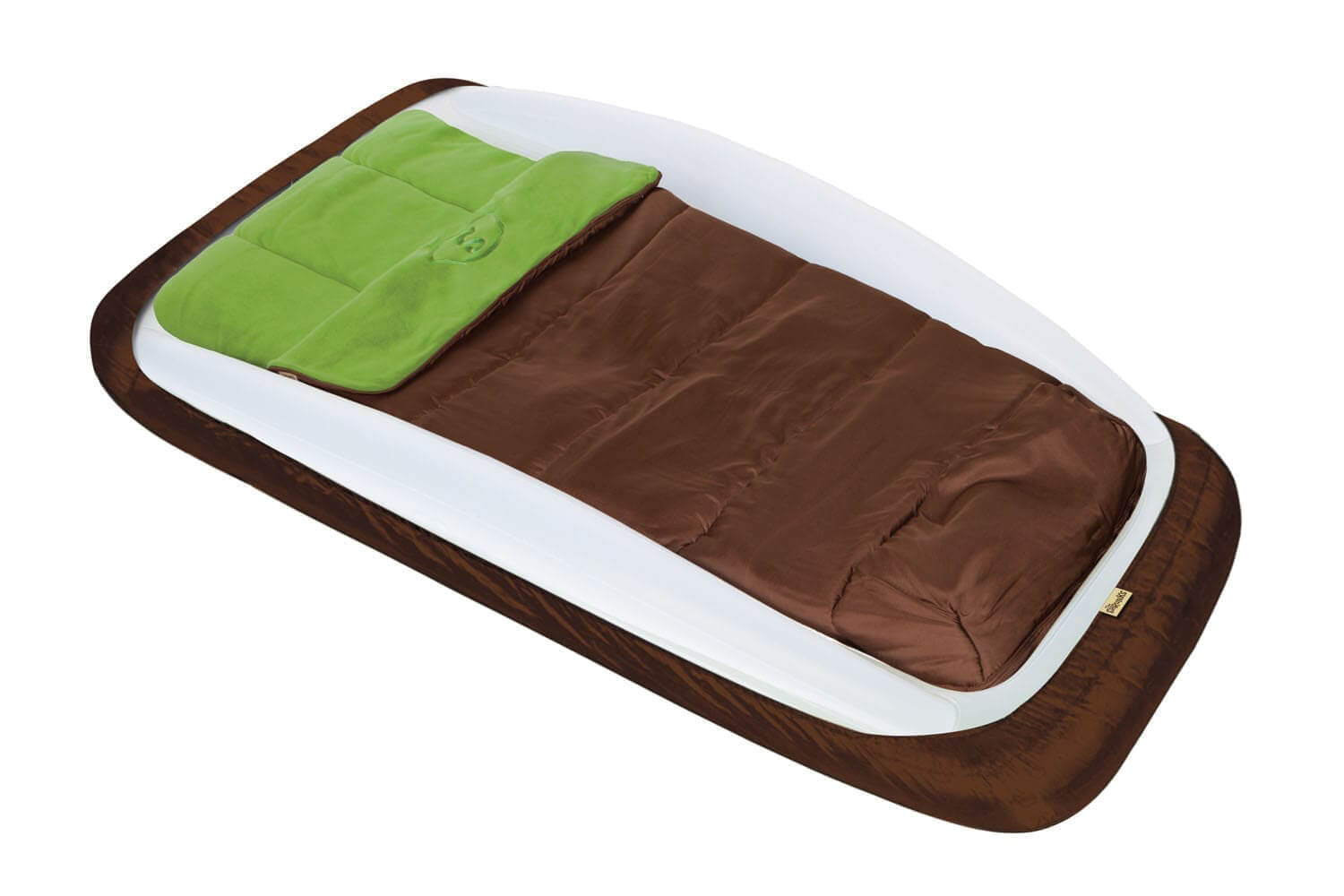 4.     BRING AN INFLATABLE MATTRESS WITH SIDE RAILS FOR TODDLERS
For older toddlers who don't need to be confined to a playpen, an inflatable camping mattress with side rails (like this Outdoor Tuckaire Toddler Travel Bed from the Shrunks) is a great way to keep them comfortable in the tent – waking up in the middle of the night to a toddler shrieking on the hard ground is no fun.
5.     POTTY TRAINING TODDLERS
Even if your potty training toddler has been doing pretty well with sleeping through the night at home without wetting the bed, bring pull-ups for night time sleeping while camping – nothing is worse than dealing with a pee-soaked kid in a dark tent at 3 am. And unless your kiddo is comfortable going in the woods, having a portable potty on hand at the campsite can be a lifesaver during the day if you're far from the bathrooms and have more than one child with you.
6.     EXTRA CLOTHING LAYERS
Bring lots of clothing layers for kids – tents can be surprisingly cold at nighttime even in the summer, and long sleeved shirts come in handy for hikes if you end up in a spot with lots of mosquitoes.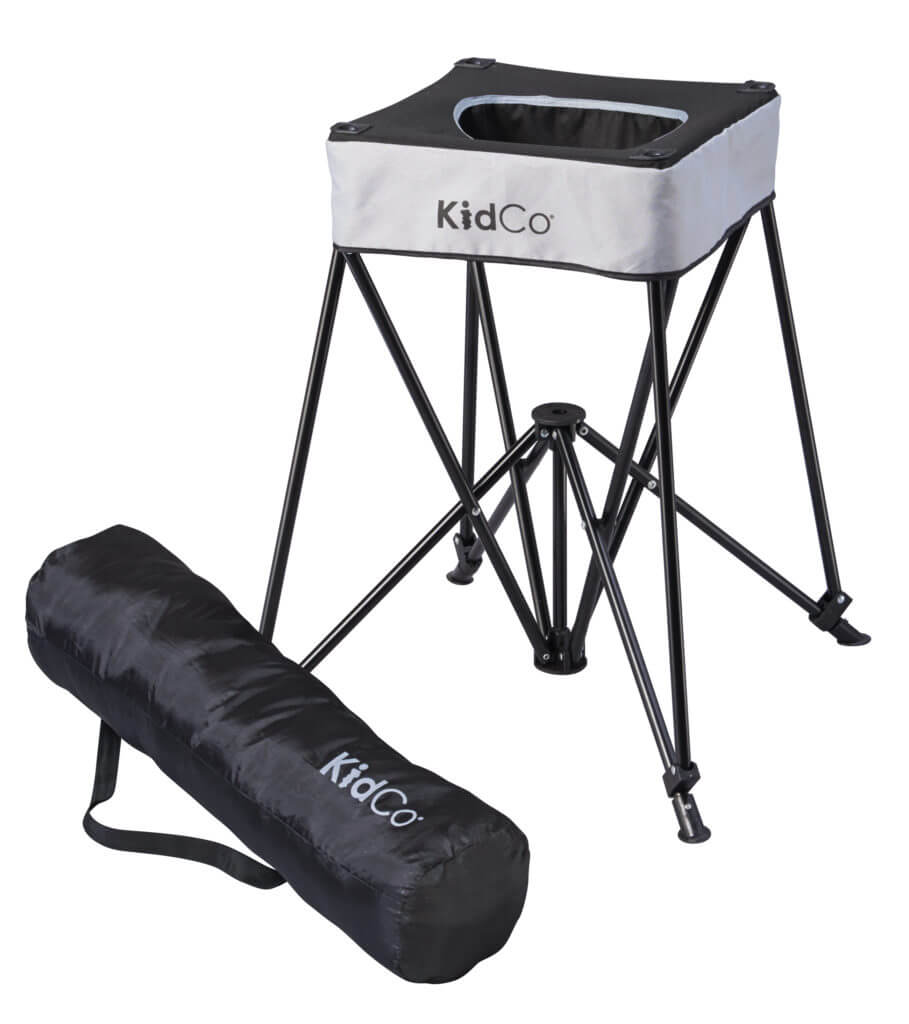 7.     PORTABLE HIGH CHAIR FOR MEAL TIMES
Portable high chair for meal times is a must-have to keep babies contained and safe around the campfire- we prefer folding ones that don't take up very much room in the car and that have large, easy-to-clean tray surfaces for food (like the KidCo Dine Pod). We also suggest bringing easy to wipe down bibs for babies & messy toddlers – this will help you from going through all of your kids clothes on the first day.
8.     THERMOS FOR HOT WATER OVERNIGHT
If you'll need a warm bottle of milk or formula for a baby in the middle of the night, prepare a thermos of hot water before bed so it's ready to go when you're woken up for a feed – it's no fun at all to have to wait for water to boil slowly over a campfire while your baby is screaming to be fed in a forest full of other campers trying to sleep. Trust us from experience!
9.     TODDLER-SIZED FOLDING CHAIRS FOR CAMPFIRE
Having kid-sized mini folding chairs around the campfire can help to keep toddlers at a safe distance from the fire and helps to make them feel like the one of the adults. Ours kids responded surprisingly well to our rule that they had to be in their chairs 3 feet away from the campfire if they wanted to be anywhere near it.
10.     LARGE RUBBERMAID BIN FOR FOOD
Bring all of your food that doesn't need to be on ice in a large Rubbermaid bin – this will make it simple to load everything  in a out of the car at meal times, and keep the contents protected from bugs & animals in the forest. When the lid is on, it can double as an extra table surface.
11.     SIMPLE, ENERGY-PACKED, PORTABLE SNACKS
Bring lots of simple, energy-packed, portable snacks for toddlers that you can throw in your daypack for a hike, bring down to the beach, or just munch on around the campfire without a lot of mess or clean-up (our favourites include sliced apples, easy-peel mandarin oranges, baby carrots & celery sticks, crackers & cheese, trail mix, dried fruit, granola bars, PB&J sandwiches, pepperoni sticks, TetraPaks of milk – dairy, almond, soy, rice hemp). For babies we love resealable food pouches from Love Child Organics (available at Whole Foods Market) – they've got so many varieties with organic fruits, veggies and grains, and we even like to eat them ourselves as a delicious smoothie treat!
12.     PRE-COOK FOOD THAT NEEDS TO BE BOILED
Pre-cook pasta & hard boiled eggs at home ahead of time – saves you the time boiling water over the campfire or stove (trust us – it takes SO much longer to boil water while camping than at home, even if you bring a portable stove with you).
13.     HEALTHIER S'MORES
Don't forget the classics for roasting around the campfire – marshmallows, chocolate, graham crackers. Whole Foods Market has lots of great options to up the health-factor for this traditionally sugar-laden treat right before bedtime – one of our favourites is Dandies Marshmallows, a vegan, non-GMO, allergen free, no corn syrup alternative that tastes delicious! They're available at all Whole Foods Market locations across Vancouver's Lower Mainland.
14.     FIND OUT ABOUT FIREWOOD AHEAD OF TIME
Find out if your campground sells firewood or you need to bring some with you – most campgrounds in BC don't allow you to forage wood from the forest for campfires and you don't want to be stuck without wood for your campfire!
15.     BABY WIPES ARE INDISPENSABLE FOR CAMPING CLEAN-UPS
Bring a few packs of baby wipes for diaper changes and quickly washing little hands & faces before & after meal times. We also suggest packing a few extra rolls of toilet paper and having one roll of paper towel on hand.
16.     ZIPLOC & GARBAGE BAGS
Bring a few large garbage bags with you – they come in handy as makeshift rain covers, for collecting garbage, and for containing wet clothes/shoes throughout your adventure and the car ride home. And an assortment of ziploc bags is great for keeping smaller items dry (car keys, wallet, phone) and for storing leftover food after meals (e.g. half a tomato).
17.     LIGHTS FOR KIDS
Bring headlamps for kids to help them get around the campsite and to the bathroom in the dark (hand held flashlights are so easy to misplace/drop/break). Another fun option we've tried more recently is glow sticks, bracelets & necklaces – little ones love to wear them inside the tent, and you can string them up on the tent ceiling to use as nightlights. Ours were still glowing strong in the morning.
18.     JINGLE BELLS FOR KIDS
One of the best parts about camping for toddlers is being able to roam around the area right around your campsite – digging, foraging for rocks/bugs/sticks – such a great experience for them. To give them a bit more freedom while you make dinner or relax by the campfire, try tying jingle bells on your little ones (we know it sounds crazy). You can buy them at any craft or dollar store, and it will give you peace of mind when they're out of sight behind a bush or tree but you can still hear the bells jingling away.
19.     SIMPLE TOYS & GEAR FROM HOME
Bring a few simple toys from home (soccer ball, bubble wand, kite), but mostly let them explore the bugs, sticks, rocks and plants around the campsite – often way more interesting to little ones than their usual stuff from home. Empty yogurt cups and egg cartons from home make for great containers for toddlers as they collect items throughout your trip, and you can recycle them before you head home.
20.     PRINTABLE SCAVENGER HUNT LISTS
Print out some colourful scavenger hunt lists to inspire your kids around the campsite and on nearby hikes. Click HERE for lots of scavenger hunt printables your kids will love.
21.     FIRST AID KIT FOR BABIES & TODDLERS
Your first aid needs during a camping trip will hopefully be minimal – we suggest a good 50 SPF sunblock, bug spray (find one without DEET for kids), anti-itch cream for bug bites (our kids' skin always seems to react worse than ours), and an assortment of band-aids.
22.     BOOKS FOR BEDTIME
Unless your kids love to hear made-up stories, bring an assortment of books from home for nap and bedtime (ours definitely prefer books – maybe we don't have great imaginations!). Our kids thrive on routine and we've found that copying as much of our normal bedtime steps as possible while camping works wonders.
23.     LET KIDS BE BORED!
Our best tip for camping with babies & toddlers is to let them be bored at times and figure out something to entertain themselves with. They will be forced to discover more about the natural world around them and have a blast. I'll never forget the moment I realized my baby & toddler were mesmerized by the trees/clouds/birds flying overhead and just babbling away to themselves in the pack n play next to the campfire. Delightful!
Born & raised in Vancouver, and co-founder of Healthy Family Media and the Healthy Family Expo, Angela is a reformed divorce lawyer turned healthy family champion! By day, she thrives on connecting conscious brands with busy Vancouver families. By night, you'll find her wrangling two feisty daughters, choosing between instant pot or healthy freezer meals for dinner, and singing with MomChoir. She especially loves sharing her favourite family-friendly finds with other Lower Mainland parents!