As comforting as a warm hug! This vegan plant-based chickpea curry comes together quickly on the stove-top or in the instant pot and is delicious served with fragrant ginger rice.
See Instant Pot instructions below.
Chick Pea Curry (Vegan)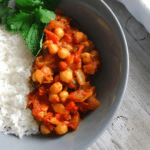 This plant-based curry comes together quickly on the stove-top or in the instant pot and is delicious served with plain or fragrant ginger rice.
1 can chickpeas (540 ml) (DRAIN BUT KEEP THE LIQUID!!)
1 1/2 tsp oil
1 onion, chopped
1 tsp chopped garlic
2 tbsp chopped ginger
1 can diced tomatoes (796 ml) (with juice)
1 tsp turmeric
1 tbsp garam masala
1-2 fresh chilis (This for heat only. We leave out when making for the family and serve with a spicy chutney for the adults.)
1 tsp salt
2 tbsp lemon juice
2-3 tbsp chopped cilantro (You can substitute 2 tbsp fresh mint if you prefer.)
1 tbsp tomato paste (add if needed for thickening)
Heat oil in a saucepan over medium heat and fry onions, garlic, & ginger until pale golden colour. Careful not to brown the garlic too much or it will be bitter.
Add turmeric, garam masala, chilies, cilantro/mint, salt, tomatoes with juice & lemon juice. Stir to combine well.
Add drained beans, stir well & heat on medium heat for 5 min.

Add 1 cup of bean liquid, cover & cook at medium-low heat for 30 min or until the sauce has thickened.

Stir occasionally. If not thick enough after 30 min, add tomato paste & cook for another 5 min.

Serve with rice, naan bread & spicy chutney if desired.
Instant Pot instructions:
Set your Instant Pot to Saute.
When it's hot, add the oil and follow as for stovetop instructions.
Once all ingredients are added, close the lid (the last ingredient is the bean liquid).
Select Manual or Pressure Cook and cook at high pressure for 5 minutes.
Allow the steam to release naturally for 10 minutes.
Move the steam release valve to 'venting' to release any remaining pressure. When the floating valve in the lid drops, it's safe to remove the lid and stir. If you would like the sauce thicker, add the tomato paste, set your Instant Pot back to Saute & cook for 3 min.
Co-founder of Healthy Family Media and the Healthy Family Expo, Kay is an adventurer & Ironman triathlete, as well as mum to an active 11-year-old. Originally from Montreal, she has been proud to call British Columbia home for over 15 years. Whether running, hiking & biking in the mountains or creating healthy meals in the kitchen, Kay is always up for something new.  Her contagious enthusiasm & zest for life mean we're never quite sure what she'll be up to next, but we're sure that it will be an amazing adventure!