We love that this sheet pan chicken dinner recipe adapts to whatever your family likes and also offers a great way to clear out the veggie crisper! Waste not, want not! What could be simpler than chopping up your favourite veg, tossing some chicken in an amazing sauce and baking? Voila, dinner is served.
We fell in love with Little Creek Dressing recently! We used their dressing varieties as a sauce, a marinade and a dressing, and EVERY DISH WAS A HIT… unheard of in our home.  Little Creek Dressings are made with love in B.C's Okanagan and it shows. This mama loved that the ingredients are organic and non-GMO, with no added sugars or emulsifiers. The rest of the family just loved the taste & wanted more
This sheet pan chicken dinner recipe is adaptable to your tastes and to what you have in the fridge that needs using up. This Sheet pan chicken dinner recipe is sure to become a family favourite. Perfect for kids learning to cook!
Sheet Pan Chicken Dinner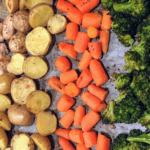 1 cup of chicken or other protein per person (there are 3 of us so we used 3 chicken breasts.)
2 – 3 types of vegetables cut into approximately 1-inch cubes. We used 1 ½ cups each of broccoli (carrots, mushrooms & small potatoes. Other ideas: 1 cup carrots in small pieces, 1 cup broccoli florets, 1 small red onion (chopped), 1 cup grape or plum tomatoes, 1 medium zucchini (chopped), 1-2 beets peeled & chopped)
1 – 2 tablespoons olive oil
2-4 cups cooked rice or grain of your choice (optional)
Marinate the chicken (or other protein) with the Little Creek dressing Okanagan Original in a sealed container in the fridge overnight (and if you can't do overnight then 2 hours at least)
Place the chicken and veggies on a parchment-lined baking sheet separated so there is enough room to cook evenly. We arrange the veggies in order of cooking time so that we can easily remove some as they cook.
Drizzle veggies with the olive oil & toss gently.
Bake for 25- 30 minutes or until the veggies are charred & tender and the chicken is cooked. If you wish, you can remove the veggies as they cook and place in a covered dish to keep warm.
Serve chicken & veggies in a bowl drizzled with Little Creek Original Okanagan dressing with ½ to 1 cup of cooked rice or grain of your choice. YUM!
Co-founder of Healthy Family Media and the Healthy Family Expo, Kay is an adventurer & Ironman triathlete, as well as mum to an active 11-year-old. Originally from Montreal, she has been proud to call British Columbia home for over 15 years. Whether running, hiking & biking in the mountains or creating healthy meals in the kitchen, Kay is always up for something new.  Her contagious enthusiasm & zest for life mean we're never quite sure what she'll be up to next, but we're sure that it will be an amazing adventure!