Many people have heard of the French Yogurt Cake made famous in the book Bringing Up Bébé by Pamela Druckerman. We love the simple goodness of this cake and how we can involve the kids in the baking. This yogurt cake is often the first thing that French children learn to make themselves. It calls for an individual serving size cup of yogurt, and all of the ingredients afterward are measured by the number of yogurt cups needed. It's the perfect starter recipe to encourage a kids' independence.
French Yogurt Cake Recipe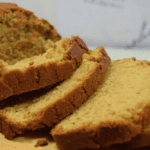 1 individual serving cup Greek Style Vanilla Yogurt
2 yogurt cups of sugar
3 yogurt cups of flour
1/2 yogurt cup of vegetable oil
3 eggs
1 tablespoon baking powder
1 pinch salt
1 teaspoon vanilla extract
Combine all ingredients in a bowl and mix well.
Grease or line a bread pan with parchment paper and pour the mixture into the pan

Bake at 375° for 45 min
Remove from oven and cool on wire rack
Enjoy!
Heather is a Toronto born mama of two whose parenting journey has taken her family coast to coast across Canada. When she's not whipping up recipes for the Healthy Family Living website or sharing the latest fun Vancouver events on HFL's Facebook page,  she's a freelance writer that has recently been published in an anthology entitled BIG, as well as in the Huffington Post, as she and her hubby of 13 years attempt to keep up with their two spirited girls and 3 fur babies!