We love the Holidays! And not just for all the family time and good cheer, but also because of the amazing food. This bundt cake checks off all the boxes...decadent (check), impressive (check), seasonal (check), makes the whole house smell like eggnog and nutmeg (check, check). On top of all that, it's plant-based & dairy-free! The original recipe calls for Earth's Own Almond-Nog, but this year you could substitute that for Canada's very first Oat Nog.
JUMP TO RECIPE
---
Why do we love Oat M*lk so much? It's grown with 7x less water than almond or cow's milk. Plus Earth's Own all-Canadian and gluten-free oats are grown without glyphosate using nothing but sunshine & rainwater. Protecting the environment is one of the main missions at Earth's Own and they believe every little effort counts toward making a larger impact. All while using healthier ingredients, like sunflower oil instead of canola oil, because good fats are a good thing. And Earth's Own was voted "Canada's Fave Oat M*lk"!  In short: it may seem like a glass of creamy & delish Oat M*lk with 4g of protein and 2g of fibre, but it represents a stronger planet and a healthier future. They even wrote an entire plantifesto.
JUMP TO RECIPE
VANILLA OAT BUNDT CAKE WITH POMEGRANATES AND ALMOND NOG GLAZE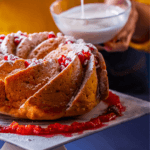 Delight your friends & family with this show-stopping holiday dessert!
Ingredients:
Vanilla Yogurt Cake
1.5 cups cake flour

1.5 cups all-purpose flour
2 teaspoon baking powder
1 teaspoon baking soda
1/2 teaspoon salt
3 tablespoons cornstarch
1 teaspoon apple cider vinegar
1/2 cup organic sugar
1 cup grapeseed or sunflower seed oil
2 cups vegan yogurt (we used almond cashew unsweetened yogurt)
2 teaspoons vanilla extract
Almond Nog Glaze
2-4 tablespoon Earth's Own Almond Nog (or substitute with Oat Nog!)
1 cup organic icing sugar
1/4 tsp nutmeg
Garnish
pomegranate seeds, clementines, or other seasonal fruit
instructions:
Preheat the oven to 350 degrees F. Grease the inside of your bundt pan with oil and lightly dust with flour. Tip pan upside down and knock out extra flour.
In a bowl, mix the flour, baking soda, baking powder, cornstarch, and salt.
In a larger bowl, mix the oil, sugar, yogurt, vanilla extract, apple cider vinegar, and oat milk until combined.
Add the flour to the wet mixture in three batches, mixing thoroughly with a spatula after each addition. Be sure to scrape down the sides of the bowl in between additions.
Pour the batter evenly into the bundt pan and smooth the surface. Bake 35-45 minutes or until a skewer inserted in the center of the cake comes out clean.
Cool bundt cake for 10 minutes and then flip onto a cooling rack. Ifcake does not come out easily, run a knife along the sides and then try again to flip onto a cooling rack. Leave to cool on a cooling rack for 1 hour or overnight. Cake should be completely cool before glazing.
Combine 3 tablespoons of almond nog (or oat not) and icing sugar. Stir until no lumps remain. Add in more nog if needed. Pour over cooled cake. And grate fresh nutmeg on top.
Serve cake with pomegranate seeds, clementine slices, or other seasonal fruit
At Earth's Own they dig plants because eating a plant-based diet is the biggest thing we can all do to fight climate change. Which is why they're dedicated to creating the most delicious plant-based products. Just like their Oat Barista, it's easy to steam & foams like a dream with a high-performance micro-foam that'll make you an at-home barista pro in no time. Or try Canada's first OAT NOG! Blended with decadent seasonal spices and Earth's Own best tasting Oat M*lk, this creamy, indulgent & perfectly spiced Oat Nog will get everyone in the holiday spirit!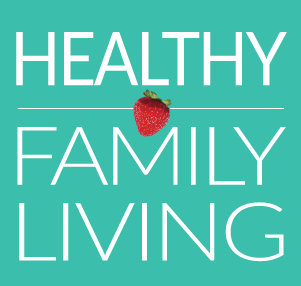 Wondering what to do with the kids in Metro Vancouver this weekend, or what to make for dinner? You can find it at HealthyFamilyLiving.com! From the Sunshine Coast to the Fraser Valley, we're the best online resource for busy parents looking for practical tips for healthy, active, sustainable living. For the latest on family events, outdoor adventures, birthday parties, camps & classes and kid-approved recipes, follow us on Facebook and sign-up for our parent-approved e-newsletter!