One little question from our kiddo lead us to make the most amazing green veggie burger with spicy sauce just in time for summer nights on the patio! "Why are all veggie burgers brown?" he asked.  We were stumped until we realized that it's because most veggie burger recipes are pretty light on actual "veggies".  We set out to create a green veggie burger that celebrates the natural goodness of greens and is packed with great taste.
But a burger on its own is not complete...it needs the perfect burger sauce.
Ketchup & mustard were not going to do for these babies so we whipped up some gorgeous spicy vegan aioli using our secret weapon - Sriracha Revolver Beet & Tequila hot sauce!
Who are we kidding? This sauce is so good we can't just keep it for burgers...yam fries, sandwiches...even pizza has been dipped in this gold. And our green veggie burger recipe was so quick to make, we even had time to use Sriracha Revolver sauce to mix up some Spicy Mango Pineapple Margaritas!
---
JUMP TO RECIPE
A LITTLE OR A LOT...IT'S UP TO YOU!
A little of a good hot sauce goes a long way, but a lot is also yummy!
We love to add these Sriracha Revolver hot sauces to:
nachos
chicken strips
yam fries
chicken or cauliflower wings
tacos
burgers
soups
sandwiches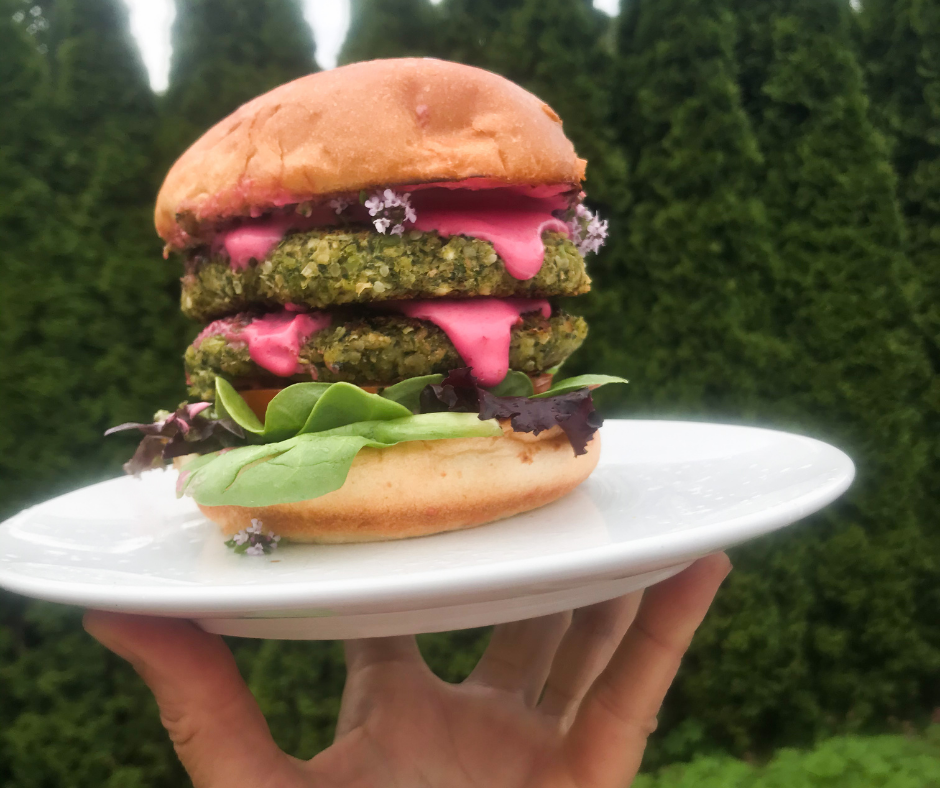 JUMP TO RECIPE
---
With inspired flavour combinations that are exotic but also familiar, Sririacha Revolver produces the most amazing selection of hot sauces sauces we have found anywhere. We have searched far & wide for sauces that are well balanced and flavourful but that also offer a choice in spice level. We didn't need to look far since Jordan Hocking and her team were making them right here in our own community.
Made locally with love, every bottle of Sririacha Revolver is pure joy!
Herbed Green Veggie Burgers with Spicy Beet Sauce
These are the brightest most flavourful veggie burgers you will ever make and the are so simple!
Ingredients:
For the patties :
1 tbsp olive oil

1 cup cooked/canned white beans

1 cup peas fresh or frozen (no need to thaw)

2 cups spinach or arugula leaves (not packed)

1 cup finely chopped broccoli 

1 onion chopped

2 cloves of garlic sliced

½  cup rolled oats 

½  cup seasoned breadcrumbs

¼  cup hemp seeds

¼ cup fresh green herbs mixture chopped (any combination of oregano, chives, basil, rosemary, thyme, cilantro & parsley) or 2 tbsp dried Italian or French herbs 

1-2 tsp Sriracha Revolver Avocado Ginger hot sauce

1/2 tsp soy sauce or coconut amino

1/2 tsp apple cider vinegar

1 tsp grainy Dijon mustard

1/2 tsp each Salt & pepper
For the spicy burger sauce:
½ cup mayonnaise (store bought vegan mayo is great here!)

1-2 tsp sriracha revolver Beet & Tequila or Mango hot sauce

Pinch of salt
For the burgers:
4 burger buns

Lettuce leaves 

Thinly sliced onion or quick pickled onions
instructions:
Heat oil in a frying pan over medium heat. Add peas, spinach, chopped broccoli, onion & garlic to cook for 1 min. Add ¼ cup of water & cook for 3 minutes until veggie are softened and water has evaporated. Set aside to cool a bit. 

Place the cooked vegetables & beans into a food processor and pulse to combine (probably 12 - 15 pulses). DO NOT over-process.

Place the veggie & bean mixture in a large bowl and stir in the remaining ingredients (oats, breadcrumbs, hemp seeds and finely chopped herbs, vinegar, soy sauce, mustard, salt, and pepper). Stir until fully combined. Adjust seasoning as needed.

Form the mix into four burger patties or 8 smaller slider patties and set aside.

Combine the Sriracha Revolver hot sauce & mayo for the spicy burger sauce in a small bowl and set aside.

In a large frying pan or cast iron pan, heat some oil over medium heat and cook the green veggie burger patties for 2-3 minutes on each side.

Serve them on a burger bun with lettuce, onions & spicy burger sauce.
Jordan Hocking founded Sriracha Revolver Hot Sauce Inc in 2017. Jordan is a mom, wife, and indigenous entrepreneur who is passionate about building a community around food and experiencing culture through food. All of her hot sauce recipes have been inspired by flavours or ingredients she has enjoyed while traveling or by wanting to eat something that didn't exist anywhere else. Along with a small, dedicated team, Jordan makes craft-size batches of hot sauce that are a treat to enjoy with all of your favourite foods.
Shop online or at these retailers.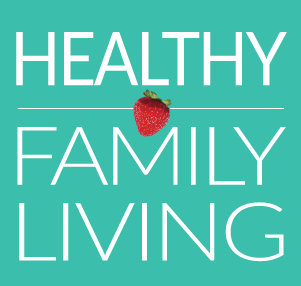 Wondering what to do with the kids in Metro Vancouver this weekend, or what to make for dinner? You can find it at HealthyFamilyLiving.com! From the Sunshine Coast to the Fraser Valley, we're the best online resource for busy parents looking for practical tips for healthy, active, sustainable living. For the latest on family events, outdoor adventures, birthday parties, camps & classes and kid-approved recipes, follow us on Facebook and sign-up for our parent-approved e-newsletter!