This roasted sweet potato caesar salad is quick to pull together on a busy weeknight – especially if the sweet potatoes are roasted earlier. For family fun, we let each person choose their own toppings and add the option of a cooked protein of their choice. This makes pulling together a healthy meal much easier if you have different dietary requirements or some vegetarian household members. With the Rotini, chickpeas & avocado, this salad also makes a satisfying meatless meal that the whole family will enjoy.
On a busy night with competing schedules, this meal can come together quickly and makes sure that everyone has a nutritious meal made with love!
ROASTED SWEET POTATO CAESAR SALAD WITH ROTINI, CHICKPEAS & AVOCADO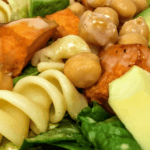 Ingredients :
1 head romaine lettuce washed & chopped into bite-sized pieces
2– 3 medium sweet potatoes cubed & roasted
2 cups cooked rotini pasta
1 avocado peeled & diced
1 can chickpeas (14 oz, drained & rinsed.)
Little Creek Okanagan Caesar dressing for tossing & drizzling
Instructions:
In a large bowl toss the lettuce with the Okanagan Caesar dressing and serve in individual bowls.
Top with sweet potatoes, chickpeas, avocado & another drizzle of dressing.
Optional: add cooked protein such as chicken, tofu, or tempeh.
Tip : How to roast sweet potatoes (can be done ahead and kept in the fridge for up to 3 days)
Preheat your oven to 400° F. Line a baking sheet with parchment or foil.
Wash sweet potatoes and dice into small pieces (about 1 inch). Whether you peel them is completely up to you!
In a large bowl, toss sweet potato cubes with 1 tbsp of olive oil and and a pinch of salt & pepper.
Spread evenly onto a lined baking sheet.
Roast potatoes for approximately 40 minutes, stirring every 10- 15 minutes or so, until done. They should be soft inside but crispy outside.
Remove from oven and set aside.
Co-founder of Healthy Family Media and the Healthy Family Expo, Kay is an adventurer & Ironman triathlete, as well as mum to an active 11-year-old. Originally from Montreal, she has been proud to call British Columbia home for over 15 years. Whether running, hiking & biking in the mountains or creating healthy meals in the kitchen, Kay is always up for something new.  Her contagious enthusiasm & zest for life mean we're never quite sure what she'll be up to next, but we're sure that it will be an amazing adventure!