As soon as the summer sunshine hits the patios, we start thinking about margaritas.  There is just something about a margarita the screams good times. We recently fell in love with this spicy mango pineapple margarita served on the rocks. Wowza! The sweet & spicy combo makes it a great choice as a fun and unusual mocktail and also makes the cocktail version go down a little slower.
Make up a pitcher of the spicy mango base and let your friends & family decide for themselves whether they will be adding alcohol or not, and also how spicy they want to go by choosing their own garnishes.
It couldn't be easier when you use a great hot sauce like Sriracha Revolver Clean Mango!  This sauce has a crisp fruity flavour with just the right amount of kick so you can adjust for your spice preference but still get all the flavour. We even had time to mix up some Green Veggie Burgers with Spicy Beet Sauce for a perfect family BBQ!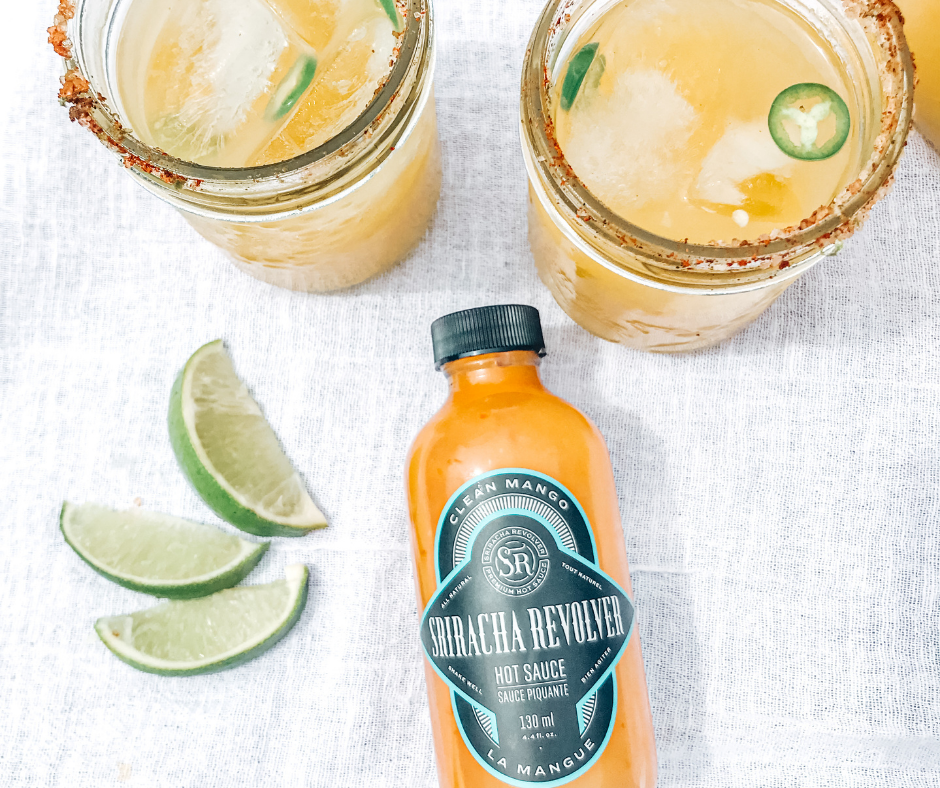 JUMP TO RECIPE
---
With inspired flavour combinations that are exotic but also familiar, Sriracha Revolver produces the most amazing selection of hot sauces we have found anywhere. We have searched far & wide for sauces that are well balanced and flavourful but that also offer a choice in spice level. We didn't need to look far since Jordan Hocking and her team were making them right here in our own community!
Made locally with love, every bottle of Sriracha Revolver is pure joy!
Spicy Mango Pineapple Margaritas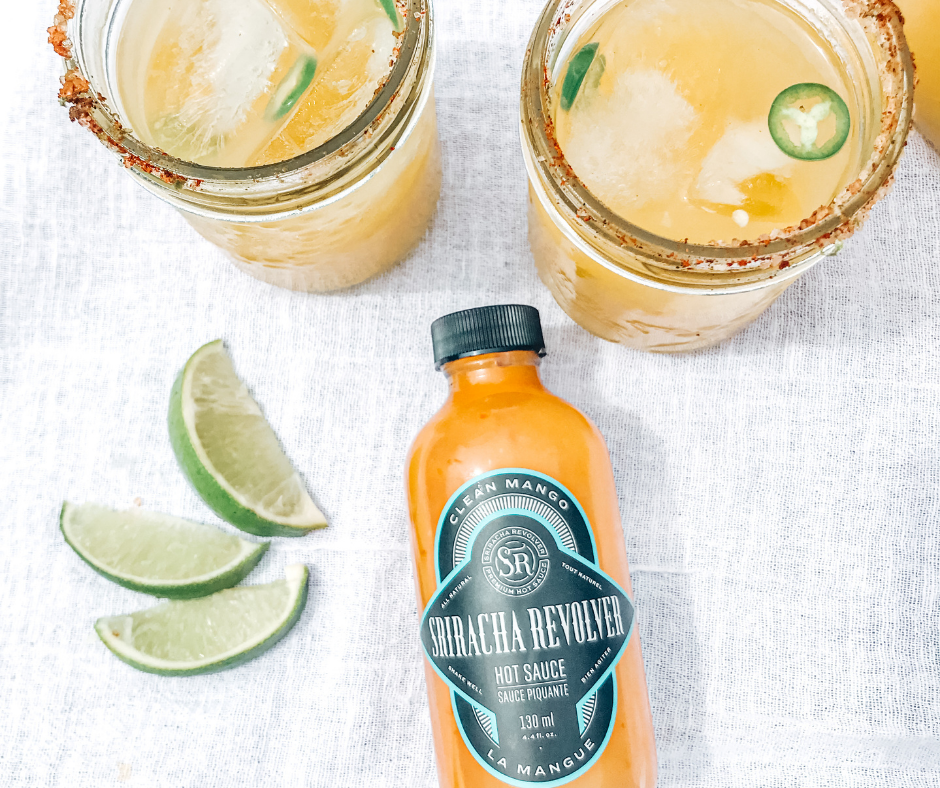 Sweet & spicy mocktails or cocktails are the perfect treat for a summer patio!
Ingredients:
FOR THE MANGO BASE
FOR THE MARGARITA
2 ounces tequila blanco

1 ounce Triple Sec
GARNISH
Sliced serrano or jalapeno peppers

Lime wedges
instructions:
Make the Spicy Mango Base: Place the frozen fruit chunks in a blender along with the lime juice, mango juice, and Clean Mango hot sauce. Blend until smooth. Add ice cubes to a pitcher & add the spicy mango base.
For the Salt Rim: Rub a slice of lime around the rim of each glass. Pour coarse salt on a plate and dip the rim of each glass into the salt. For an added kick, add a small amount of chili powder to the salt before dipping the glasses.
Now decide if you want a cocktail or a mocktail.
For Spicy Mango Margarita Mocktail: Add ice cubes to a glass, fill ⅓ to ⅔ of the glass with the base and top with soda water, stir, and garnish with sliced chili peppers & lime wedge
For Spicy Mango Margarita Cocktail: Add ice cubes to a cocktail shaker. Then add 2-4 oz of your spicy mango base, tequila, triple sec and shake to combine. Pour into a glass, add soda water if desired.
Pour and Garnish. Pour your spicy mango margarita mocktail or cocktail into the rimmed glasses. Garnish with sliced chili peppers and a lime wedge, and for an extra kick, add a few more drops of Sriracha Revolver Clean Mango hot sauce.
Jordan Hocking founded
Sriracha Revolver Hot Sauce Inc
in 2017. Jordan is a mom, wife, and indigenous entrepreneur who is passionate about building a community around food and experiencing culture through food. All of her hot sauce recipes have been inspired by flavours or ingredients she has enjoyed while traveling or by wanting to eat something that didn't exist anywhere else. Along with a small, dedicated team, Jordan makes craft-size batches of hot sauce that are a treat to enjoy with all of your favourite foods. Shop
online
or at
these retailers
.
Co-founder of Healthy Family Media and the Healthy Family Expo, Kay is an adventurer & Ironman triathlete, as well as mum to an active 11-year-old. Originally from Montreal, she has been proud to call British Columbia home for over 15 years. Whether running, hiking & biking in the mountains or creating healthy meals in the kitchen, Kay is always up for something new.  Her contagious enthusiasm & zest for life mean we're never quite sure what she'll be up to next, but we're sure that it will be an amazing adventure!