Let's talk insulated containers, there is nothing better than the promise of a hot lunch, but there is nothing worse than opening your lunch kit to find cold soggy leftovers.
Our team has made many, many school lunches using many brands of insulated containers over the years and we have come up with a solid system that will keep lunches hot all day. Perfect for school, work or family hiking and skiing adventures.
---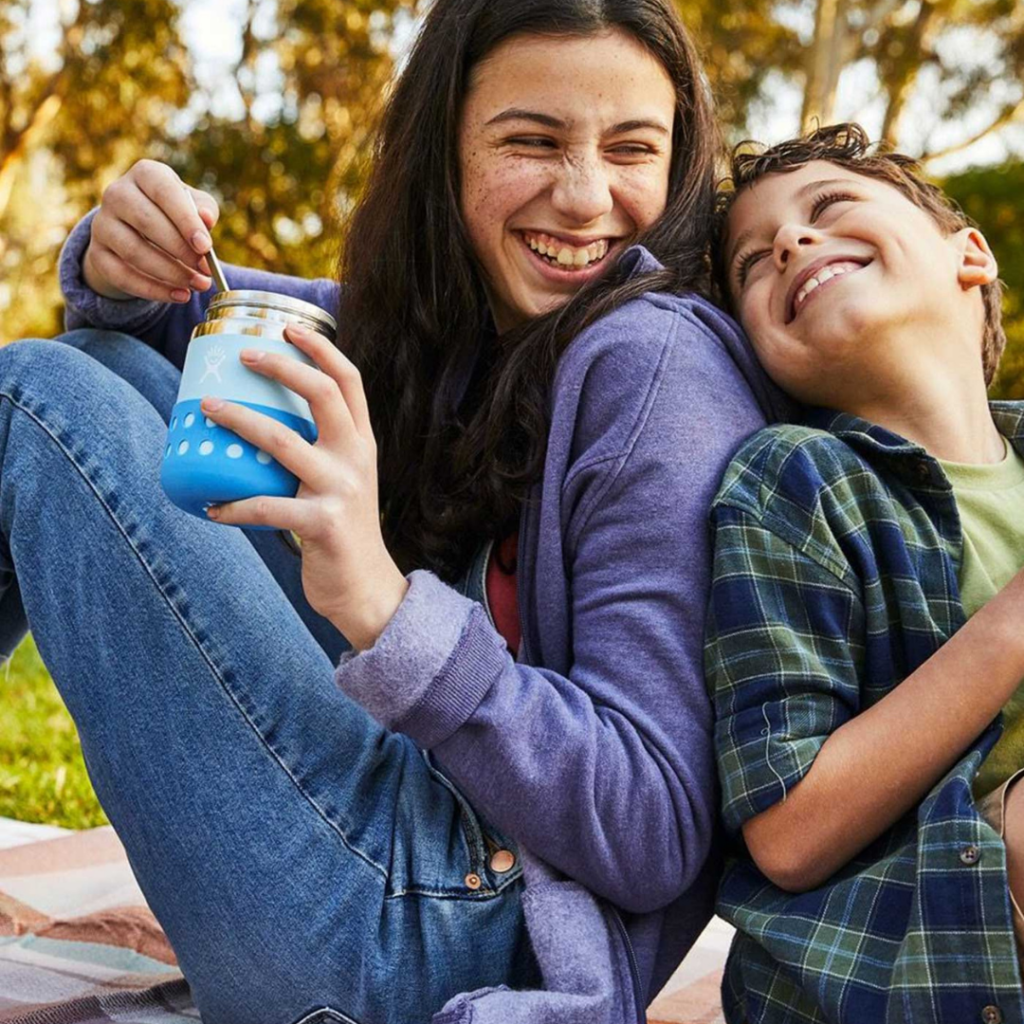 ---
5 SECRETS FOR KEEPING LUNCHES HOT
---
Here are some simple tricks that will make a huge difference in whether your kiddo will have a nice hot lunch to enjoy by the time lunchtime arrives.  It's amazing what a difference these tips can make.  Our kids prefer leftovers to sandwiches and these tips make all the difference in whether they actually eat their lunches.
---
1. INVEST IN A GOOD QUALITY INSULATED CONTAINER
If you want food to actually stay warm, invest your money in good double walled insulated containers the first time. You can see below which ones we recommend. You get what you pay for, so don't skimp here. Then label each part with your child's name.   See our top picks for insulated containers below.
2. PRE-HEAT YOUR CONTAINER
This is a MUST. Boil a small amount of water in the kettle and then pour it into your insulated containers. Fill them at least ⅔ full. Let sit for 2 minutes before draining and then adding your hot food. Pre-heating the thermos in this way will help it retain the heat!
3. SIZE YOUR CONTAINER CORRECTLY
This is another big factor in keeping food warm. A half filled insulated container doesn't stay hot as long as one that is full. Better to have big and small container options rather than sending half filled larger insulated containers.
4. SKIP THE MICROWAVE
Heating  food in a pot before putting it into the insulted containers means it will stay hot longer  than food pre-heated in the microwave. Heating food up quickly in a pot will only take 2 min and so not that much longer than in a microwave and will give you much better results. We boil the kettle and pour the boiling water into the insulated container. While that preheats, we quickly warm up the food, empty the water out of the container and quickly fill it with the hot food and seal the lid. 
5. STOP SOGGINESS IN IT'S TRACKS
If you are sending nuggets or other dry hot food items, stuff a paper towel into the bottom of  your pre-heated (and dried) insulated container to absorb any condensation. Voila crispy hot lunch!
---
our top picks for insulated containers
Not all containers are created equal and we have gone through many different ones. We have found these to be the best of the bunch. They are easy to open, affordable, and reliable.
extra tip:
Be sure to consider the size of your child's palms when choosing a container. Too big a lid means they may not be able to open it themselves.
Born & raised in Vancouver, and co-founder of Healthy Family Media and the Healthy Family Expo, Angela is a reformed divorce lawyer turned healthy family champion! By day, she thrives on connecting conscious brands with busy Vancouver families. By night, you'll find her wrangling two feisty daughters, choosing between instant pot or healthy freezer meals for dinner, and singing with MomChoir. She especially loves sharing her favourite family-friendly finds with other Lower Mainland parents!