All the delicious flavours of lasagne in a warming, hearty soup. Dig in and enjoy your lasagna with a spoon in this scrumptious dish! Using the new Chickapea Lasagne noodles to make a vegan, and gluten-free soup is a great way to make a flavourful meal. Surprisingly easy to make and perfect for weeknights, it's likely to become a cozy meal staple for your whole family in no time!
JUMP TO RECIPE
---
Chickapea is more than pasta...it's PROTEIN!
One serving of delicious Chickapea pasta (100 g) has as much protein as a 3 oz serving of chicken or fish. Try this delicious pasta with your favourite recipe for a boost of plant-based protein from chickpeas and lentils.
JUMP TO RECIPE
Lasagne Soup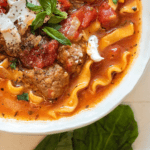 The delicious flavours of lasagne in a warming, hearty soup!
Ingredients:
1 Package Chickapea Lasagne noodles
2 Tbsp table salt (for boiling pasta)
1 package veggie meatballs
2 Tbsp avocado oil
2 yellow onions, diced
6 cloves of garlic, minced
4 ½ cups vegetable broth
1 (14.5oz) can fire-roasted diced tomatoes
1 (14.5 oz) can diced tomatoes in Italian seasoning
3 Tbsp tomato paste
2 Tbsp Italian seasoning
1-2 tsp salt, to taste
2 tsp ground black pepper, to taste
¼ cup vegan cream cheese
2 Tbsp fresh basil, chopped
2 Tbsp fresh parsley, chopped
instructions:
Cook the vegetable meatballs in the oven at the package specified temperature, for half the time suggested in the instructions*
When the vegetable meatballs are pliable, remove them from the oven and cut each one into four pieces
Re-roll each vegetable meatball into a smaller ball and setting them aside when done
In a large pan with a lid, add 2 Tbsp of avocado oil over medium heat
When the oil is hot, add the onion and cook it for 5 minutes
Add the rerolled meatballs and garlic to the pan and cook the mixture for 2-3 minutes more
Add in the vegetable broth, fire-roasted diced tomatoes, Italian seasoned diced tomatoes, tomato paste, Italian seasoning, salt and pepper to taste
Bring the soup to a boil over medium-high heat, then reduce the temperature to medium-low heat
Cover the soup with a lid and allow it to simmer for 25 minutes
Meanwhile, prepare the Chickapea Lasagne noodles al dente (heat 16 cups of water in a large pot over high heat until boiling. Add 2 Tbsp of salt to the water and the lasagne noodles. Decrease the heat to maintain a gentle boil. Stir and cook the pasta for 5 minutes)
Drain the pasta and rinse it with warm water
Transfer the pasta to a cutting board and chop it into large bite-sized pieces
Add the cooked pasta into the soup with just a couple of minutes left to simmer
Plate the portions of soup and top each portion with vegan cream cheese, and fresh chopped herbs
Recipe Notes:
If the vegetable meatball cooking instructions suggest they cook for 20 minutes, remove them from the oven after 10 minutes. They will finish cooking in the soup and absorb more flavour from the broth if they aren't fully cooked.
Do not cook the noodles in the soup. The starch from the noodles will make the soup too thick
---
Chickapea pasta is a nutritious, organic high-protein pasta option made with only chickpeas and lentils.  All Chickapea foods are organic, non-GMO, gluten-free, vegan, and kosher. Chickapea brings you high-protein clean and sustainable meal options that your whole family will love in all of their favourite meals. It's good with every bite!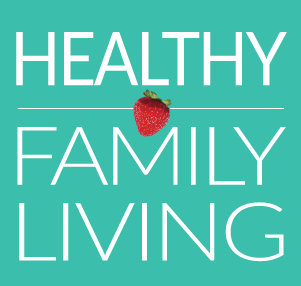 Wondering what to do with the kids in Metro Vancouver this weekend, or what to make for dinner? You can find it at HealthyFamilyLiving.com! From the Sunshine Coast to the Fraser Valley, we're the best online resource for busy parents looking for practical tips for healthy, active, sustainable living. For the latest on family events, outdoor adventures, birthday parties, camps & classes and kid-approved recipes, follow us on Facebook and sign-up for our parent-approved e-newsletter!