Looking for more plant-based party foods? Running out of fun snack ideas for lunch boxes or family movie nights? We love these vegan pretzel dogs as an easy & fun meal idea. They are perfect for a gathering with friends, a night in with the kids, or a quick grab & go lunch! This fun & healthy twist on a childhood classic is a great way to bring more plant-based eating into your week, and not just on meatless Monday. 
JUMP TO RECIPE
---
---
Wherever you are on your plant-based eating journey, you can find great ideas from GUSTA! Our team runs the whole range. Some of us are "new to the game" full-time vegetarians while others are more hesitant to try substituting some of their favourites with plant based options. We have all decided to go meatless at least once a week and delicious options like these vegan pretzel dogs will certainly make that an easy sell to our families!
Vegan options for meat and cheese alternatives have come a long way lately! If you haven't tried the new offerings, we really encourage you to give them a go. The planet and your health will thank you!
---
JUMP TO RECIPE
---
Vegan Pretzel Dogs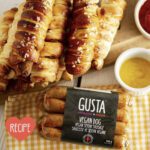 Young and old alike will love these vegan pretzel dogs!
Ingredients:
1 Cup GUSTA Italiano cheese
2/3 cups water warm
1/2 tbsp sugar granulated
1/2 tsp kosher salt, reduce amount if using table salt
1/2 tbsp yeast, active dry
2.5 cups all-purpose flour
2 tbsp vegan butter, melted
½ tbsp Vegetable oil
Baking Soda Bath: 3 cups water & 1 tbsp baking soda

Vegan Egg Wash: 2 tbsp olive oil & 1 tbsp pure maple syrup

Coarse salt or Pretzel Salt
Instructions:
Combine warm water, sugar, salt, and yeast. Stir and allow it to sit for 4-5 minutes. A layer of foam will form on the top.
To a medium bowl, add flour, the yeast slurry, and melted butter. Knead with hands until the dough becomes stretchy and uniform.
Remove the dough from the bowl and lightly grease it with olive oil, then return back into the bowl and cover with a tea towel. Let rise for 1 hour.
Prepare a baking sheet with parchment paper and preheat oven to 450°F.
Take a golf ball-sized piece of dough.
Shape into a 25-inch rope
Wrap it around the full length of the sausage, looping and pinching the ends of the rope inside.
Bring water and baking soda to a rolling boil.
One by one, place the pretzel dogs into the boiling soda water for 30 seconds.
With a slotted spoon remove them and place onto the prepared baking sheet.
Brush on "egg" wash mixture and sprinkle with coarse salt.
Wipe off any excess soda water that has fallen onto the baking sheet and place in the oven.
Bake until golden brown in color, about 9-12 minutes.
Let cool 1-2 minutes and serve with ketchup and mustard.
Launched in Montreal in 2015, GUSTA is a vegan company that is built around the pleasure of eating. GUSTA creates and manufactures vegan and artisanal products that treat the taste buds, inspiring an easy and tasty cuisine. Their goal is to develop accessible plant-based foods, and in so doing contribute to a better world. Whether you are new to plant-based eating or a committed vegan, GUSTA  has products and recipes to thrill your taste buds!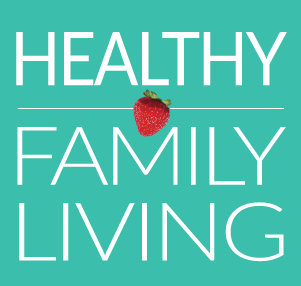 Wondering what to do with the kids in Metro Vancouver this weekend, or what to make for dinner? You can find it at HealthyFamilyLiving.com! From the Sunshine Coast to the Fraser Valley, we're the best online resource for busy parents looking for practical tips for healthy, active, sustainable living. For the latest on family events, outdoor adventures, birthday parties, camps & classes and kid-approved recipes, follow us on Facebook and sign-up for our parent-approved e-newsletter!