What could be better than cooling off in a refreshing pool or lake. It is the first thing we think of when the summer heat starts. It's important to set very firm rules around water safety so that everyone can safely enjoy the water this summer. Here are some that we recommend based on years of life guarding and current research.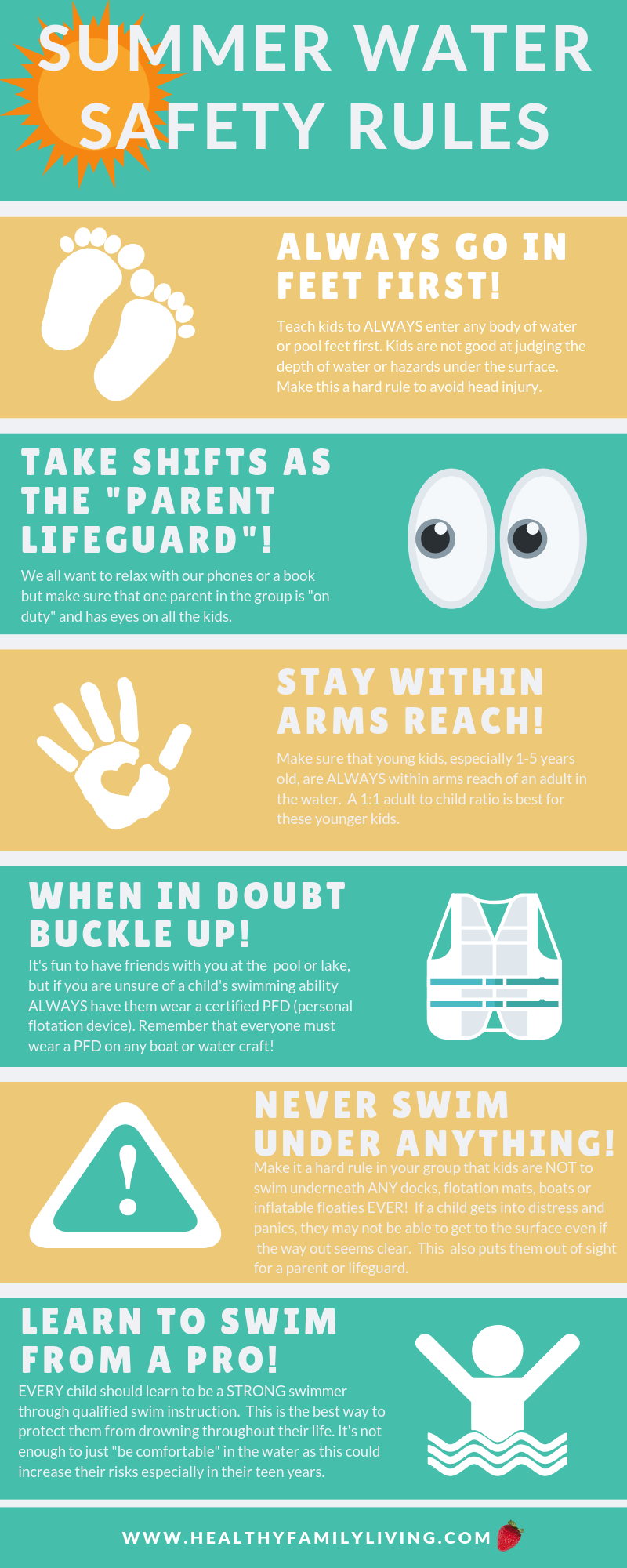 SUMMER WATER SAFETY TIPS
ALWAYS GO IN FEET FIRST!
Teach kids to ALWAYS enter any body of water or pool feet first. Kids are not good at judging the depth of water or hazards under the surface. Make this a hard rule to avoid head injury.
TAKE SHIFTS AS THE "PARENT LIFEGUARD"
We all want to relax with our phones or a book but make sure that one parent in the group is "on duty" and has eyes on all the kids.
STAY WITHIN ARMS REACH!
Make sure that young kids, especially 1-5 years old, are ALWAYS within arms reach of an adult in the water.  A 1:1 adult to child ratio is best for these younger kids. 
WHEN IN DOUBT BUCKLE UP!
It's fun to have friends with you at the  pool or lake, but if you are unsure of a child's swimming ability ALWAYS have them wear a certified PFD (personal flotation device). Remember that everyone must wear a PFD on any boat or watercraft! 
NEVER SWIM UNDER ANYTHING!
Make it a hard rule in your group that kids are NOT to swim underneath ANY docks, flotation mats, boats or inflatable floaties EVER!  If a child gets into distress and panics, they may not be able to get to the surface even if the way out seems clear. This also puts them out of sight for a parent or lifeguard.
LEARN TO SWIM FROM A PRO!
EVERY child should learn to be a STRONG swimmer through qualified swim instruction. This is the best way to protect them from drowning throughout their life. It's not enough to just "be comfortable" in the water as this could increase their risks, especially in their teen years.
Water safety helps everyone enjoy the summer !
Co-founder of Healthy Family Media and the Healthy Family Expo, Kay is an adventurer & Ironman triathlete, as well as mum to an active 11-year-old. Originally from Montreal, she has been proud to call British Columbia home for over 15 years. Whether running, hiking & biking in the mountains or creating healthy meals in the kitchen, Kay is always up for something new.  Her contagious enthusiasm & zest for life mean we're never quite sure what she'll be up to next, but we're sure that it will be an amazing adventure!