We're looking to embrace some afternoon relaxation with this whipped raspberry collagen drink. It's somewhere between a smoothie and a dalgona coffee (without the caffeine) blended with Enhanced Collagen Relax, which contains L-theanine and magnesium to promote relaxation.
With added benefits of promoting the health of our skin and joints, it's an easy add-in to your favourite drinks! Sip on this cool, frothy beverage the next time you lay out in the sun (or shade) for a little afternoon siesta. 
JUMP TO RECIPE
---
---
Organika is a Canadian family owned business of 31 years that is committed to helping people love living healthy. Organika's Enhanced Collagen is Canada's #1 selling collagen powder! A clean, single-ingredient formula sourced from grass-fed, pasture-raised cattle and free from all hormones, antibiotics, GMOs, and gluten. Enhanced Collagen is hydrolyzed for maximum absorption, so you get the most out of each scoop. From healthy hair, glowing skin, and strong nails to gut and joint health - this super powder has superpowers. 
JUMP TO RECIPE
---
WHIPPED RASPBERRY DALGONA COLLAGEN DRINK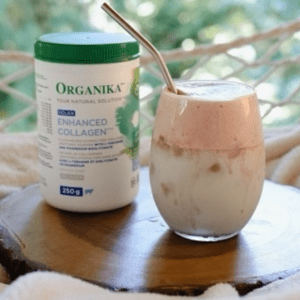 Give coffee a break with this cool, frothy relaxing beverage!
Ingredients:
1/2 cup frozen raspberries, puréed
Liquid from 1 can of chickpeas (aquafaba)
1 tbsp

 

Enhanced Collagen Relax
1 cup almond milk
Instructions:
Whip aquafaba liquid in a standing mixer.
Add Enhanced Collagen Relax to the mixer while blending the aquafaba.
Continue whipping until it forms stiff peaks (about 2 mins on high).
Add your puréed raspberries slowly to the mixer until combined.
Pour over ice + almond milk.
Enjoy!
---
From day one, Organika's passion for health, wellness & innovation has inspired them to create ways to make healthy living accessible & easy for everyone. We all know living healthy is more than sprinkling supplements into your morning smoothie, so along with an evolving collection of wellness & beauty products, Organika offers you the tools to love living healthy every day. Original recipe created by Justine Blackwell, a holistic nutritionist and recipe developer based out of Vancouver, B.C.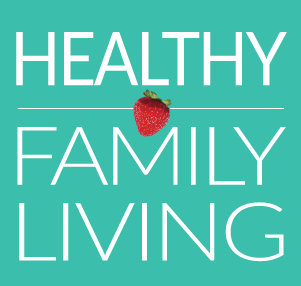 Wondering what to do with the kids in Metro Vancouver this weekend, or what to make for dinner? You can find it at HealthyFamilyLiving.com! From the Sunshine Coast to the Fraser Valley, we're the best online resource for busy parents looking for practical tips for healthy, active, sustainable living. For the latest on family events, outdoor adventures, birthday parties, camps & classes and kid-approved recipes, follow us on Facebook and sign-up for our parent-approved e-newsletter!