This version is just as satisfying as a regular mac & cheese with the added boost of cauliflower and a savoury crunch that will keep you coming back for more. You will wonder why you ever made macaroni & cheese without cauliflower! We love the seedy goodness from Hippie Snacks Seed & Nut Clusters!
Cauliflower, as part of the cruciferous vegetable family (along with its green cousins Brussel sprouts, cabbage, kale & broccoli), is naturally high in fibre and B-vitamins. Don't be fooled by its white colour – cauliflower is a powerhouse of antioxidants & phytonutrients that have been shown to protect against cancer. It also contains fibre to support digestion and choline that is essential for learning and memory. So move over macaroni & make room for cauliflower!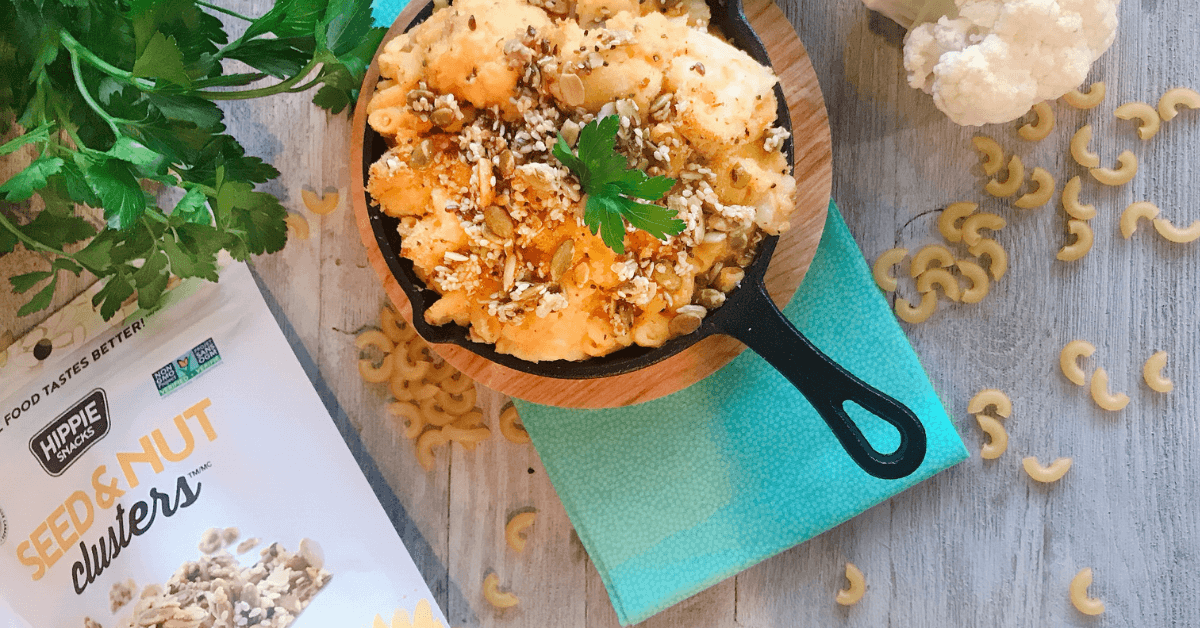 Cauliflower Mac & Cheese & Crispy Topping
2 cups milk
¼ cup unbleached all-purpose flour or gluten-free flour
1 teaspoon dry mustard
½ teaspoon sea salt
1 teaspoon paprika
1/2 teaspoon black pepper
2 cups strong grated cheddar cheese
1/2 onion finely minced
3 tablespoons grated Parmesan cheese
1 1/2 cups elbow whole wheat macaroni cooked gluten-free works fine
3 cups cauliflower chopped into small florets
Preheat oven to 350F
Cook macaroni according to the package directions, add cauliflower for the last 3 minutes of cooking. Drain.
While pasta is cooking, combine milk and flour in a medium saucepan, whisk until smooth.
Cook over medium-high heat for about 8 minutes until the mixture is bubbly and thickened. Stir in the onion, all spices (dry mustard, salt, paprika, pepper) and all cheese.
Cook while stirring until cheeses are completely melted.
Combine cheese sauce with cooked macaroni and cauliflower. Transfer to a large casserole dish that has been lightly sprayed with oil.
For Topping:
Mix bread crumbs, oregano, chili flakes, parmesan cheese & Hippie Snacks Crispy Onion Seed & Nut Clusters. Sprinkle over macaroni mixture.
Bake at 350°, uncovered, for 30 minutes. Serve with a green salad.
You can adjust the ratio of pasta to cauliflower or choose one over the other. It's up to you. We find 50/50 the most comforting!
Co-founder of Healthy Family Media and the Healthy Family Expo, Kay is an adventurer & Ironman triathlete, as well as mum to an active 11-year-old. Originally from Montreal, she has been proud to call British Columbia home for over 15 years. Whether running, hiking & biking in the mountains or creating healthy meals in the kitchen, Kay is always up for something new.  Her contagious enthusiasm & zest for life mean we're never quite sure what she'll be up to next, but we're sure that it will be an amazing adventure!