Local organic fruit picked and frozen at the height of its ripeness is both a sustainable and nutritional win. This dark fruit crumble recipe with grain-free crust can be whipped up easily even on a weeknight & adapted to many seasons. Just remember, the darker the fruit the more of a health punch it delivers! This recipe comes together in a flash with Hippie Snacks Grain-free granola.
Red foods are a particularly rich source of polyphenols. All berries are part of the red family and are prebiotic, meaning they feed our gut bacteria. This is important not only for digestion but also as strong support for our immune system. Evidence is coming to light showing that gut bacteria play a key role in behaviours such as anxiety and depression. So deep reds are important for mind AND body!
Dark Fruit Crumble with Grain-Free Crust (Vegan options)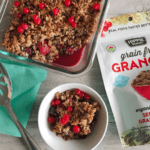 1 bag frozen berries approx. 5 cups
¾ cup Hippie Snacks Grain-Free Granola
¼ cup almond flour
1 tsp ground cinnamon
3 tbsp brown sugar
3 tbsp unsalted butter or coconut oil (vegan melted)
Place berries in a small baking dish (8-inch diameter is perfect).
In a large bowl, mix together all dry ingredients. Add butter (or coconut oil) and use your thumbs to rub the ingredients together until they form a crumbly mixture.
Pour crumble mix onto fruit and pat down gently. Bake for 30-35 minutes or until golden brown.
Serve warm for dessert with vanilla (non-dairy) ice cream or for breakfast with vanilla yogurt.
Co-founder of Healthy Family Media and the Healthy Family Expo, Kay is an adventurer & Ironman triathlete, as well as mum to an active 11-year-old. Originally from Montreal, she has been proud to call British Columbia home for over 15 years. Whether running, hiking & biking in the mountains or creating healthy meals in the kitchen, Kay is always up for something new.  Her contagious enthusiasm & zest for life mean we're never quite sure what she'll be up to next, but we're sure that it will be an amazing adventure!