Homemade stocks are my JAM…..er…. stock….?? Anyways, I love them. I love the way they fill the house with a welcoming smell, I love how they taste, I love how they use up all my wilting veggies and frozen scraps, I just love everything about making homemade stock.
This vegan stock recipe uses all your veggie scraps and skins, which makes me feel super eco-friendly. As I'm going about my days (and weeks), I collect up leftover scraps from onions, carrots, celery, peppers, garlic, asparagus, and most other veg (as long as they are not cruciferous), in a freezer bag or air-tight container and save it until my next soup day. Yes skins, greens and all. I'll also throw in any veggies that have been neglected and aren't their freshest for eating on their own.
I've laid out 3 ways you can make your vegan stock; on the stovetop in a big ol' stockpot like your mama used to do, in an instant pot, or in a slow cooker. My personal fave is the slow cooker. I find it brings out the best flavour, without hogging your stove and heating up your house all day long. But regardless of which way you do it, you'll end up with a yummy stock that you can make into a yummy soup.
Enjoy!
Homemade Vegan Soup Stock – 3 Ways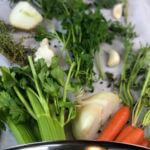 No more store-bought stocks and broths. This versatile recipe makes the richest vegan soup stock or bone broth, plus uses all the leftover scraps you have from other recipes!
4 large carrots
6 celery stalks
6 cloves garlic
2 large onions
1 bunch fresh sage
1 bunch fresh rosemary
1 bunch fresh thyme
1 bunch fresh parsley
6 bay leaves
2 tbsps whole peppercorns
2 tbsps coarse sea salt
8 cups water (adjustable depending on size of pot)
Roughly chop veggies into large pieces, leaving skin on.

Add veggies to your stockpot, instant pot, or slow cooker.

Add bunches of fresh herbs – whole – to the pot.

Fill your stockpot, instant pot, or slow cooker to the maximum water level.

Add in whole peppercorns and coarse sea salt.
Cooking on Stovetop
Cover stockpot with lid and bring the contents to a boil.

Let it boil for 5-8 minutes, then reduce to a simmer over medium-low heat.

Leave to simmer for up to 8 hours for maximum flavour.

Stir and sample 2-3 times over the entire cooking period, adding fresh-ground salt and pepper to taste.
Cooking in Instant Pot
Lock lid and cook on high pressure for 60 minutes.

Release pressure manually.
Cooking in Slow Cooker
Cover with lid and set to cook on low for a minimum of 8 hours. Can do up to 12 or 24, depending on your slow cooker's functions.
All Methods
Remove from heat and strain solid contents through a strainer, catching liquid in a secondary container.

Discard solids. Use broth immediately for soup, store in the fridge or freezer for future use.
While each of these 3 cooking options offer a decent stock, my preferred method will always be the slow cooker. I find it offers the most rich flavour, without occupying my stove, and heating up the house all day. 
Born & raised in Vancouver, and co-founder of Healthy Family Media and the Healthy Family Expo, Angela is a reformed divorce lawyer turned healthy family champion! By day, she thrives on connecting conscious brands with busy Vancouver families. By night, you'll find her wrangling two feisty daughters, choosing between instant pot or healthy freezer meals for dinner, and singing with MomChoir. She especially loves sharing her favourite family-friendly finds with other Lower Mainland parents!