This vegetarian pasta dish screams spring & summer, but can be enjoyed any time of year! Packed full of healthy springtime veggies, it is easily adaptable to suit any dietary restrictions. Simple ingredient substitutions can make this a gluten-free pasta dish, or even a creamy vegan pasta meal! It is full of flavour, but gentle enough for younger palates. Your little ones may even enjoy helping to make this kid-friendly healthy pasta recipe!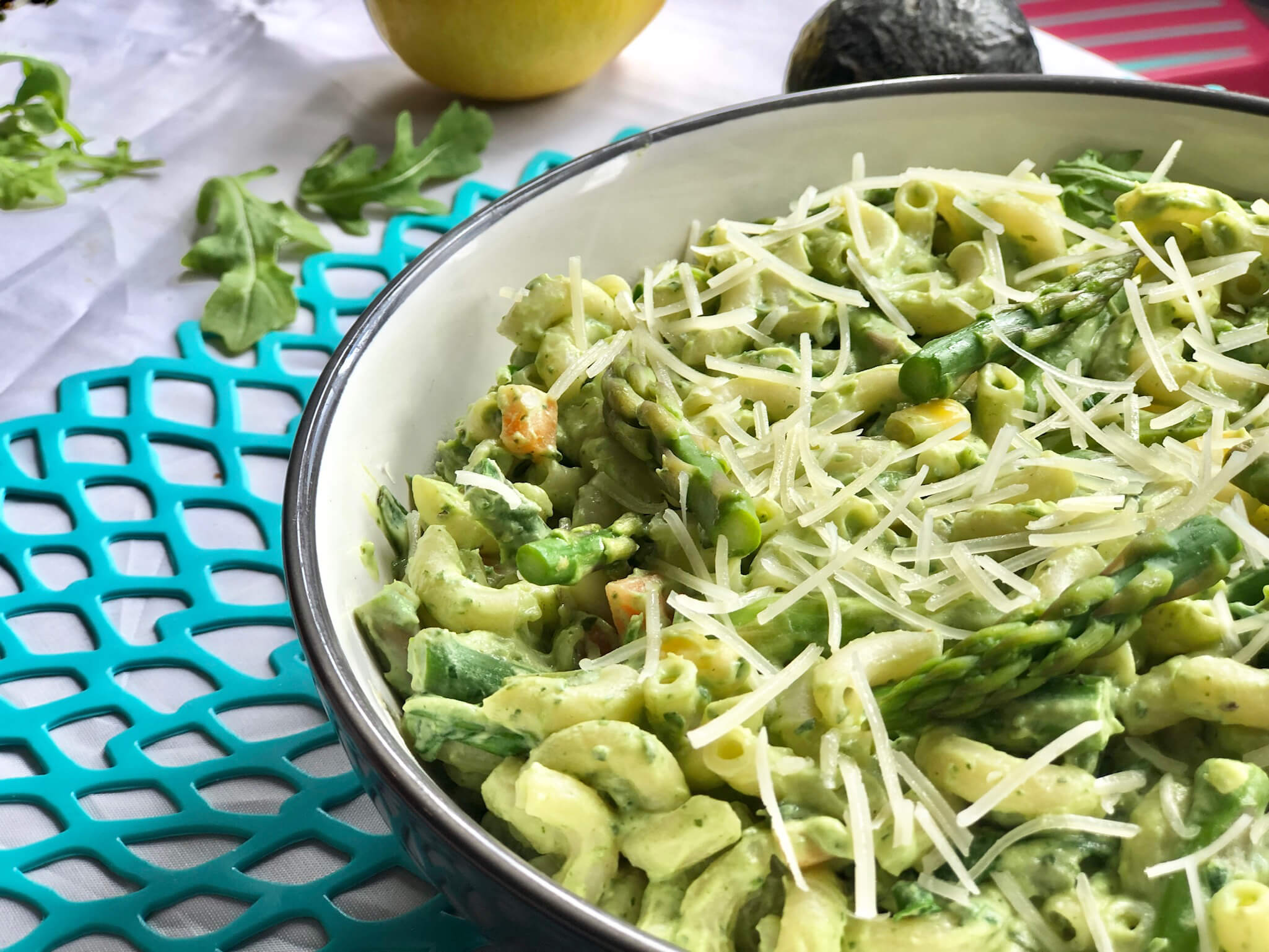 We all know that kids eat more when they've been involved in the creation. Healthy comfort food for the win! This will quickly become a family favourite in your weekly meal plan.
Pasta with Asparagus and Peas in a Creamy Avocado Sauce
This gorgeously creamy pasta will satisfy any carb craving in a light and healthy way! Simple substitutions can turn this recipe into a delicious and creamy vegan pasta dinner!
500 g pasta
2 lbs asparagus
1/2 cup plain Greek yogurt or vegan alternative
2 avocados
3 garlic cloves
1/2 cup fresh basil leaves
1/2 cup fresh parsley leaves
3 tbsps fresh lemon juice
1 tsp salt
1/2 tsp black pepper
2 tbsps extra-virgin olive oil
6 green onions
3 cups fresh arugula
2 cup frozen peas or mixed veg
1 cup parmesan cheese or vegan alternative
Add salt to a large pot of water and bring to a boil. Add the pasta and cook.
Trim the tough ends off of the asparagus.
Before the pasta is finished cooking according to the package directions, while it is still quite firm, add the asparagus and cook an additional 3 minutes, or until the pasta is cooked, but not too soft.
Drain the pasta, saving 1 cup of the water.
While the pasta cooks, prepare the sauce.
Mince the garlic cloves remove the peel and pit from the avocados.
Add the Greek yogurt, avocado, garlic, basil, parsley, lemon juice, salt, and pepper to a blender.
Mix until creamy, with no lumps.
Heat the olive oil in a large pot on medium-low.
Thinly slive the green onions, and add to the pot and cook until soft.
Add the arugula and peas or mixed veg and cook until the arugula is wilted.
Remove the pan from the heat and add the drained pasta and asparagus.
Slowly stir in the avocado sauce.
Add a bit of the leftover pasta water if the pasta is sticking together.
Top with fresh parsley, basil, and parmesan and serve immediately.
This dish is flexible for any kind of pasta; white or whole-wheat pasta, gluten-free pasta, the choice is yours!
Heather is a Toronto born mama of two whose parenting journey has taken her family coast to coast across Canada. When she's not whipping up recipes for the Healthy Family Living website or sharing the latest fun Vancouver events on HFL's Facebook page,  she's a freelance writer that has recently been published in an anthology entitled BIG, as well as in the Huffington Post, as she and her hubby of 13 years attempt to keep up with their two spirited girls and 3 fur babies!