One of my favourite things about this dinner is not that it's light and healthy, but that my kids can make it entirely on their own! Yes, even the homemade tzatziki!
Whether it's the middle of a heatwave and you're looking for a recipe that doesn't involve any cooking, or it's the middle of a deep freeze and you're longing for a taste of summer, this recipe will satisfy all tastebuds. It's super simple to make it into a vegan recipe, low-carb, keto, Whole30, or anything your heart desires with just a few easy substitutions. No matter which way you choose to top it, the homemade tzatziki is the key to this gorgeous Mediterranean flavour.
If you're still looking for inspiration for meals for the rest of your busy week, search no further. We have you covered with our weekly "What's for Dinner" round-ups!
Vegetarian Greek Pitas with homemade Tzatziki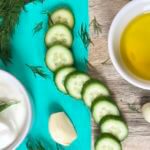 Light and easy dinner full of flavour!
Pita Ingredients
4 Pita breads
2 large hothouse tomato
1 large cucumber
1 red onion
200 grams feta cheese
100 grams black olives
1 can chickpeas (drained & rinced)
1 cup cooked quinoa or brown rice (optional)
Tzatziki Ingredients
2 cups Greek yogurt
1 large cucumber
2 tbsp olive oil
1 tbsp red wine vinegar
1 tbsp lemon juice
2 cloves garlic
1 tbsp fresh dill
salt (to taste)
Grate 1 large cucumber onto a paper towel

Squeeze liquid out of cucumber

Combine yogurt, olive oil, lemon juice, vinegar, salt, dill, and garlic.

Add in grated cucumber and taste to adjust seasonings. Set aside

Chop remaining vegetables into medium-sized cubes

On a plate, spread one pita with tzatziki sauce

Top pita with chopped vegetables, quinoa or rice (if using & chickpeas)

Sprinkle with feta cheese

wrap and enjoy!
Born & raised in Vancouver, and co-founder of Healthy Family Media and the Healthy Family Expo, Angela is a reformed divorce lawyer turned healthy family champion! By day, she thrives on connecting conscious brands with busy Vancouver families. By night, you'll find her wrangling two feisty daughters, choosing between instant pot or healthy freezer meals for dinner, and singing with MomChoir. She especially loves sharing her favourite family-friendly finds with other Lower Mainland parents!