Hands down our family's favourite build-your-own dinner, we easily make this yummy burrito bowl recipe once a week. It has minimal cooking, tons of fresh, healthy ingredients and – best of all – NO COMPLAINING!
Everyone just grabs a bowl and adds in only the ingredients they like, what could be simpler? Incredibly, this meal can suit even the most difficult of diets. Without any extra cooking, this is the perfect recipe for vegans, vegetarians, gluten-free, keto, low-carb, paleo, or whole30 diets.
Easy to make, easy to please, this is truly a win-win! Be sure to add it to your weekly meal plan. Get more ideas for meal planning here. Want a whole week of build-your-own dinners to add to this Burrito Bowl Recipe? Done!
Build-Your-Own Burrito Bowls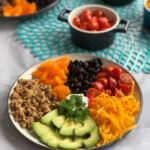 A healthy, simple, and low-carb dinner that can be customized to suit everyone's tastes!
1 medium onion
2 cloves garlic
1 lb extra-lean ground beef, turkey, or meatless mince ((optional))
1 tbsp cooking oil (evoo, coconut, or other)
2 tbsps taco seasoning
2 avocados
1 pkg cherry or grape tomatoes
1 tin black beans
2 bell peppers
2 cups grated cheddar cheese
1 container sour cream ((optional))
1 tsp sriracha ((optional))
Finely chop the onion and mince garlic cloves.

Add to frying pan with cooking oil, and sautee until lightly browned.

Add ground meat, or meatless mince, and taco seasoning to the frying pan and cook thoroughly.

While meat is cooking, prep other ingredients.

Chop bell papers, avocado, and tomatoes.

Grate cheese.

Rinse and drain black beans.

Lay out all ingredients (meat, cheese, beans, vegetables, sour cream, and sriracha). Everyone can customize their own burrito bowls with ingredients to be vegan, vegetarian, keto/low carb, as they like!
Heather is a Toronto born mama of two whose parenting journey has taken her family coast to coast across Canada. When she's not whipping up recipes for the Healthy Family Living website or sharing the latest fun Vancouver events on HFL's Facebook page,  she's a freelance writer that has recently been published in an anthology entitled BIG, as well as in the Huffington Post, as she and her hubby of 13 years attempt to keep up with their two spirited girls and 3 fur babies!