If your rhubarb patch was as abundant as ours this year, you have a freezer bursting with this beautiful green and pink vegetable! That's right, rhubarb is technically classified as a vegetable, although we consider it one of our favourite fruits.
This Rhubarb Ginger Simple Syrup Recipe is equal parts tangy and zesty with the perfect amount of sweetness – everything you want in a refreshing summer drink!
RHUBARB GINGER SIMPLE SYRUP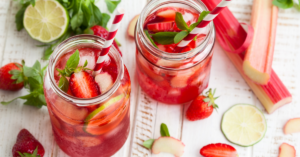 Tangy, zesty, & lightly sweet!
Ingredients:
4 cups fresh or frozen rhubarb – roughly chopped
2 inch section of fresh ginger – grated
8 cups water
1 cup granulated sugar
instructions:
Prep the ingredients – Cut, peel, & grate fresh ginger. Roughly chop rhubarb stalks
Combine the ingredients – Mix all ingredients in a medium-sized pot covered with a fitted lid.
Cook the ingredients – Bring the ingredients to a boil over medium-high heat, then reduce to simmer on low for 20 minutes.
Strain the ingredients – Separate liquids from solids with a fine mesh sieve, saving both.
notes:
Allow liquid to cool completely and refrigerate.
To make your simple syrup sweeter without adding more sugar, toss in a few strawberries instead.
Fresh mint leaves can be used as a milder substitution for ginger.
To amp up the tanginess, add a splash of lime juice once the simple syrup has cooled.
Reduce your waste and add the rhubarb solids to your next batch of muffins, baked oatmeal, or smoothie!
Add this Rhubarb Ginger Simple Syrup recipe to sparkling water, or use in delicious cocktails and mocktails.
If you love rhubarb as much as we do, check out our roundup of tasty rhubarb recipes!
Heather is a Toronto born mama of two whose parenting journey has taken her family coast to coast across Canada. When she's not whipping up recipes for the Healthy Family Living website or sharing the latest fun Vancouver events on HFL's Facebook page,  she's a freelance writer that has recently been published in an anthology entitled BIG, as well as in the Huffington Post, as she and her hubby of 13 years attempt to keep up with their two spirited girls and 3 fur babies!