We combined our love for oatmeal breakfasts with our love for fruit crumble desserts to create this healthy Strawberry Rhubarb Crumble recipe that can be enjoyed any time of day! Our freezers are bursting at the seams with rhubarb fresh from the garden so we have been relishing all the different ways we can work it to our menu.
HEALTHY STRAWBERRY RHUBARB CRUMBLE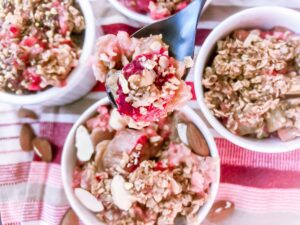 Small swaps give a healthy twist to a favourite classic recipe.
Ingredients:
Fruit Mixture
4 cups fresh or frozen rhubarb – chopped
4 cups of fresh or frozen strawberries – chopped
1 cup gluten-free oats – ground
1/2 cup brown or coconut sugar
1 tbsp flax seed – ground
Topping
4 cups gluten-free rolled oats
1/2 cup brown or coconut sugar
1/2 cup butter or coconut oil – room temperature
2 tbsps seed blend*
2 cups walnut pieces or almond slivers
instructions:
Prep Tools: Pre-heat oven to 400° and grease casserole dish or pie plate.
Prep Ingredients: Chop rhubarb & strawberries, grind oats & flaxseed.
Combine Ingredients: Toss fruit, ground oats & flax seeds, and 1/2 cup of sugar lightly, in a large mixing bowl, until fruit is evenly coated.
Make Topping: In a medium sized mixing bowl add all of the dry topping ingredients and stir until combined. Add in butter or coconut oil in sections, using a pastry blender, fork, or your fingers to blend into small clusters.
Layer Dish: Pour fruit mixture into greased casserole dish or pie plate, spreading to cover the bottom evenly. Crumble topping evenly over the fruit mixture.
Bake at 400° for 20 minutes or until fruit mixture is bubbling.
notes:
The seed blend can be a packaged or homemade combination of your preferred seeds and grains – our favourites are chia, sesame, flax, and hemp seeds
I use my nutribullet to grind my oats and seeds for the fruit mixture – it's quick and easy!
Check out our other tasty rhubarb recipes here!
Heather is a Toronto born mama of two whose parenting journey has taken her family coast to coast across Canada. When she's not whipping up recipes for the Healthy Family Living website or sharing the latest fun Vancouver events on HFL's Facebook page,  she's a freelance writer that has recently been published in an anthology entitled BIG, as well as in the Huffington Post, as she and her hubby of 13 years attempt to keep up with their two spirited girls and 3 fur babies!