Bored of your typical charcuterie board? Try this ultimate fry board made with a variety of cuts of potatoes to satisfy all of your fry cravings. It's time to indulge so don't skip out on the dips! Mother Raw Smoky Chipotle Dressing is the perfect dipping sauce that everyone will want to dive into!
JUMP TO RECIPE
---
---
There's no such thing as an unhealthy love for plants.
The Healthy Family Living team has a goal of adding veggies & plants to every occasion and that includes a grazing plate or BBQ side. No one can resist a huge board filled with a variety of different healthy baked fries and the perfect smoky dip to go with them. All you have to do is put this board down and stand back! Mother Raw's delicious plant-based dips & dressings do such a great job at boosting the flavour in even the simplest of plant-based meals, making it easy for us to get the whole family on board. 
JUMP TO RECIPE
---
THE ULTIMATE FRY BOARD WITH SMOKY CHIPOTLE DIP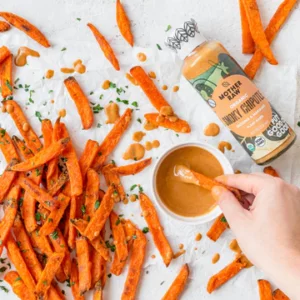 Be the life of the party with this perfect fry board!
Ingredients:
For the rutabaga fries
½ large rutabaga, peeled and cut into fries

1 tbsp extra virgin olive oil

1 tsp smoked paprika

½ tsp garlic powder

½ tsp kosher salt
For the sweet potato fries
1 large sweet potato

1 tsp arrowroot powder

1 tbsp extra virgin olive oil (or avocado oil)

½ tsp garlic powder

½ tsp smoked paprika

½ tsp kosher salt
For the waffle fries and crinkle-cut fries
4 cups of your favorite frozen French fries
For dipping & garnish
Instructions:
Preheat the oven to 425ºF and line three baking sheets with parchment paper.

In a large bowl, add the rutabaga fries & toss with olive oil, smoked paprika, garlic powder, and salt. Place on a baking sheet, ensuring that the fries are spaced out and not touching each other. 

Cut the sweet potato into slabs, then cut into fries, keeping the size as equal as possible. Add the fries to the same bowl as the rutabaga and then add the arrowroot. Toss to combine. Drizzle with olive oil and add spices and salt. Mix well with your hands, ensuring they are equally covered.

Add the fries to the second baking sheet, ensuring they are spaced out and not touching.

On the third baking sheet, add your frozen fries.

Place the sweet potato & rutabaga fries in the oven and cook for 15 to 20 minutes, remove, and flip the fries. Cook for another 15 to 18 minutes, until crisp, slightly browned & cooked through.

When the sweet potato fries & rutabaga fries have about 15 to 20 minutes left, add the frozen fries and cook according to package directions.

Assemble on a large board along with dips.

Garnish with lime wedges, jalapeno, and chives.

Serve & enjoy!
---
Founded by Michelle Kopman, on a mission to make plant-based foods accessible, delicious & enjoyable for all. Her simple idea planted the seed that became Mother Raw. She knew plants could add goodness to any meal without the need to tamper with nature's bounty. Mother Raw organic, plant-based products aren't just inspired by nature; they're made by nature. They simply take the best of what Mother Earth has to offer and make products that are amazingly delicious & versatile. You'll never find anything artificial here - that's a promise. Your veggies will thank you!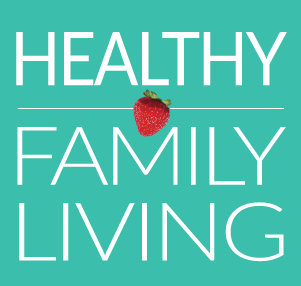 Wondering what to do with the kids in Metro Vancouver this weekend, or what to make for dinner? You can find it at HealthyFamilyLiving.com! From the Sunshine Coast to the Fraser Valley, we're the best online resource for busy parents looking for practical tips for healthy, active, sustainable living. For the latest on family events, outdoor adventures, birthday parties, camps & classes and kid-approved recipes, follow us on Facebook and sign-up for our parent-approved e-newsletter!