We have a bit of an obsession with breakfast bowls. Unless you live under a rock, you've seen this new food trend everywhere, and we are hooked.
It all started off with a green smoothie addiction. When your smoothie is chock full of kale, and you don't have a professional blender, it tends to be slightly denser. When we first came across breakfast bowls, we thought that this was the perfect home for our thicker smoothie!
We love summer when there is an abundance of local fruit, and we are can gorge ourselves on the freshness of it all before fall sets in. A quick trip to the local grocery store was the inspiration for this West Coast Breakfast Bowl. I came away with local raspberries, blueberries, peaches and even local yogurt!
You don't have to live on the West Coast to embrace the healthy, easy-paced, barefoot lifestyle. Just whip yourself up a breakfast bowl, sit back and taste the West Coast in every bite! Interested in making your own West Coast Breakfast Bowl? Give this recipe a try:
West Coast Breakfast Bowl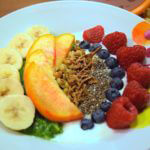 2 kale leaves (or 1/2 cup baby kale)
1 avocado
1/2 cup coconut water
1/2 banana (chopped)
1/2 peach (sliced)
1 handful of raspberries
1 handful of blueberries
1 tablespoon ground flax
1 tablespoon chia seeds
2 tablespoons walnuts
1 tablespoon honey (optional)
Tear kale leaves from stem. Discard stem and combine leaves, avocado and coconut water in a blender. Blend until smooth.
Pour blended mix into one side of a bowl, and fill the other half of the bowl with Olympic Natural Plain Yogurt.

Top your base with your choice of fruits, seeds and nuts. For my West Coast bowl, I chose blueberries, raspberries and peaches, along with banana, ground flax, chia seeds and walnuts.

*Optional*. If you choose a plain yogurt for your base, I recommend drizzling a spoonful of honey as a finishing touch to your bowl for just the right amount of sweetness. If you've chosen a flavoured yogurt, this step is not necessary.
Enjoy!
Heather is a Toronto born mama of two whose parenting journey has taken her family coast to coast across Canada. When she's not whipping up recipes for the Healthy Family Living website or sharing the latest fun Vancouver events on HFL's Facebook page,  she's a freelance writer that has recently been published in an anthology entitled BIG, as well as in the Huffington Post, as she and her hubby of 13 years attempt to keep up with their two spirited girls and 3 fur babies!