Heart-healthy fats, fibre, protein, colour & taste all come together in a time crunch! What we love about this recipe is that it is filling and deeply satisfying, AND can be made in 5 minutes flat. When we were testing this recipe, our kids asked for us to make it 5 days in a row! The only challenge was keeping ripe avocados on hand. We love the added crunch from the Hippie Snacks seed & nut clusters!
Green peas have an impressive nutrition profile. Their calorie content is fairly low, and yet 4 grams of fibre and 4 grams of protein are packed into a half-cup serving. Green peas are one of the best plant-based sources of protein, which is a major reason why they are so filling, along with their high amount of fibre. Nutrient-dense foods are those that pack substantial amounts of vitamins, minerals, and other nutrients into relatively few calories. 1/3 of a medium avocado has only 80 calories but contributes nearly 20 vitamins and minerals, making it a solid nutrient-dense food choice. Avocados are one of the only fruits that contain "good" heart-healthy monounsaturated fats that can act as a "nutrient booster" by helping increase the absorption of fat-soluble nutrients such as vitamins A, D, K and E.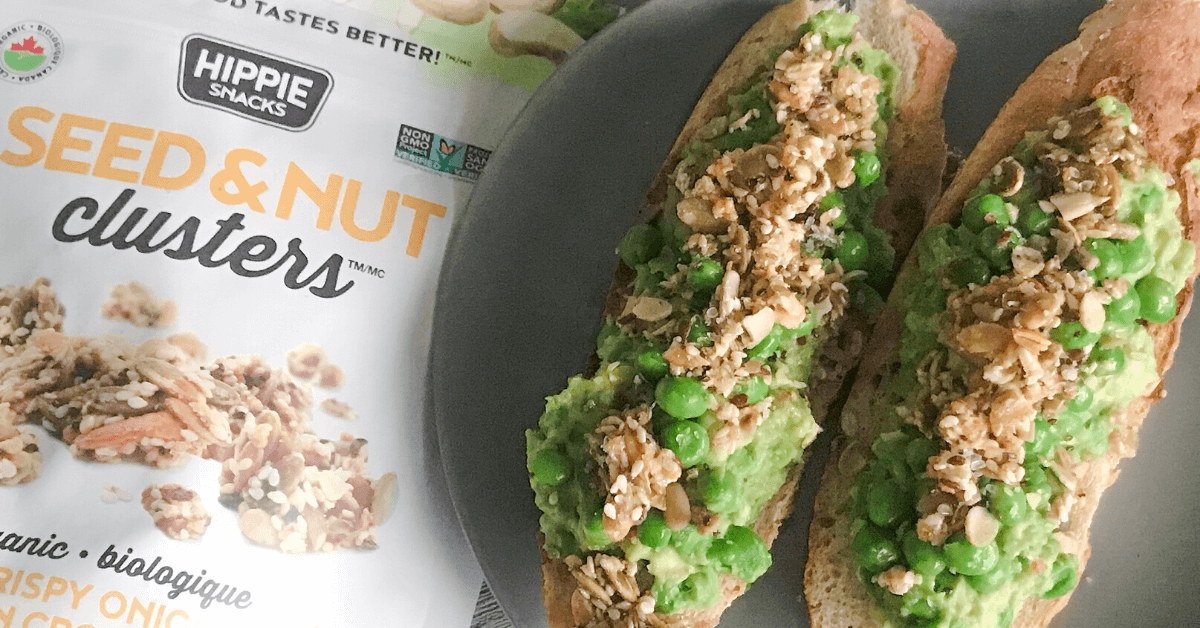 Avocado Toast with Peas & Crunchy Topping
All Hail Avocado! Breakfast, lunch or a quick dinner can become a nutritional powerhouse with this simple meal. Add a poached egg for a protein punch.
2 tbsp butter or vegan margarine
2 cups frozen peas
2 ripe avocados
4 slices quality toast
2-4 tbsp Hippie Snacks Crispy Onion Seed & Nut clusters or hemp seeds
Salt and pepper
In a frying pan, melt 1 tbsp of butter or vegan margarine on medium heat.
Add the frozen peas and cook for about 5 minutes until they are heated through.
While the peas cook, peel and dice the avocado & place in a large flat bottomed bowl.
Empty the peas into the bowl with the avocado.
Using a potato masher smash the peas into the avocado leaving the mix as chunky as you like.
Season with salt and pepper & mound onto buttered toast.
Top with Hippie Snacks Crispy Onion Seed & Nut clusters & or hemp seeds
Co-founder of Healthy Family Media and the Healthy Family Expo, Kay is an adventurer & Ironman triathlete, as well as mum to an active 11-year-old. Originally from Montreal, she has been proud to call British Columbia home for over 15 years. Whether running, hiking & biking in the mountains or creating healthy meals in the kitchen, Kay is always up for something new.  Her contagious enthusiasm & zest for life mean we're never quite sure what she'll be up to next, but we're sure that it will be an amazing adventure!