This Asian Quinoa Bowl is a perfect blend of earthy flavours of sesame & soy from the Asian Apricot dressing, sweetness from the pineapple and a kick from the lime. This meal comes together in a flash and is a great make-ahead lunch box filler or quick-grab dinner from the fridge, and it will wow the crowd at any group gathering. We used frozen shelled edamame that was microwaved for a minute, or you could steam them if you prefer.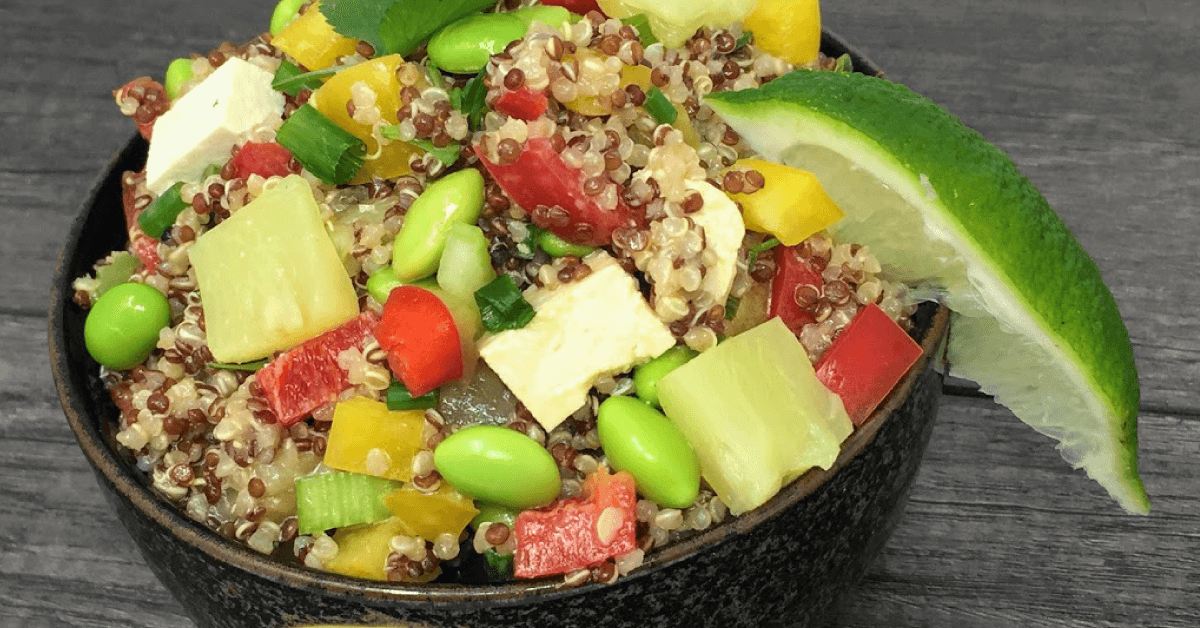 To learn more about Little Creek Dressing, visit their website at www.littlecreekdressing.com, or connect with them on Facebook or Instagram! You can buy their products at all major grocery stores across British Columbia, including Whole Foods Market.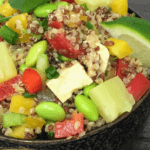 Ingredients:
1 cup diced tofu (or other protein)
2 cups cooked Quinoa (we used ½ red & ½ white)
2 sweet peppers diced (we used yellow & red)
½ can of diced pineapple or 1 cup fresh
¾ cooked shelled edamame beans (we bought frozen and microwaved for 1 minute)
¼ cup cilantro
¼ cup green onion chopped into small pieces
4- 6 tbsp Asian Apricot Little Creek Dressing
2 tbsp lime juice (half a lime squeezed)
Instructions:
Mix all ingredients in a large bowl with dressing. Serve. This makes a great lunch and holds well in the fridge for up to 2 days. Recipe can easily be adapted to suit your tastes and is easily doubled or tripled for a big batch.
Tip: How to cook quinoa
Rinse under cold running water
Pour into a pan and add double the amount of salted water.
Bring to the boil over a medium heat.
Reduce to a simmer for 15 minutes, or until tender and the liquid is absorbed.
Co-founder of Healthy Family Media and the Healthy Family Expo, Kay is an adventurer & Ironman triathlete, as well as mum to an active 11-year-old. Originally from Montreal, she has been proud to call British Columbia home for over 15 years. Whether running, hiking & biking in the mountains or creating healthy meals in the kitchen, Kay is always up for something new.  Her contagious enthusiasm & zest for life mean we're never quite sure what she'll be up to next, but we're sure that it will be an amazing adventure!