We love flavours from all over the world and love to make new (and often time-saving) combinations. These chorizo empanadas are the perfect example: half empanada, half calzone! We use our quick and easy pizza dough recipe for the dough instead of a more traditional empanada dough that is flakier.  We think the trade-off is worth it but if you are looking for a more traditional dough you can find one here.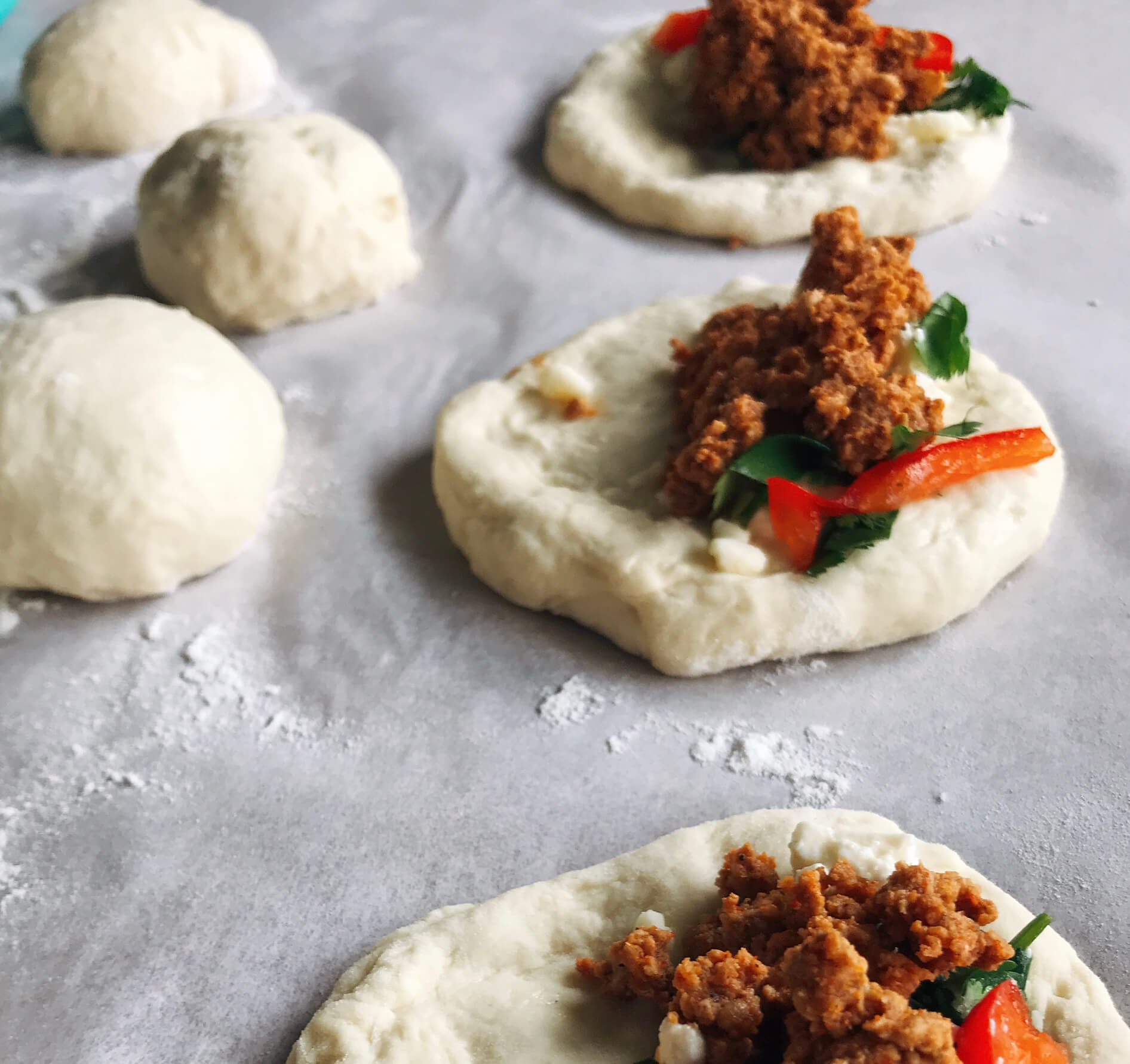 In this simple chorizo recipe, you can pull together the filling and have it resting in the fridge while the dough is rising, or use extra pizza dough from the night before and prep the filling ahead to be ready to wow the family with a quick to assemble dinner!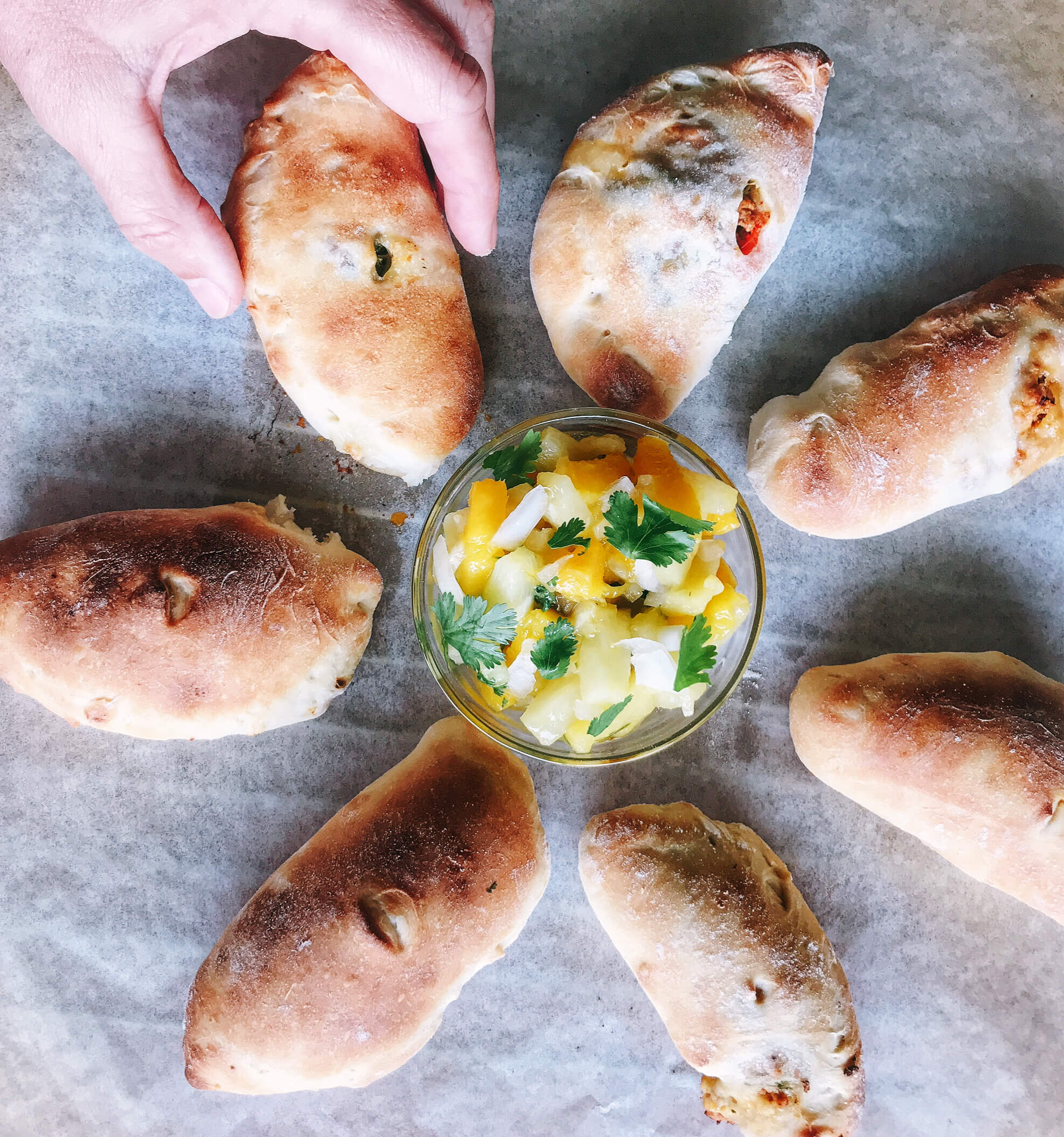 CHORIZO EMPANADAS USING PIZZA DOUGH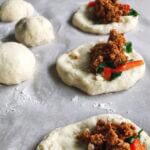 1 pound ground pork
3 Tbsp apple cider vinegar
2 bay leaves (crushed)
1/2 tsp ground black pepper
1/4 tsp cayenne
1/4 tsp cinnamon
1/8 tsp cloves (ground)
1 tsp coriander (ground)
1 Tbsp cumin (ground)
1 Tbsp garlic (minced)
1/2 tsp oregano (dried)
2 Tbsp paprika
1 tsp salt
1/2 tsp thyme (dried)
1 batch pizza dough (not a pizza shell)
1/2 white onion, finely diced
1/2 cup cilantro chopped
1/2 cup feta cheese, crumbled
1/2 cup mozzarella cheese, grated
For the filling
In a small bowl combine all dry spices.

Place pork in a large bowl, add spices mix and vinegar.

Mix to combine the spices well with the meat. Disposable gloves are perfect for this as the spice mix is very colourful 🙂

Refrigerate for 1 hour or even better overnight.
Assembly
Preheat oven to 425 F

Divide the pizza dough into 12 small balls and place them on a floured piece of parchment paper

One at a time, roll one of the dough balls into a 1/4 to 1/2 inch thick disk and place 1- 2 tbsp of chorizo filling, white onion, red pepper, cilantro and feta on to the dough. Do not overfill!

Fold the dough over the filling and crimp the edges closed by folding the edge over itself twisting all the way along the edge.

Repeat with the rest of the dough balls.

Bake for 15-18 minutes or until golden brown.

Serve with salsa and a salad.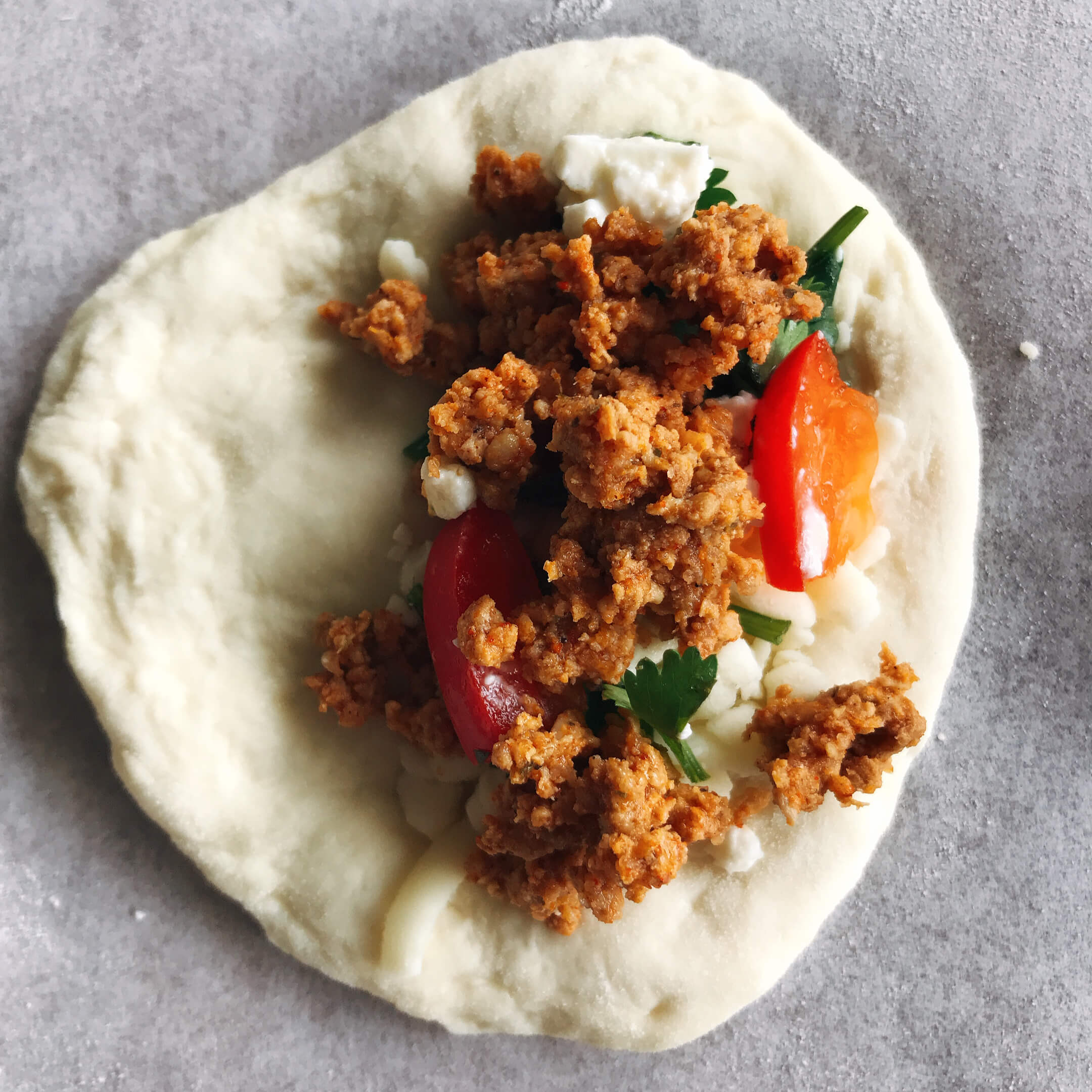 Co-founder of Healthy Family Media and the Healthy Family Expo, Kay is an adventurer & Ironman triathlete, as well as mum to an active 11-year-old. Originally from Montreal, she has been proud to call British Columbia home for over 15 years. Whether running, hiking & biking in the mountains or creating healthy meals in the kitchen, Kay is always up for something new.  Her contagious enthusiasm & zest for life mean we're never quite sure what she'll be up to next, but we're sure that it will be an amazing adventure!