This tomato & potato bake is pure comfort. The combination of garlic, onion, and tomatoes wrapped around potato wedges is so satisfying and perfect after a stressful day. You have time to do some quick prep and then either unwind, have a  shower to wash away the day or spend some time with the family while it bakes for in 45 minutes in the oven. Even better is the fact that it is a store cupboard meal using very simple ingredients that are very easy on the budget. Without any fancy substitutions, this meal is naturally vegan, gluten-free, & dairy-free making it a meal that the whole family can enjoy.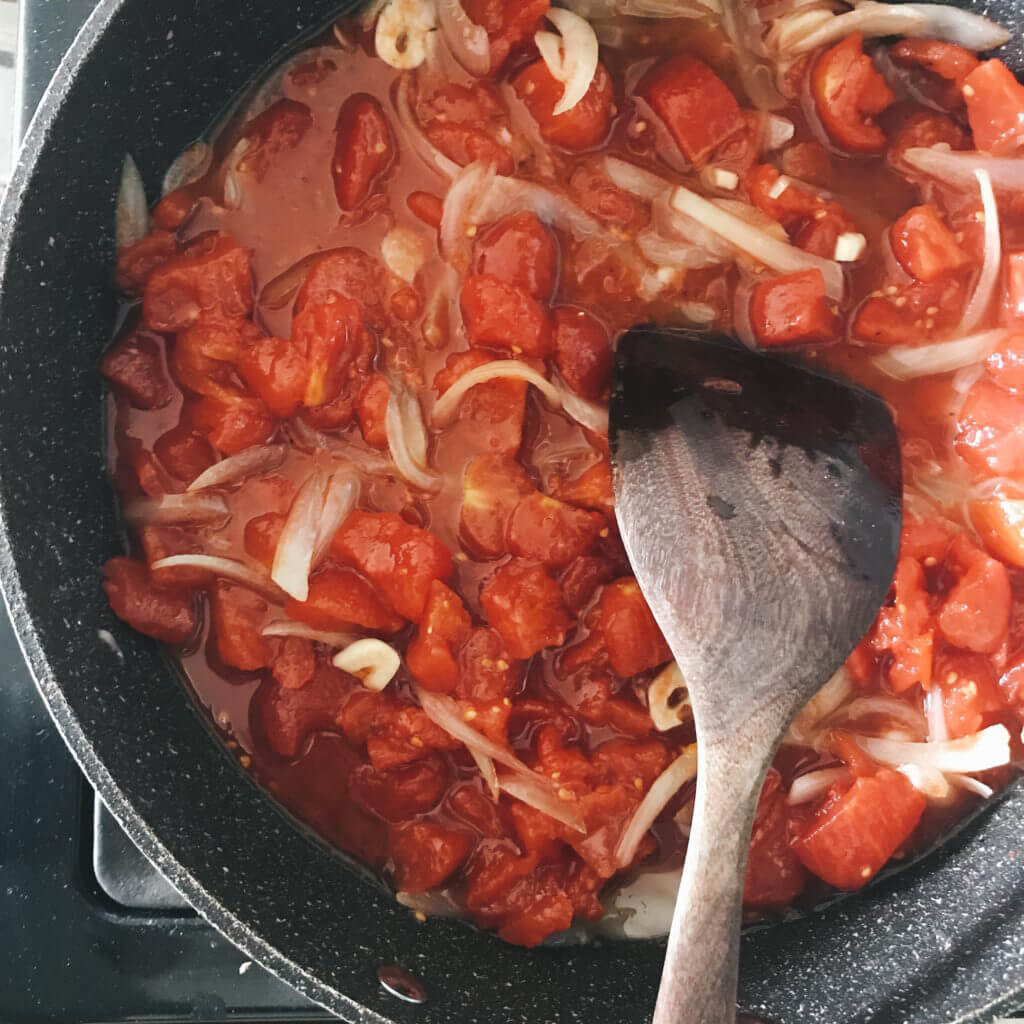 A word of warning though… We have made this meal many, many times over the past decade (it is in pretty high rotation at our house in the winter) and without fail, we doubt ourselves every time.
Every single time we put it in the oven for its baking time, we think to ourselves "well that will not work this time. I must have missed something".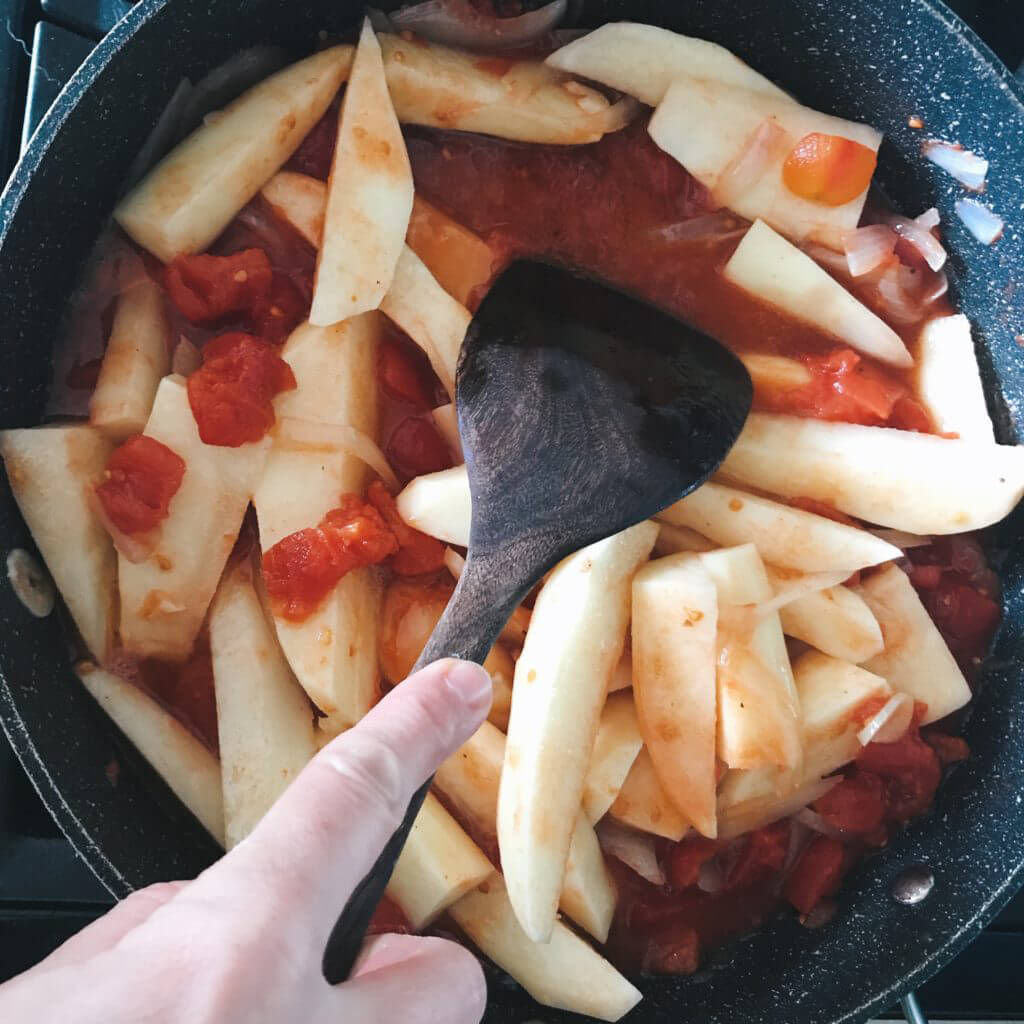 We didn't, and it comes out of the oven 45 minutes to an hour later as so much more than the sum of it's parts. The olive oil has coated all of the potato slices in a rich and delicious sauce. the flavours of the bay leaf and garlic have infused the whole dish. It is magical. So what we are trying to say is don't judge the dish until it is done. Walk away and let the magic happen.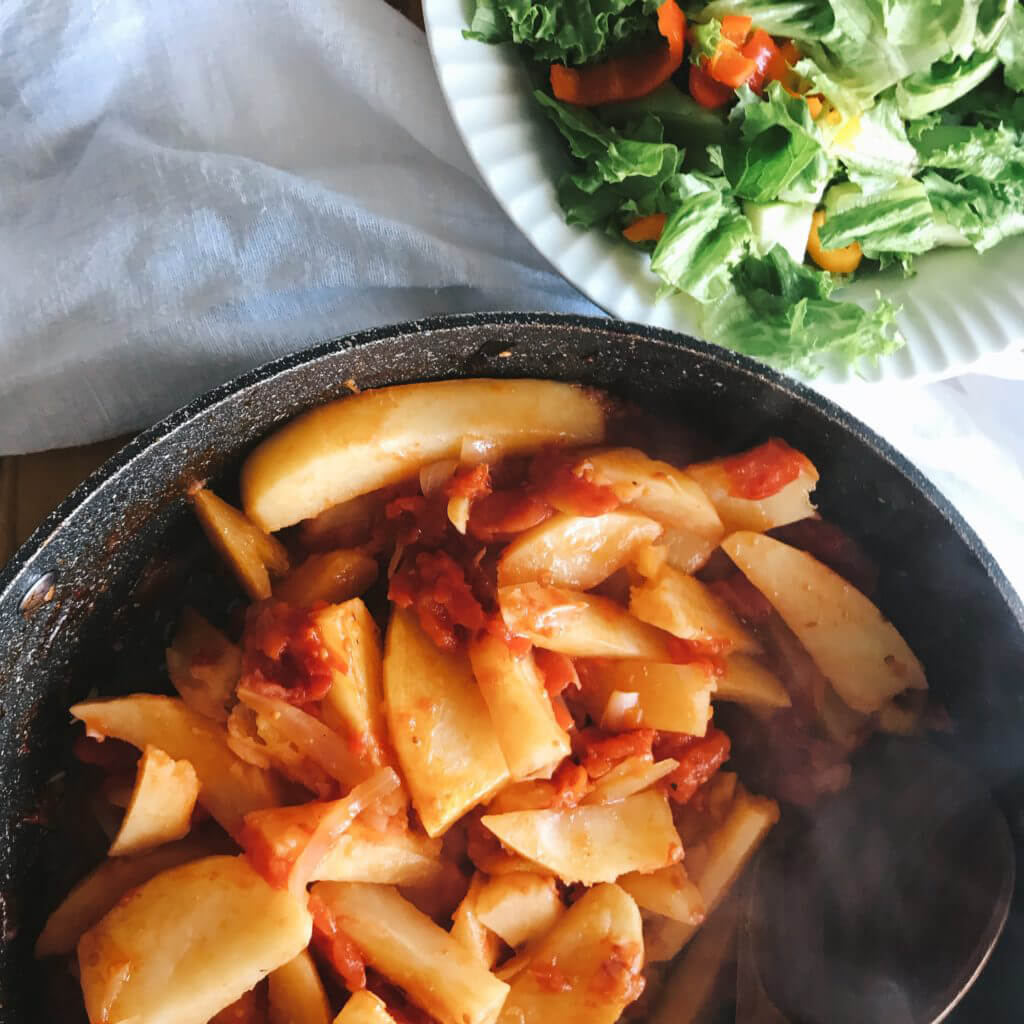 Vegan Potato and Tomato Bake
1/2 cup of olive oil
3 cloves garlic sliced
1 onion thinly sliced
1 large 10 of tomatoes diced
1 ¼ pound of potatoes approximately 3 peeled and cut into wedges
salt and pepper
Preheat oven to 350 F
Heat oil in an ovenproof frying pan (with a lid)
Add onion & garlic sauteed 2 minutes until soft
Add tomatoes salt and pepper

Cook 10 minutes then add potato wedges & stir
Cook 10 minutes making sure all potatoes are well covered in the oil mixture


Cover with the lid and bake 45 to 60 minutes

Serve with salad and crusty bread

Co-founder of Healthy Family Media and the Healthy Family Expo, Kay is an adventurer & Ironman triathlete, as well as mum to an active 11-year-old. Originally from Montreal, she has been proud to call British Columbia home for over 15 years. Whether running, hiking & biking in the mountains or creating healthy meals in the kitchen, Kay is always up for something new.  Her contagious enthusiasm & zest for life mean we're never quite sure what she'll be up to next, but we're sure that it will be an amazing adventure!