Don't get pulled into a summer eating rut! Freshen up your next picnic or get together with these bright and vibrant guacamole pizzettes. The combo of guacamole, feta, quick pickled onions & veggies on a ready-made pizza crust is amazing. When the guacamole is the star, like it is here, we use chunky, chip-breaking guacamole made with 95% avocado from Yucatan Guacamole. Also, try it on these Cauliflower Rice Burrito Bowls! 
JUMP TO RECIPE
---
---
When quality is combined with grab & go convenience, we are all in! Fresh guacamole is the perfect add-on to so many dishes, but timing the ripening of avocados at home is a full-time job! They are either rock hard or too far gone, and there seems to be no in-between. So we leave it to the experts at Yucatan Guacamole. If we have friends popping by for an impromptu BBQ, we love to make these fresh and tasty guacamole pizzettes (mini pizzas) and the creamy fresh taste of Yucatan is perfect for these, tacos, burgers and so much more.  This guacamole would be great on Veggie Ranch Tacos too!
JUMP TO RECIPE
---
FRESH GUACAMOLE PIZZETTES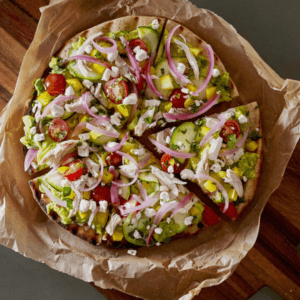 Turn pizza on its head with this fresh picnic-ready idea!
Ingredients:
1 lb. purchased pizza dough

All-purpose flour, for dusting

2 Tbsp. extra virgin olive oil, plus more for drizzling

1 cup thinly sliced zucchini, cut into half-moons

1 cup cherry tomatoes, halved

1 cup finely chopped yellow bell pepper

1 cup shredded cooked chicken

1/2 cup crumbled goat cheese

1/4 cup chopped cilantro
1 cup orange juice
1/4 cup apple cider vinegar
1 thinly sliced small red onion
1/2 tsp. kosher salt
Instructions:
Preparation:
Turn out 1 lb. purchased pizza dough onto a lightly floured surface and cut into four equal portions; pat each portion into a round.
Working with one round at a time, roll into an 8" circle. Transfer to an ungreased baking sheet.
Brush dough with olive oil. Repeat with remaining dough.
Quick-Pickled Red Onion:
In a saucepan, bring orange juice, apple cider vinegar, red onion & salt to boil, stirring occasionally.

Remove from heat and cool to room temperature.

Transfer to glass jar, cover & refrigerate until ready to use (up to 3 days). Drain liquid before using.
Oven Cooking Instructions:
Preheat the oven to 500°F.

Bake dough circles in the oven for 7 minutes or until they begin to bubble and brown.

Transfer crusts to a cutting board and continue with plating.
Grill Cooking Instructions:
Prepare a charcoal or gas grill with greased grill rack for direct cooking over medium heat.


Carefully slide one or two dough circles onto the grill rack. Grill for 1 minute.

Turn over with tongs or a long-handled metal spatula and cook for 45 seconds or until the dough surface is bubbling and golden brown.

Transfer grilled pizza crusts to a cutting board. Repeat with remaining dough circles, then continue with plating.
Plating:
Brush pizza crusts with olive oil and spread with guacamole.
Top with zucchini, cherry tomatoes, bell pepper, chicken, goat cheese & Quick-Pickled Red Onion.
Sprinkle with cilantro and drizzle with additional oil. Cut into slices and serve immediately. Enjoy!
Yucatan Guacamole started making guacamole 28 years ago in the fertile, sun-kissed Michoacán fields of Mexico where avocados originated centuries ago. Combining old-world tradition with new-world methods, Yucatan's story begins with the finest fruit, the best climate, and a love of great guacamole. Yucatan's avocado products are made with the highest standards of excellence. We can't get enough of their chunky, chip-breaking guacamole made with 95% avocado. Simply put, it's the best tasting, most authentic guacamole you can buy!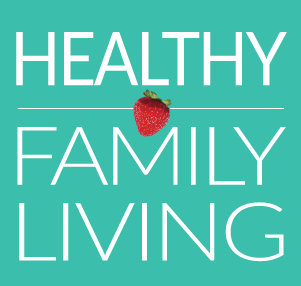 Wondering what to do with the kids in Metro Vancouver this weekend, or what to make for dinner? You can find it at HealthyFamilyLiving.com! From the Sunshine Coast to the Fraser Valley, we're the best online resource for busy parents looking for practical tips for healthy, active, sustainable living. For the latest on family events, outdoor adventures, birthday parties, camps & classes and kid-approved recipes, follow us on Facebook and sign-up for our parent-approved e-newsletter!