In our house, that means Friday Night Pizza Night. Not only does everyone agree and can have it how they like, but it also means one less thing to think about when meal planning.
We have been making this exact recipe for two years… pretty much every Friday.  What can I say when we hit on a winner we stay the course. In our family recipe book, this pizza dough has a star next to it with the note that both I am to "change nothing, it's perfect".
THERE IS NOTHING BETTER AT THE END OF THE WEEK THAN AN EASY PIZZA DINNER THAT BRINGS THE FAMILY TOGETHER.
The other thing that's amazing about this recipe is that it is absolutely forgiving! If you don't have oil… leave it out. It will still work. Put in a bit too much flour, still ok. Need to make it many hours before you are going to use it because you have to do 3 different carpool drop-offs with the kids… no worries. You can even make the dough the night before and keep it in the fridge or freeze it before rising and let it thaw and rise in a large bowl on the counter during the day.
Easy Peasy Pizza Dough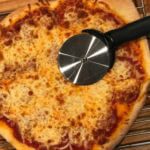 Easy Pizza dough from scratch will turn your home into the best pizzeria in town!
2 tbsp sugar or honey
1 1/2 tsp salt
2 tsp yeast (regular or instant both work)
1 cup warm water
2-3 tbsp olive oil (any vegetable oil will work)
2 1/4 cups of flour (can be a combination of white & whole wheat)
parchment paper
1 cup sauce (we like this one or we make our own)
your favourite toppings
In a large bowl combine the yeast, sugar, salt and warm water & stir to combine
Let the yeast mixture sit for 10 minutes until frothy

Add the oil & 1 cup flour. Stir with a wooden spoon to combine before adding the rest of the flour.

Stir with a spoon until it becomes too stiff and then continue to work with clean hands.

With the dough still in the bowl, knead until it forms a smooth ball (usually about 2 minutes).

Leave to rise in the bowl covered with a clean cloth. If you only have an hour to let it rise, make sure it's in a warm spot. Or leave in the fridge overnight.

Split the ball of dough in 2 and roll each out to a large round(ish) shape on floured parchment paper.
Top as you like and then carefully transfer to the pizza stone in the oven. You may find it easier to remove the stone with over glove and then do the transfer.
Return oven and bake for 10-15 minutes depending on the thickness of your crust.

When you remove the pizza from the oven, place it on a wire cooling rack for 2 minutes to let the cheese set and keep the crust nice & crisp.

Enjoy!
Co-founder of Healthy Family Media and the Healthy Family Expo, Kay is an adventurer & Ironman triathlete, as well as mum to an active 11-year-old. Originally from Montreal, she has been proud to call British Columbia home for over 15 years. Whether running, hiking & biking in the mountains or creating healthy meals in the kitchen, Kay is always up for something new.  Her contagious enthusiasm & zest for life mean we're never quite sure what she'll be up to next, but we're sure that it will be an amazing adventure!