This crispy falafel sandwich with smooth creamy dressing & crunchy pickled veggies will excite your taste buds! Your kids will love to help to make the pickled veggies and this is a great new way to add veggies to any meal. It's a satisfying open-faced sandwich perfect for lunch or dinner! 
JUMP TO RECIPE
---
We discovered GluteNull in our search for tasty gluten-free meal ideas that we could share with family & friends with food allergies. We love to make meals that can be enjoyed by everyone at the table, so it's exciting when we come across products that tick all the boxes for taste and are gluten-free & vegan. We're particularly excited about GluteNull's Falafel Sticks - the newest addition to their Answer 42 food line. Made with fresh herbs and vegetables, they are baked with coconut oil instead of fried to provide you with the healthiest way to eat falafel. Sold frozen, they can be warmed up in a pre-heated oven or in a hot pan. Within minutes you have a fresh, healthy meal full of protein and plant-based nutrients!
---
JUMP TO RECIPE
---
Falafel sandwich with green goddess dressing and quick-pickled veggies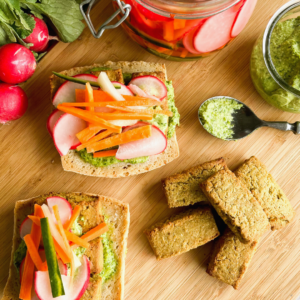 Fresh, vibrant, and full of flavour - your whole family will love these open-faced falafel sandwiches!
Ingredients:
for dressing:
1 ripe avocado

juice of 1 lemon

1/4 cup (tightly-packed) roughly chopped parsley 

1/4 cup (tightly-packed) roughly chopped fresh basil/mint leaves (a combo of both is our fave) 

1/2 cup chopped green onions (green parts only)

2 garlic cloves

1/2 cup raw cashews soaked in hot water for 15 min (if nut-free, add ½ avocado or ⅓ cup tahini)

2 tbsp tamari sauce or coconut aminos

1/2 tsp sea salt

1/4 tsp black pepper 

1/4 cup olive oil (can use 1/2 water, 1/2 oil)
for pickled veggies:
3 tsp salt

3 tsp sugar

3 tbsp apple cider vinegar or white vinegar

1 carrot, finely shredded or thinly sliced into rounds

1 cucumber or zucchini cut lengthwise into thin sticks or thinly sliced into rounds

1 bunch sliced radishes

mason jar with lid (or use a small bowl)
Instructions for dressing:
Combine all of the ingredients (except the olive oil) in a blender or small food processor. Blend until smooth.

With the blender running, slowly drizzle in olive oil through the hole in the lid, until you reach your desired consistency. Add water 1 tbsp at a time if you want a thinner dressing. If your dressing is too thin, add more soaked cashews. 

Taste and adjust flavor as needed, adding more salt, oil, or lemon juice. 

This sauce is great as a salad dressing or as a dip for veggies. Discolouration will happen after a while due to the avocado. So if you are saving it, add 1 tsp lemon juice after each use to keep colour. Lasts 2-3 days in the fridge.
Instructions for pickled veggies:
Combine salt, sugar, and vinegar and mix well in a 2 cup (500ml) mason jar. Let stand for 5 min.

Add veggies, seal the jar with the lid and shake to mix well. Stand for 10-15 minutes.

Enjoy drained veggies on sandwiches or burgers. Keep for 2-3 days in the fridge. 

TIP: If you don't have a mason jar, use a small bowl and stir to mix. 
Building your sandwich:
Bake Falafel Sticks according to package directions (10-15 min at 350F) until crispy & golden.
Spread Green Goddess dressing on both halves of the bun.
Place falafel on the dressing, top with pickled veggies and more dressing if you'd like
Enjoy for lunch or dinner, and add our plant-based Eton Mess for dessert!
GluteNull is a local BC company dedicated to bringing you fresh, premium quality, certified gluten-free and vegan products that are wholesome and tasty. They use traditional artisan techniques along with the finest ingredients to create delicious and healthy foods that are safe for those with food allergies and sensitivities. Perfect for families who are on a gluten-free, yeast-free, sugar-free, vegan, or raw diet. Or simply those who want delicious baked goods without worrying about harmful or unhealthy ingredients. GluteNull is also proud to be a part of the Non-GMO Project - all of their ingredients are certified GMO-free. Find GluteNull near you!
Co-founder of Healthy Family Media and the Healthy Family Expo, Kay is an adventurer & Ironman triathlete, as well as mum to an active 11-year-old. Originally from Montreal, she has been proud to call British Columbia home for over 15 years. Whether running, hiking & biking in the mountains or creating healthy meals in the kitchen, Kay is always up for something new.  Her contagious enthusiasm & zest for life mean we're never quite sure what she'll be up to next, but we're sure that it will be an amazing adventure!