Is there anything more satisfying in the winter than the crave-eliminating texture and taste of roasted root vegetables? A favourite in our one-sheet dinners rotation, this recipe is simple to prep, enjoy and clean up. This recipe calls for certain vegetables, but it's incredibly flexible. You can add whatever veg you have on hand! We add in a side salad and dig into our hearty winter feast.
If you're looking for more meal inspiration to round out your meal planning, check out our weekly "What's for Dinner" series!
One-Sheet Roasted Chicken and Vegetables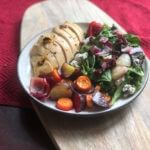 Juicy chicken breast and hearty winter root vegetables combine to make this satisfyingly healthy and easy family-friendly dinner.
4 boneless, skinless chicken breasts
4 white potatoes
4 beets
2 large sweet potatoes
3 large carrots
1 large red onion
6 cloves garlic
2 tbsp olive oil
1/4 tsp salt
1/4 tsp pepper
1 tbsp Italian seasoning
Preheat oven to 400°

Chop all vegetables in large cubes

Place chopped vegetables and whole garlic cubes in large mixing bowl

Add half of the olive oil (1 tbsp) to vegetables

Sprinkle vegetables with salt and pepper and toss

Place chicken breasts on sheet pan and brush with remaining olive oil (1 tbsp)

Sprinkle chicken breasts with Italian seasoning

Pour vegetables on sheet pan with chicken

Place sheet pan in oven and bake for 30-45 minutes, or until chicken is thoroughly cooked and vegetables are soft.
Born & raised in Vancouver, and co-founder of Healthy Family Media and the Healthy Family Expo, Angela is a reformed divorce lawyer turned healthy family champion! By day, she thrives on connecting conscious brands with busy Vancouver families. By night, you'll find her wrangling two feisty daughters, choosing between instant pot or healthy freezer meals for dinner, and singing with MomChoir. She especially loves sharing her favourite family-friendly finds with other Lower Mainland parents!