Pizza should be a relaxed and easy meal that brings the family together. Friday nights are pizza night for us and the end of a long week is not the time to get fancy. That doesn't mean that you can't have a fantastic meal with new and exciting flavour combinations. We make our own dough every week. It only takes 5 minutes of hands-on time and makes our homemade pizza the best pizza in town.  It's your choice whether you make one large pizza and have slices or have everyone make their own personal-sized pizzas.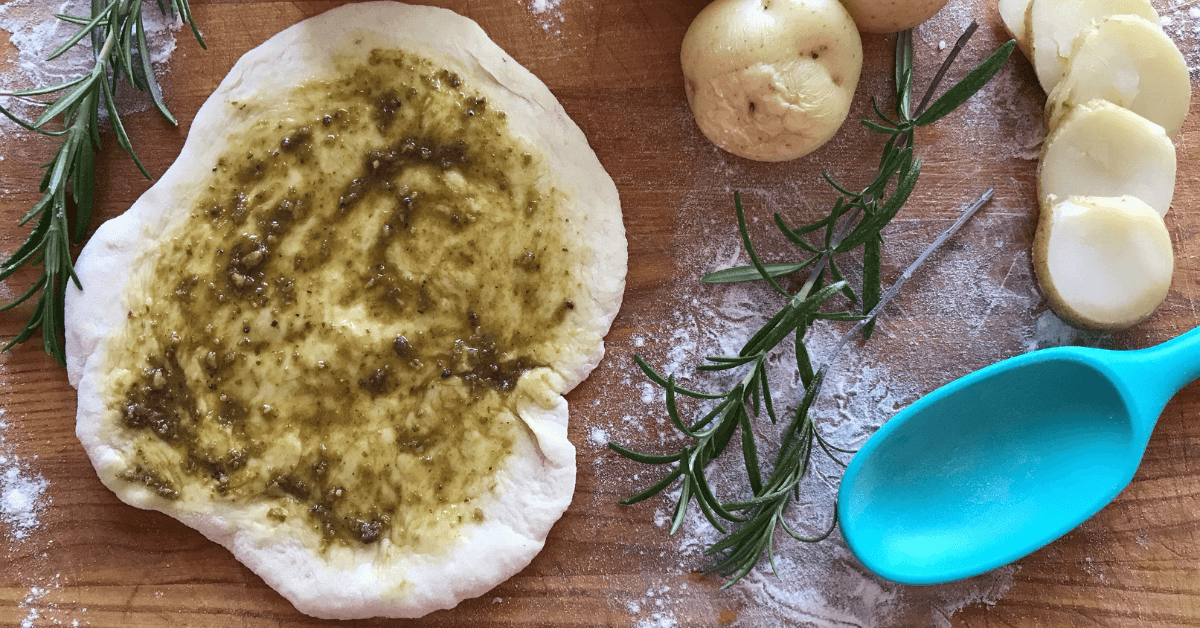 This pizza was inspired by a food memory from northern Germany. A friend was describing the most comforting meal they ever had as being a cheese and potato skillet dish that they enjoyed years ago on a cold and blustery night.  West Coast winters gave us many blustery nights of inspiration so we decided to try this twist on our Friday pizza night. What a winner! While it in no way low carb, it really hits the spot and makes a great vegetarian meal paired with a crisp salad. The flavours all go together perfectly and it was a big hit with adults and kids.
Potato Rosemary Pizza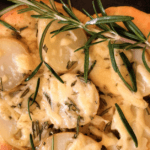 1 pizza dough or pre-made pizza crust
10 -12 mini potatoes ((or 2 larger thin-skinned potatoes))
3 tbsp pesto
1 cups grated strong cheddar
3 tbsp fresh rosemary (( A large bunch of rosemary stores well in a zip-lock bag in the freezer and can be used from frozen))
Preheat oven to 430F. If you are using a pizza stone put it in the over as you pre-heat.

Pre-cook potatoes in the microwave until tender( you could pre-boil but make sure you drain well and let dry). Once cooked, slice potatoes 1/4 inch thick.

Roll out pizza dough to 1/4 inch to 1/2 inch thick on a piece of floured parchment paper.

Spread pesto on the pizza base, top with potatoes, sprinkle rosemary over the potatoes, finish with the cheese. This is not a cheese heavy pizza since the strong cheddar goes a long way.

With oven mitts on, remove the pizza stone from the oven and carefully transfer the parchment paper with the pizza onto the stone. Place the pizza and the stone back in the oven. If you are not using a pizza stone, place the parchment paper and pizza on a cookie sheet and put into the hot oven.

Bake pizza for 13-15 minutes until golden. Enjoy!
Co-founder of Healthy Family Media and the Healthy Family Expo, Kay is an adventurer & Ironman triathlete, as well as mum to an active 11-year-old. Originally from Montreal, she has been proud to call British Columbia home for over 15 years. Whether running, hiking & biking in the mountains or creating healthy meals in the kitchen, Kay is always up for something new.  Her contagious enthusiasm & zest for life mean we're never quite sure what she'll be up to next, but we're sure that it will be an amazing adventure!