Bored of your usual pumpkin pie recipe? Meet its cooler, younger sibling. These Pumpkin Pie Bars might seem time-consuming at first, but we promise these bite-size desserts are well worth the effort!
JUMP TO RECIPE
---
---
This Pumpkin Pie Bars recipe calls for one of our favourite seasonal plant-based creamers from Califia Farms. Smooth, naturally creamy, and perfect for fall. Toast the season with autumn flavors! Creamy almond beverage blends with pumpkin puree, cinnamon, ginger, and nutmeg for a decadent coffee creamer that swirls smoothly into hot or iced coffee, and great for baking! Dairy-free and with only 2g of sugar per serving you can indulge without the guilt.
JUMP TO RECIPE
---
PUMPKIN PIE BARS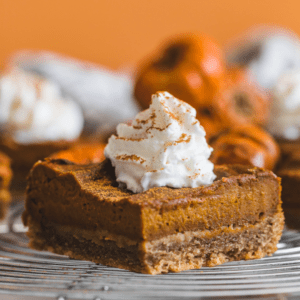 Grab your favourite spoon and dive in to this delicious, dairy-free dessert!
Makes 9 servings.
Ingredients:
For the crust:
1/2 cup vegan butter, softened
1/2 cup brown sugar
1/3 cup + 1 tablespoon Califia Farms Pumpkin Spice Creamer
1 1/2 cups all-purpose flour
1 teaspoon baking powder
1/4 teaspoon kosher salt
For the filling:
1 15-ounce can pumpkin puree
1/2 cup cashews, soaked in water for 30 minutes
1/4 cup Califia Farms Pumpkin Spice Creamer
3/4 cup brown sugar
1/4 cup cornstarch
1 tablespoon pumpkin pie spice
2 teaspoons vanilla extract
1/2 teaspoon kosher salt
Vegan whipped cream, for garnish, optional
Cinnamon, for garnish, optional
instructions:
Soak cashews in water for 30 minutes, then drain. Preheat your oven to 350 degrees Farenheit

In a large bowl, beat together softened vegan butter with dark brown sugar with a hand mixer for 1 minute.

Add Califia Farms Pumpkin Spice Creamer and mix in. Add flour, baking powder, and salt. Fold together until a thick cookie dough forms

Add cookie dough to a parchment-lined 8x8 baking dish and bake for 20 minutes. Remove from the oven and allow to cool for 5-10 minutes. Flatten dough with the bottom of a cup. Set aside and continue to cool
Separately, in a blender or food processor, combine pumpkin puree, cashews, Califia Farms Pumpkin Spice Creamer, brown sugar, cornstarch, pumpkin pie spice, vanilla extract, and kosher salt. Blend together until smooth
Pour the filling on top of the cookie crust. Bake for 35 minutes and allow to cool for 20 minutes
Garnish with vegan whipped cream and sprinkle with cinnamon, if desired. Enjoy!
---
Califia Farms

(pronounced " Cal-uh-FEE-ahh" like California) 
is on a mission to nourish the world with the wisdom of a plant-based lifestyle. The company creates innovative, healthy, and great-tasting premium beverages that make it easy for consumers to go plant-based and dairy-free, without compromise.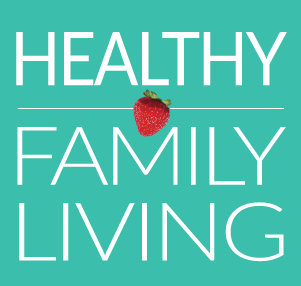 Wondering what to do with the kids in Metro Vancouver this weekend, or what to make for dinner? You can find it at HealthyFamilyLiving.com! From the Sunshine Coast to the Fraser Valley, we're the best online resource for busy parents looking for practical tips for healthy, active, sustainable living. For the latest on family events, outdoor adventures, birthday parties, camps & classes and kid-approved recipes, follow us on Facebook and sign-up for our parent-approved e-newsletter!