Looking for a healthy but festive dessert with all the warm spices of the season? Try this cashew-based dip that comes together in a flash and will satisfy your sweet cravings while delivering a solid protein punch. Kids will love the creamy texture and you will love that it takes only minutes to make!
JUMP TO RECIPE
---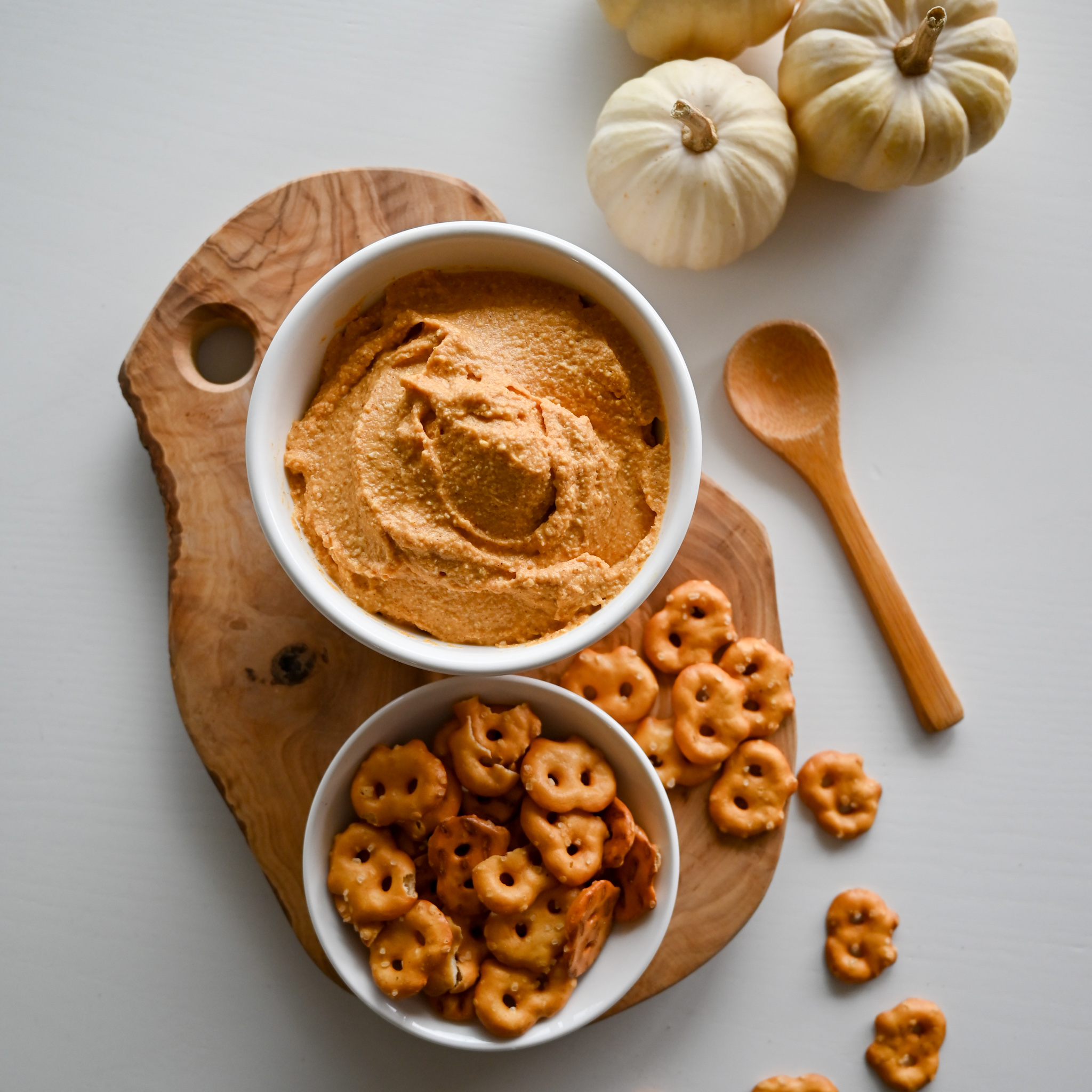 ---
JUMP TO RECIPE
---
With its slightly sweet taste, smooth creamy texture, and nutty palette, you can make almost anything with Habibi's Regular Cashew Hummus. This one-of-a-kind, versatile dip can be used for either sweet or savory dishes. Try blending it with pumpkin creating a perfect fall dip or have it on your charcuterie board paired with dark chocolate, dates, smoky cheeses, and cured meats. The best part is that KIDS LOVE THIS ONE! Our kids love to eat it by the spoonful or on toast with bananas. Why not blend it in your favourite homemade cookie dough mix and make energy balls out of it? The options are endless, so go for it!
SPICED PUMPKIN PIE DIP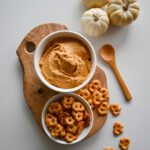 A fun & festive dip that everyone will enjoy!
Ingredients:
1/2 cup pumpkin puree

2 teaspoons maple syrup

1/2 teaspoon pumpkin pie spice mix

1/4 teaspoon cinnamon

plain pretzels, graham crackers, sliced apples, or sliced pears for dipping
Instructions:
Combine all ingredients until smooth. Allow at least 1 hour in the fridge to allow all flavours to come together. It tastes the best if it can be made ahead.
Enjoy!
Habibi's Mediterranean Food is family-owned business that produces delicious natural dips and other products inspired by Mediterranean and Middle Eastern kitchens in Vancouver, BC. No preservatives, fillers, or additives are used in their line of multi-flavoured Hummus dips, Tsatziki, Baba ganoush, Cashew Dips, Lebanese style Garlic sauce/spread, and more.
In Aramaic and Arabic, Habibi's literally means "My love, beloved, friend or darling". Using family recipes that were conceived in the kitchens of Lebanon, Habibi's culinary visionaries have come up with an amazing lineup of products for your family to enjoy!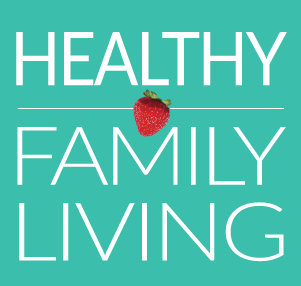 Wondering what to do with the kids in Metro Vancouver this weekend, or what to make for dinner? You can find it at HealthyFamilyLiving.com! From the Sunshine Coast to the Fraser Valley, we're the best online resource for busy parents looking for practical tips for healthy, active, sustainable living. For the latest on family events, outdoor adventures, birthday parties, camps & classes and kid-approved recipes, follow us on Facebook and sign-up for our parent-approved e-newsletter!