This Thai pasta salad is perfect for bright and sunny summer days … or days that you wish were bright and sunny!
With easy to find ingredients and quick substitutions, this satisfying meal-sized salad is great on its own or would also be great with any protein you like from tofu, grilled shrimp or steak, and even leftover chicken. All the prep is done while the pasta cooks so you are minutes away from a great veggie-filled meal.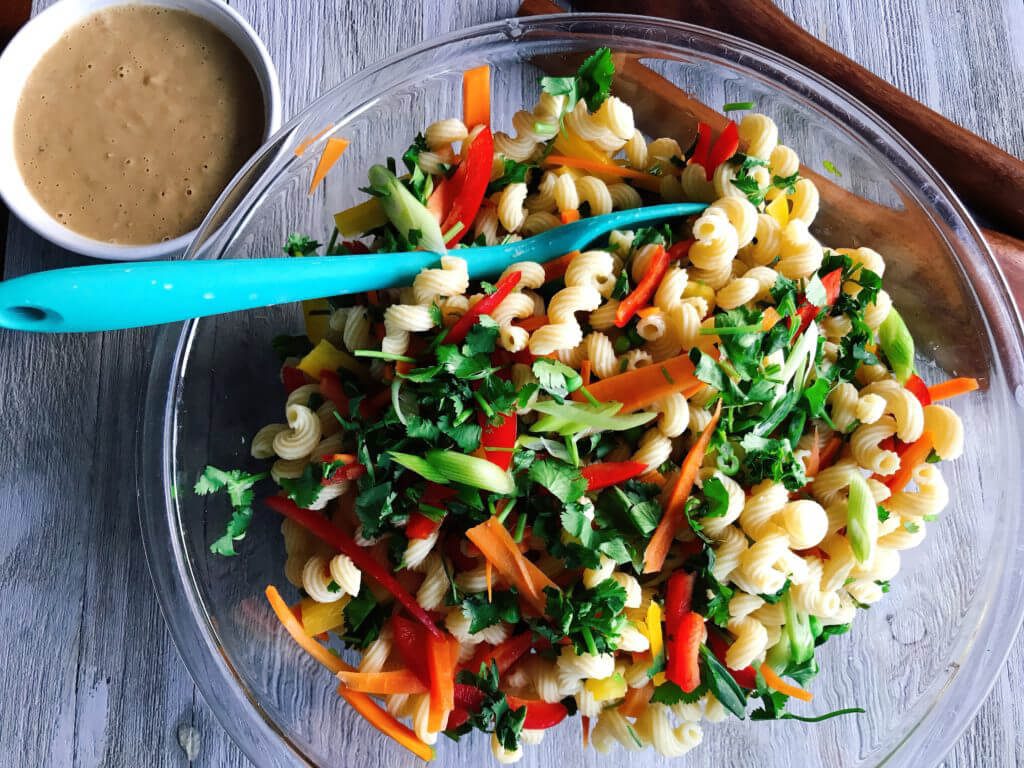 If you are looking to brighten up your week, dive into a big bowl of this Thai pasta salad!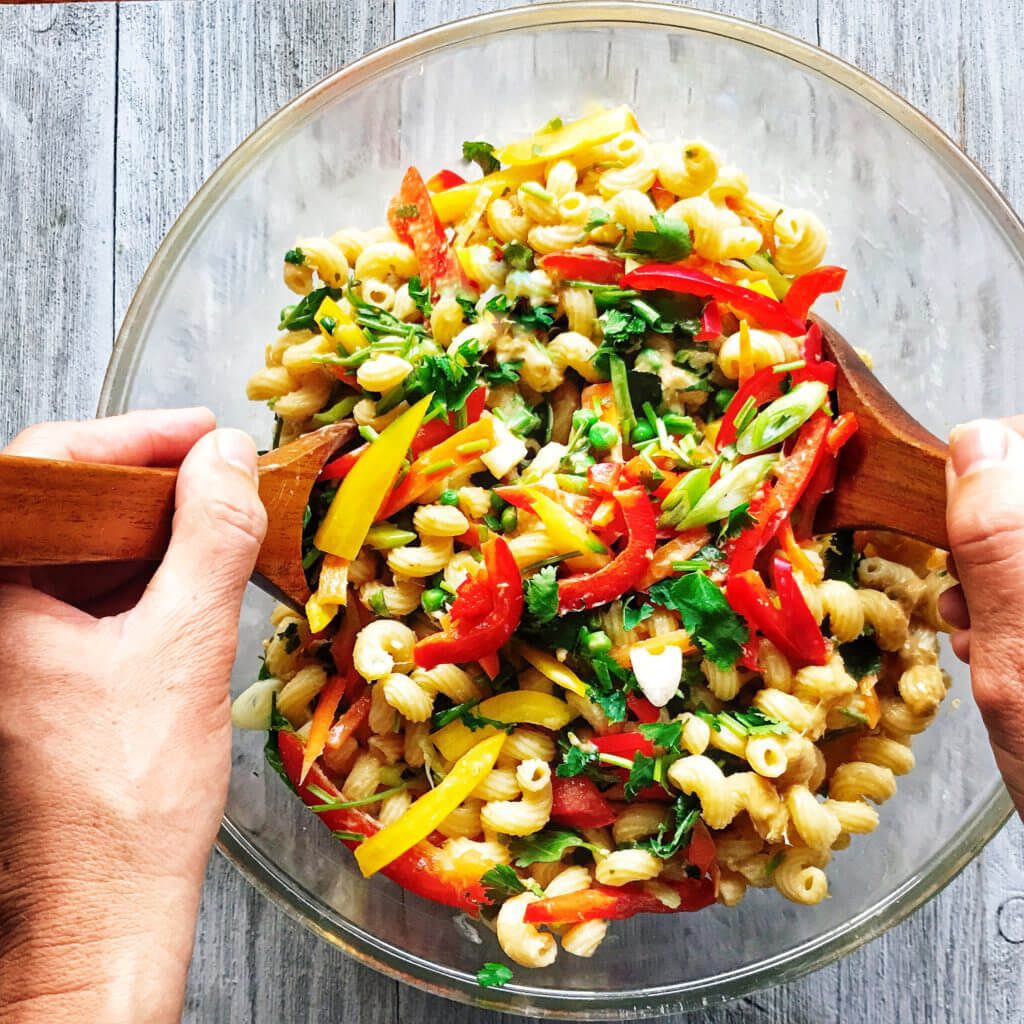 Thai Pasta Salad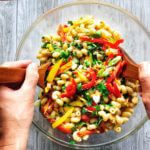 Sauce:
1 cup orange juice
1 lime (juice & zest)
1/4 cup peanut butter (any nut or seed butter will work well)
1 tbsp apple cider vinegar
1-2 tbsp hoisin sauce (can substitute maple syrup if needed)
2 cloves garlic
2 inch ginger root
1/2 tsp sririacha (or to taste)
1 bunch washed cilantro (leaves for salad & stalks for dressing (reserve 2 tbsp of leaves for garnish))
2 cups uncooked scoobydoo pasta (any spiral pasta will work)
Salad:
3-4 green onions (slice on the diagonal and reserve 2 tbsp for garnish)
1 large carrot (sliced into matchsticks)
1 red bell pepper (thinly sliced)
3-4 green onions (sliced into matchsticks)
1 cup frozen peas (thawed)
Combine all sauce ingredients in a food processor and blitz until smooth. Only use the cilantro stalks as you need the leaves for the salad. Set aside.

Cook pasta according to package directions adding the peas and carrots to the water for the last minute of cooking.

Chop all other vegetables and place them in a large bowl.

Drain the pasta, peas & carrots. Rinse with cool water and add to the bowl.

Add the dressing to the pasta & veg mix and toss to combine.

Garnish with the reserved cilantro and green onion. Serve & enjoy! For extra heat add sliced fresh red chilis or added drops of sriracha. We enjoy this salad as is but you could certainly add a cooked protein if you would like such as tofu, cooked chicken, grilled shrimp or grilled steak.

This salad can be refrigerated until the next day but is much better served at room temperature on the day that it is made.
Co-founder of Healthy Family Media and the Healthy Family Expo, Kay is an adventurer & Ironman triathlete, as well as mum to an active 11-year-old. Originally from Montreal, she has been proud to call British Columbia home for over 15 years. Whether running, hiking & biking in the mountains or creating healthy meals in the kitchen, Kay is always up for something new.  Her contagious enthusiasm & zest for life mean we're never quite sure what she'll be up to next, but we're sure that it will be an amazing adventure!