This ooey-gooey mouth-watering platter of deliciousness is guaranteed to be your new favorite appetizer. The best part about this morello cherry-baked brie recipe - it's super easy to make! All you really need are a few ingredients—the brie cheese itself (the creamier the better), morello cherry spread (to put on top of the brie cheese), and your favorite crackers or veggies (to use for dipping). We love using our favorite gluten-free crackers along with fresh baguette and some sliced apples and pears. This recipe can also be very versatile. Try using other Crofters Organic fruit spreads aside from the morello cherry. Their wild blueberry, apricot, berry harvest, and raspberry fruit spreads are all great options and you'll find yourself coming back for more!
JUMP TO RECIPE
---
---
LESS SUGAR, NO LESS SWEET
Jams, jellies, preserves...all of these fruity treats hold a special place in our hearts. But the truth is that, traditionally, every single one of them is made of more than 50% sugar. That's why we love that Crofter's Organic Spreads have taken this popular, crave-able food and made them more modern, tasty, and nutritious by upgrading the fruit power and decreasing the sugar content by 33%.  Because every jar has one-third less cane sugar, you taste more lip-smacking fruit juiciness and less plain sugar. You may even be tempted to eat it right off the spoon (you can, we won't tell). On top of having fruit for your every preserve-like hankering, Crofter's Organic Premium Spreads are made with Fair-Trade cane sugar sourced from The Green Cane Project.
JUMP TO RECIPE
---
Morello Cherry Baked Brie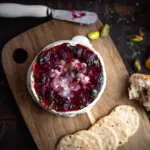 This baked brie with Morello Cherry is about to become your favourite!
Ingredients:
Brie Cheese
Fresh Tarragon (chopped)
Rice Crackers
Fresh Baguette
Fresh Apple & Pear (sliced)
instructions:
Preheat oven to  350°F.
Place the brie cheese on a baking tray and bake for 15 minutes. Make sure not to overcook as the cheese will ooze out.
Once the cheese is melted, remove it from the oven. Place a few scoops of Crofter's Organic Premium Morello Cherry Fruit Spread on top of the melted cheese. Return to oven for an additional 3 minutes.
Remove from oven and garnish with finely chopped fresh Tarragon. We served it with our favourite gluten-free crackers, fresh baguette, and some sliced apples and pears. Enjoy!
Established in 1989, Crofter's Organic is a family-owned organic food manufacturer located in Parry Sound, Ontario. They are nestled in the heart of the 30,000 Islands of Georgian Bay which is part of Lake Huron and has been recognized as a UNESCO Biosphere Reserve. Crofter's Organic has been manufacturing organic products since the beginning of the trend toward organics, and they make the best tasting, nutritious, organic fruit spreads possible with 1/3 less sugar than traditional preserves. Our families just can't get enough!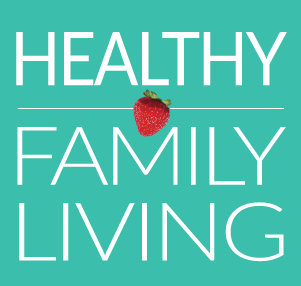 Wondering what to do with the kids in Metro Vancouver this weekend, or what to make for dinner? You can find it at HealthyFamilyLiving.com! From the Sunshine Coast to the Fraser Valley, we're the best online resource for busy parents looking for practical tips for healthy, active, sustainable living. For the latest on family events, outdoor adventures, birthday parties, camps & classes and kid-approved recipes, follow us on Facebook and sign-up for our parent-approved e-newsletter!