When you need satisfying veggie-filled dinner in a flash, soup is an easy go-to. This chunky tortilla soup in a bit hit with kids and parents. Enjoy it as is or load on the toppings!
We have presented this tortilla soup recipe here in its vegetarian form using our instant pot vegan stock, but for meat-eaters, you could very easily add some cooked chicken. This would be a great way to stretch your grocery budget by using up a roasted or rotisserie chicken!
Although this soup is delicious and super satisfying on its own, it really is all about the topping so don't hold back. And be sure to crumble to tortilla chips on the top first… after all that is where it gets its name after all!
If you happen to have Trader Joe's Green Dragon Sauce.. you will not be disappointed if you pour it all over this soup! But any combination of smooth, spicy, & crunchy toppings really adds to this vegetarian lentil tortilla soup and makes each mouthful a new adventure!
Vegetarian Lentil Tortilla Soup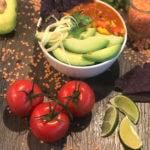 1 cup diced onion
1 tsp olive oil – Avocado oil works well too
1 can canned crushed tomatoes ((large can))
2 cans black beans (443 ml drained + rinsed)
1 cup corn (frozen or canned work great)
½ cups red or yellow bell pepper diced (approx. 2 peppers)
2 1/2 cups vegetable broth
1/2 cup salsa (any kind you like)
2 tbsp tomato paste
3/4 cup dried red lentils
1 1/2 tbsp chili powder
1/2 tsp garlic powder
1 tsp dried oregano
1 tsp cumin
1/8 tsp cayenne pepper
1/4-1/2 cup sour cream
salt and pepper
Go crazy with toppings!
whole or broken up tortilla chips
salsa
chopped cilantro
shredded cheese
chopped onion
sliced avocado
sliced jalapeños (pickled or fresh)
sour cream
Chop your peppers & onion.
Add ALL your ingredients and spices to the pressure cooker EXCEPT FOR THE SOUR CREAM
Mix the ingredients and close the lid
Set the pressure cooker to high pressure and adjust the time to 15 minutes
Allow for a natural pressure release. When the pressure is released, carefully open the lid.
Stir in the sour cream and serve with all of your favourite toppings
*For vegan soup substitute the sour cream for vegan sour cream or coconut milk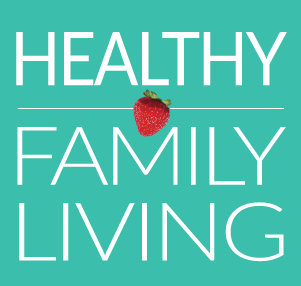 Wondering what to do with the kids in Metro Vancouver this weekend, or what to make for dinner? You can find it at HealthyFamilyLiving.com! From the Sunshine Coast to the Fraser Valley, we're the best online resource for busy parents looking for practical tips for healthy, active, sustainable living. For the latest on family events, outdoor adventures, birthday parties, camps & classes and kid-approved recipes, follow us on Facebook and sign-up for our parent-approved e-newsletter!