Some nights it feels like the family is going in 6 directions at once. And these white bean & corn quesadillas are a busy family's life-saver! With just a few staples,  make a fresh, veggie-filled meal that is also plant-based and delicious. Keep Daiya Cutting Board Mexican 4 Cheeze Style Blend Shreds on hand so that you can whip up this delicious dairy-free, plant-based meal in a flash!
JUMP TO RECIPE
---
---
Whether you're craving the ooey-gooey goodness of grilled cheese, the cheesy comfort of thin-crust pizza, or even the decadent delight of ice cream bars, Daiya makes it easy for families to indulge in mouth-watering plant-based meals and treats. We love that their dairy-free shreds come in five varieties that can be used in pizzas, quesadillas, and good old mac & cheese. Our kids love the melty texture and we love that they are allergen-friendly and plant-based! 
JUMP TO RECIPE
---
WHITE BEAN AND CORN QUESADILLAS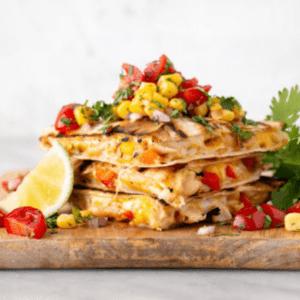 A weeknight wonder made allergen-friendly and full of fresh flavour!
Serves 4
Total time: 20 minutes
Ingredients:
Quesadillas:
4 medium vegan soft corn tortillas
1 medium red bell pepper, chopped
1 can white kidney (cannellini) beans, drained and rinsed
1 cup corn kernels, (fresh, canned, or frozen thawed)
1 tsp cumin
1 tsp chili powder
½ tsp garlic powder
½ tsp onion powder
½ tsp salt
Corn and Tomato Salsa
½ cup corn kernels, (fresh, canned, or frozen thawed)
½ cup chopped tomatoes
2 Tbsp chopped red onion
2 tsp chopped fresh cilantro
1 tsp lime juice
1 pinch sea salt
instructions:
In a medium bowl mix together beans, corn and bell pepper with cumin, chili powder, garlic powder, onion powder and salt.
Heat grill to 350 F or a non-stick skillet to medium heat. Add one tortilla to skillet and sprinkle with a handful of Mexican 4 Cheese Blend. Top with half the bean mixture, more Cheese Blend and another tortilla. Cook for 5-7 minutes and flip once Cheese Blend has started to melt. Cook second side for 5 minutes more.
Repeat with remaining tortillas, bean mixture, and Cheese Blend.
Meanwhile, in a small bowl, toss together all salsa ingredients.
To serve, cut cooked quesadillas and serve with salsa.
---
Daiya understands that cheese is a flavourful beacon for food lovers. And they want your family to enjoy your savoury love affair with cheese, and all your favourite dairy products, to the absolute fullest. Daiya holds true to their simple promise: to give you the delicious joy of dairy, without any compromise. 
Daiya Cheddar Style and Mozzarella Style Shreds
debuted in 2009 and today they have over 30 great tasting, 100% plant-based alternatives to dairy!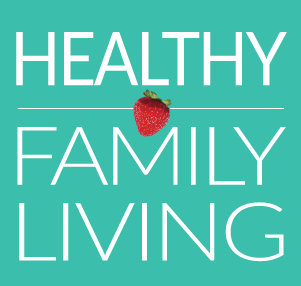 Wondering what to do with the kids in Metro Vancouver this weekend, or what to make for dinner? You can find it at HealthyFamilyLiving.com! From the Sunshine Coast to the Fraser Valley, we're the best online resource for busy parents looking for practical tips for healthy, active, sustainable living. For the latest on family events, outdoor adventures, birthday parties, camps & classes and kid-approved recipes, follow us on Facebook and sign-up for our parent-approved e-newsletter!